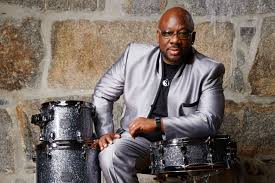 The first time I caught Ralph Peterson, Jr. live was a 1986 performance by the Blue Note Records band Out of the Blue (OTB).  The band, befitting its era as a sort of Young Lions on steroids unit, included Kenny Garrett on alto sax, Ralph Bowen on tenor sax, pianist Renee Rosnes, bassist Robert Hurst, and the explosive drummer Ralph Peterson, Jr.  The power and fluid drive of Peterson was nearly overwhelming, in a kind of Art Blakey and Elvin Jones stylistic mashup embodied by one young man from New Jersey.  I quickly made a mental note to keep an eye and ear out for this brown-skinned powerhouse with the boundless energy.
Little did I know at the time that an Art Blakey heir apparent patina to Ralph Peterson, Jr., to the point that the old master frequently engaged Ralph whenever the spirit called for two fonts of drumming energy on Art's bandstand, such as Buhaina's occasional big band dates.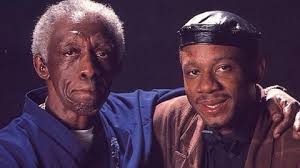 Fast forward a few minutes and Peterson was himself a bandleader, putting out potent dates on Blue Note.  The most striking series of Ralph Peterson, Jr. recordings came starting in 1989 when he assembled his Fo'tet, a band notably including the kinetic clarinetist Don Byron, vibist Bryan Carrott broadened the band's color pallet, that also included the enormously versatile saxophonist Steve Wilson.
These days Peterson has an active teaching career at Berklee College of Music and continues his efforts at mentoring succeeding generations, including incorporating some of Berklee's brightest students in his ongoing GenNext Big Band, and revisiting his roots with his Messenger Legacy bands of Blakey alums.  In addition to his playing and teaching, Peterson is a persevering cancer survivor who pilots his own record label, Onyx Productions.  His Onyx venture prompted some questions for Ralph Peterson, Jr.
When did you start your Onyx imprint and what was your original motivation for having your own label?
 In addition to being inspired by people like Betty Carter (BETCAR) AND Stanley Cowell (STRATA EAST), THE PRIMary motivation came from Grandmaster Gary Bartz who checked me STRONG one day he heard me belly aching about "oh the record business aint this and the record business aint that" …. Gary said… "Man ya'll need to be quiet because ya'll not in the record business…. ya'll WORK FOR people in the record business…. you aint nothing but an employees of someone working in the record business because YOU DON'T OWN NOTHING !"
I started my recording career on a Major Label. In fact I SUED to get OUT of my Blue Note contract because of how long they were sitting on their options . From there I did a few of the smaller but active Independent labels…. Evidence, Sirrocco, and Criss Cross.
Ultimately the decision to launch my label comes from a direct desire to make a TRUMPET record. Stay tuned for that in 2021.
What have you released thus far on the Onyx label?
Projects under my own name… One of vocalist Lainie Cooke….. And the latest release is the debut of young Trumpeter Alonzo Demitrius.
You've begun to branch out and invite other artists to record for Onyx.  How do you determine whether an artist or project is a good fit for Onyx and your process?
I look for strength of concept…. they should have an understanding of the kind of statement they want to make with the project. It also has to be about more than "so I can get some gigs". Recordings are not only that, they are musical snapshots in time and most importantly an Artist's statement about their world and
the world around them.
Describe your process once you've decided to make an Onyx label recording?
What is the motivation? What thought, person, place, thing, issue or event am I addressing as an Artist?
Who best can help me musically realize that vision? Is it in an existing group of mine or is it time
for a new configuration.
Would you say there is a prevailing Onyx philosophy?
RIGHT NOW MUSIC …That knows where it comes from.
What's on the drawing board and upcoming for Onyx?
Super excited to be recording two more projects before the close of this year. One in the
first week and one in the last week of December.  They might not be released in the order
of the recordings but getting them done this year is good business for the company.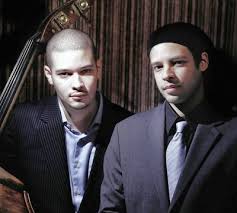 Triangular will record again with my Trio featuring (bassist) Luques and (piano-keyboardist) Zaccai Curtis. We have grown into a real rhythm section team. There are two special motivations in addition to joining forces with the Curtis Brothers which is one of my favorite things in music.  The first is that joining us for 3 tunes will be the one and ONLY Jazzmeia Horn. I have had the privilege of working in her band and while she is a singular and unique talent, it is my humble opinion she is to the late Great Betty Cater, what some might see me as being to Art Blakey. And having also trained in the Graduate School of Betty Carter I am honored she enthusiastically agreed to sing on the date.
The second motivation is that this project will be the first recorded in the Onyx Productions Home studio in Dartmouth Mass. During this pandemic one of the things I have been doing is upgrading my tech awareness
and even have a Protools tutor…. My Engineer and former drum student at Berklee, Dean David Albak. Dean mixed Legacy Alive Vol6 and Onward and Upward. He is chief engineer of the new project which will also include special guest percussionist Egui Castrillo on Afrocuban Percussion as well as myself on djembe, frame drum, water drum and other colors. The name of this project will be RAISE UP OFF ME and we are targeting March of 2021 for digital and LP release.
I have decided to focus fully on this project as the music is SPECIAL.
The title comes from the inspiration of the book written by the Great Pianist
Hampton Hawes [Raise Up Off Me]. The title speaks to the times we are living in in face of Social Injustice…..
Jazzmiea wrote the Lyrics for my composition Tears I Cannot Hide…. She will also add spoken word to the piece "Raise Up Off Me". The song "The Right To Live" is a commission from The Jazz Coalition.
This is music happening not just now ….This is RIGHT NOW MUSIC !