Back in the 90s I enjoyed ten years with the former 24-hour jazz television service known as BET Jazz. After a few years participating in and hosting several video-performance powered jazz shows, including the Jazz Discovery talent show, BET Jazz head Paxton Baker asked me to develop a jazz education-based program which became JazzEdTV. The original footage for that show came from the then-annual Thelonious Monk Institute's partnership with the Jazz Aspen Snowmass festival organization, to produce The JAS Thelonious Monk Institute Jazz Colony program.
That program, which produced an impressive number of today's important jazz contributors, selected gifted young jazz studies students from across the globe to come to Aspen and Snowmass, CO for a 2-week intensive of small and large ensemble rehearsals, master classes with artists such as Herbie Hancock, Ray Barretto, Joe Lovano, Nathan Davis, Christian McBride, Lewis Nash, Nicholas Payton and others, and evening concerts by those masters and the students, sometimes in collaboration. My assignment was to conduct interviews with students and masters, and work with the video crew capturing the performances. Once back in DC I worked with BET Jazz's editing staff to assemble my weekly, 60-minute JazzEd programs engaging the Jazz Colony footage.
To give you an example of the caliber of students invited to participate in this education camp, in '99 the class included bassist Vicente Archer, pianist Martin Berjerano, drummers Otis Brown lll and Damion Reid, trombonist Vincent Chandler, trumpeters Avishai Cohen and Charlie Porter, saxophonists Patrick Cornelius and Walter Smith lll, trombonist Andre Hayward, vocalist Lisa Henry, guitarist Randy Napoleon among the student aspirants. Also in that class was a slender, unassuming alto saxophonist from Montreal named Joseph Omicil, who professionally would go by Jowee Omicil.
In 2016 I caught Jowee's band several times at the jazz festival in Bari, Italy, a port city on the Adriatic Sea. Fast forward to our pandemic world and what for many of us in our first few weeks of shutdown/quarantine were times of peek television binge watching. Netflix was a welcome streaming oasis with it's variety of series and documentaries. One evening we came upon a new Netflix series called The Eddy whose descriptions suggested that jazz music was a major component and whose director was the notable Damien Chazille. So we checked it out and saw immediately that a Paris jazz club was the setting, the musicians performing there clearly were not miming their playing, and the music was original and compelling. To top it off, I immediately became excited because occupying the frontline on saxophones was the same Jowee Omicil! After binge-watching The Eddy over several evenings, I reached out to Jowee with some questions.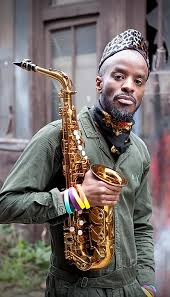 The Eddy DESCRIPTION: The owner of a Paris jazz club gets tangled up with dangerous criminals as he fights to protect his business, his band and his teenage daughter.
Jowee, give us the story of The Eddy in a nutshell.
The Eddy is a story of a club owner – Eliat – and his collaborator, Taha Rahim. They had a dream when they were younger to open up a jazz club in Paris, and they did so. The Eddy is the group that is in residence at the club called The Eddy. The music is written by Glen Ballard and Randy Kerber, and The Eddy is Lada Obradovic on drums [editor's note: she becomes part of The Eddy storyline – particularly from an interesting musical perspective – when she splits from the band, in a dispute with the clubowner, then returns], Damian Nueva on bass, Ludovic Louis on trumpet, Randy Kerber on piano, Joanna Kulig on vocals, Jowee Omicil on sax.
What would you tell our readers about the basic plot of The Eddy? I read a newspaper article that described The Eddy as a "jazz story." My sense is that while jazz is a central force, this is not exactly a jazz story.
The plot: I would tell them they need to watch it to see the plot. To me it's a good plot. I read a newspaper description of the show and described it as a "jazz show." Exactly, it's a jazz show because the idiom, the vehicle is jazz music – in different styles, but jazz. The story is not necessarily a jazz story, I don't want to spoil the suspense… but it's a story with jazz in it.
How did you come to be one of the band members cast in The Eddy?
I was referred by different people and also I did a casting and when I did a casting I got all the objectives, the qualifications they needed for the character, and that was a blessing.
I understand all of the band members on the show are professional musicians; talk about how you all came together as a band. Had you played with any of these musicians previously?
Yes, the musicians are all professionals. Yes, I had played with some of them previously, I played with Ludevic Louis on a TV show a couple of months before we joined the band, and I jammed with Damian Nueva, but I never played with Randy. But Randy and I did a jam prior to the band rehearsal, and I played a little bit with Lada, but we never played together before the show. Joanna was welcome!
Did you get the sense that the producers of The Eddy were striving for jazz authenticity in the show?
Yes, they strived for jazz authenticity, that's why they brought in musicians who can play jazz. That's something I honor because we got to play live, we were not overdubbing or miming, we were actually playing live; only the solos were improvised. But the arrangements we had to learn them by heart and we did so. I commend the directors for doing that, the authenticity of jazz.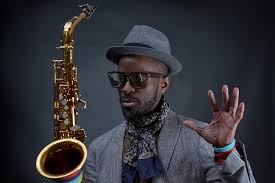 What has playing and acting in The Eddy meant to your overall career pursuits?
For me it's a great honor to have been able to act at this time in my life and career, because it's an honor, and not only is it an honor, it's a privilege and I learned so much. I learned to develop different emotions from the inside, not necessarily from the outside, because pretty much we think that acting comes from the outside – 'the person is acting, the movement of their body…' – but that's not what it's all about. Your emotion can come just from your facial expression, without you even moving. We must not forget I'm a big fan of movies with no sounds – with sounds, but no voice, like Charlie Chapman's movies, only with music – the characters were only gesticular. That's a part of acting that I really like, and I learned so much, more than I can describe in one answer.
Has The Eddy been renewed for a second season?
Not that I know of, but there are so many articles being written [asking] if Season Two is coming. So I will use the hashtag #SeasonTwoOfTheEddyComingSoon because the people are really asking. But you know with the Corona pandemic, we got hurt in terms of planning, recording, and so forth. But we've been blessed, we recorded the first season, and we are expecting a Season Two, but the people are asking [for a second season]… So what do we say? 'Give the people what they want' [laughs]. I'm blessed and grateful to answer your questions!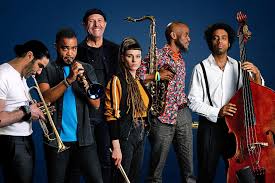 THE EDDY band