With the release of her latest recording, For the Love of Big Band, vocalist-producer-educator Lenora Zenzalai Helm not only provides a sturdy signpost of her current artistic outlook, she has also successfully incorporated significant elements of her full-time jazz education work in the mix. Clearly this recording represents a bit of a milestone in Lenora's career, so with those elements in mind some questions were obviously in order.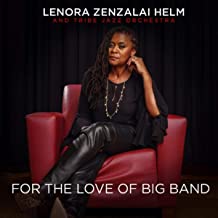 What compelled you to go the big band route for your latest recording?
I was compelled to go the big band route on this recording for a lot of reasons. I am a planner and after reflection about a recording project surmised this was an obvious next step. I've been thinking about the field and my obligation as a jazz educator, and I am focusing more on my unexplored areas of training. A nine-year recording hiatus is a long time to be away from the scene. I was thinking quite intently on what was unexpressed and unexplored in my discography. I didn't want to do much of what I had in the previous six recordings. I felt compelled to go the route of a big band recording because It was the only ensemble configuration for which I had not yet released a project. I have sung with big bands as a guest artist in the past and the experience whet my appetite for being an integral component of a big band. In my current role as a professor in the Jazz Studies program at NCCU, the big band, (NCCU Jazz Ensemble) is a central component of the program. I'm the director of the NCCU Vocal Jazz Ensemble, and we often tour with the big band. My awareness and love for the big-band sound and repertoire grew from working in that setting since 2005.
I've had a lot of time to hear the repertoire, and my burning question was and is, where are the women vocalist big-band leaders? There are many women instrumentalists or women instrumentalists who may sing and who lead or led big bands, (Carla Bley, Toshiko Akioshi, Melba Liston, Bertha Hope, Carline Ray are a few names that come to mind). It is not generally thought of a woman vocalist as a big-band leader. This was troubling for me. The deeper I dug, the more curious I became.
We know of Ella Fitzgerald's history as the leader of the Chick Webb Orchestra after he passed away. We know of Billy Eckstine's Orchestra as vocalist/bandleader. The typical scenario is of a women vocalist working as a guest of a big band, but the documentation about women vocalist big-band leaders is scant. It doesn't mean that none existed, just not well documented.
Working in jazz education has formed many questions of the field. I really am laying a foundation for the work I want my next decade to be about. When I graduated Berklee in '82, my degree in hand, I looked for women in jazz to model or hold in mind as mentors. I had a conversation with Betty Carter around that time, backstage after her concert at Berklee Performance Center. I told her I wanted to sing Jazz. She looked me up and down and stared at me for what seemed an eternity (lol) and said, "it is hard . . really hard." I shook my head yes, in understanding.
I held onto her words and vowed to do what it takes. She was the closest example I had at that time of a woman musician and bandleader that I had a chance to meet and ask questions. Though her advice was minimal, It was something to put in my hat. You can't underestimate how important it is that up-and-coming musicians have examples of what is possible for them. I've just learned I earned promotion and tenure in my role at North Carolina Central University. I will start this fall 2020 as an Associate Professor, Jazz Studies. A seven year, all up-hill journey. Man! I expect to defend my dissertation also by this fall semester to complete my DMA. If I am successful, I will finally be "Dr. Hammonds." It is a demarcation of sorts for me. I've been asking myself, "what else do you want to accomplish?" I like challenges.
The Tribe Jazz Orchestra is a new frontier. Twice now I've directed the band while another singer, Nina Simone's daughter Lisa Simone, performed. It was great working with Lisa. She's a consummate professional. Conducting the band for another singer was also very interesting. I was able to focus on just the conducting role and hear the band without having to concentrate on singing. I loved it!! I certainly welcome another opportunity for another singer to hire my orchestra to perform and I conduct/arrange/compose.
Being new to the sound as a sculptor of the energy and power a big band holds, I've a lot to learn and develop in my musical sensibility and expression. I'm ready to do more arranging and composing. That is my intent going forward. Not many people know that my first degree is in film scoring (Bachelor of Music from Berklee College of Music in film scoring/voice). I have unheard compositions and arrangements for ensembles of all size – including orchestral music. I have not really delved a lot into my background as an arranger and composer. It's time. I'm "easing my toe in" so to speak with this recording, but it doesn't include any of my own big-band arrangements, just lyrics. In fact, I sent the record to my musical "little brother" Orrin Evans, who called me after listening and said, "where is your music!" I had to laugh out loud. I love when my folk keep me honest. (shout out to Orrin!). This is very much a project I thought deeply about and journaled about though, and as the clarity came about for the repertoire, the cats to call, I felt more confident that this was my next phase. I actually started putting it together about 2 years ago when I was on a Fulbright in Denmark. Shortly after returning I did a "test" run at a jazz spot in Durham. I fell in love with the sound and energy of big band. So, yeah. Full speed ahead. Solidified the players, the live recording space and engineer (the most important selection for a live recording!), did a successful crowd-funding campaign and here we are. Grateful!
Am I correct in assuming that the personnel on this record is a mix of students and professionals? How did that come together as you planned this date?
Well, there is kind of a little story behind that choice, to have students and professionals together on this project. Dr. Billy Taylor was my out-the-gate example of a jazz musician who is also an educator. When I first began working at NCCU, I remember cornering Dr. Taylor at an IAJE event, sharing with him what I was working on with the NCCU Vocal Jazz Ensemble (VJE). After I exhausted my list of songs and exercises hoping he would say, "well done," instead he asked, "but are you teaching them the history? With each song, make sure they know the history!" As I thought about the opportunity to teach through the music in this record, I chose to include the students in every aspect of the process. I discussed my song choices, invited my classes to rehearsals, and for the singers from NCCU VJE, had them learn some of my charts to rehearse with the big band.I believe in helping young musicians thrive.
It is really about "walking the talk" and facilitating how they learn the real-world experience for which we propose our classroom work prepares them. For the Love of Big Band provided the perfect opportunity because my vision was to feature a multigenerational, diverse lineup with regard to gender, race and experience. That's what a tribe is. Not everyone in the village is the same, but the sum makes the whole rich. Because I'm a jazz educator, I am ensconced in the village where student musicians are amidst the professionals. They come to our gigs; we go to theirs. I think it provides a sense of being part of a continuum. So, Tribe Jazz Orchestra, to be true to its name, would need to include the entire strata of folk. Having students working alongside professionals on this record was also part of the intention for the project.
I think all professional musicians should have at least one student on their recordings or tours. Can you imagine the difference in the outcome of the coming generations if they don't all have to learn everything by trial and error? There is a very valuable experience to be gleaned from being a fly on the wall or sitting alongside a pro or elder on the bandstand and in the recording booth. Invaluable! The student's level of performance changes, up-leveled far beyond what the classroom or private studio lessons can do for them. It is the basic, "each one, teach one" axiom. Betty Carter is an example of jazz education from the bandstand. I thought this record date could be multi-generational, and that could only be achieved by finding outstanding students who deserved a chance to sit alongside professionals. What better way to learn how to put a record together unless
someone walks you through the process, whether as a fly on the wall, or intentional conversations?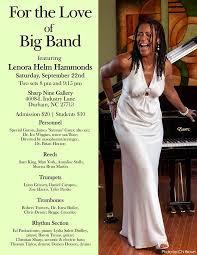 As you planned this record date, what was your sense of combining a jazz orchestra and a modern chamber ensemble?
Well the modern chamber ensemble is for me an arrangers' ideal "sandbox" of textures and colors. It requires the musicians to listen differently and respond differently because you have fewer bandmates (less than 10). The big band arrangements on For the Love of Big Band have sections that are paired down to just some of the members. This unit-within-a-unit approach provides various landscapes of rhythm and color to play with, so the vocals can weave around, up and down, and the listener has a bit of a break to the wall of sound when the whole band is playing. Two of the selections are recorded as singles, Stella By Starlight and A Conversation with God with the Tribe Jazz Orchestra Septet, the latter also appearing on the record as a big band version.
I learned this idea from Andrew Hill, and also from the writing of Duke Ellington. I was on the JazzPar tour with Andrew Hill and had a chance to listen to him maneuver his compositions with an octet (I was the +1 on the Andrew Hill Jazz Par Octet +1 album). Just fascinated with what he achieved with that ensemble instrumentation. I'm sure I will do a lot more of this kind of writing — modern chamber ensemble with jazz orchestra. In a modern chamber ensemble, it is understood that strings may be included or other non-traditional instrumentation. For instance, I love the sound of bass clarinet, cello and flute. Our cellist on the two septet pieces is Tim Holley who plays with a subtle beauty that in many moments is like a whisper. Yes, very much intrigued by what is in front of me, but again so grateful for what we achieved on For the Love of Big Band.
Considering this large ensemble context, how did you go about selecting the songs?
I selected every song! I guess you could say I cherry-picked the selections from my "I've always wanted to sing ________" list. On For the Love of Big Band I wanted the blues to be front and center, no matter what style we were playing. I chose songs that would allow the big band to be as phat in sound, and fun in feel as possible. Love that swagger of the blues with all that power of the horns! I've managed to program a Duke Ellington composition on every record, on this one we have two, I Didn't Know About You, and Everything But You. I included the former even though it appears on my I Love Myself When I'm Laughing recording to see what it would afford itself with a big band arrangement. I spent a weekend with several women musicians from North Carolina to honor Nina Simone in spring of 2018 when I was invited to perform for a fundraiser to save her childhood home in Tryon, NC.
It was a big event with several organizations coming together to make it happen. The occasion caused me to travel deep into her discography and I pulled out Blues for Mama and Mississippi Goddam (arranged by pianist Lydia Salett Dudley who also participated in that event). I've been intrigued by Ms. Simone my entire career. I recorded her version of I Want a Little Sugar in My Bowl on my Chronicles of a Butterfly release and No Images on my Voice Paintings release, but the thought of Nina Simone songs with big band gave me goosebumps just thinking about it. They are two of my favorite pieces on For the Love of Big Band. I wanted to focus only on singing for this project, and managing the entire production of 40 people, so I hired some of my favorite big band arrangers.
Saxophonist/composer/arranger Brian Horton, our guest conductor, has five arrangements on For the Love of Big Band; Soul Eyes, Blues for Mama, I Didn't Know About You and No More Blues for the big band, and with the septet, Stella by Starlight. I have always loved the writing of trumpeter Cecil Bridgewater. I think his writing is so intuitive and always swinging. His arrangements on For the Love of Big Band are Bebop by Dizzy Gillespie (with vocalist Deborah Brown's lyrics), It Could Happen To You and Sandu. He did another arrangement for me of a Betty Carter tune that I'm saving for the next record. Lastly, anyone who knows me knows I am a huge John Coltrane fan and usually include a Coltrane piece on my recordings. I had a former student who is now a colleague, vocalist/arranger Maurice Myers, to arrange a vocalese for the NCCU Vocal Jazz Ensemble, as well as join me to sing the duet on Coltrane's Dear Lord, which with my lyric is titled A Conversation with God. We were going for the sound of jazz orchestra and jazz choir. The piece was a logistical challenge and I'm most grateful for the tenacity of our engineer Rob Hunter. He is just brilliant – on loan to me for this project from Branford Marsalis. Most grateful (shout out to Bran!). One of my mentors whom I had the privilege of recording with on my release Precipice, is pianist/composer Stanley Cowell. He re-imagined Gershwin's But Not For Me on For the Love of Big Band, (which he recorded with me on my previous trio release Precipice. When I called and asked him about doing the big band arrangement he didn't hesitate. Love me some Stanley! Just a beautiful cat and a brilliant musician.
How do you see this record as a departure from your earlier records?
One departure on this record from earlier records is not having any of my own compositions or arrangements. I regret that I had none of my original compositions on the record as in past recordings, though I do have my original lyrics to John Coltrane's composition Dear Lord. I stayed focused on my singing and bandleader role. It was a new hat and a lot of responsibility. I wanted to enjoy the opportunity to immerse myself in the sound of such a large ensemble to express my love for swing and the blues. I focused on bringing a new experience for my listeners of my voice with a large ensemble. I tried to really dig into the interpretation of songs I love and how my vocal sound engaged with the energy of the horns. Another departure is the way you use and engage with your rhythm section. A rhythm section drives a big band (I'm learning it is the secret sauce) and those players have a particular intention in each arrangement. I was very focused on all of that. In previous records I thought more about each composition from the story, then the sound. With a big band, I thought about the sound AND the story as hand-in-glove. I
am excited to explore that relationship in future recordings. This will be the unit I work with over these next few years and subsequent records. I feel like a kid in a candy store.
What role did your jazz education career play in producing this record?
I am very much the kind of person who will bloom where I'm planted. I'm the kind of educator who enjoys the process and environment. I enjoy the privilege – and it is indeed a privilege to assist someone on a creative journey — of guiding new and
emerging jazz musicians to hear and see themselves in the continuum. The Tribe Jazz Orchestra project could only happen at this time in my career, because of my jazz education experiences. My musical awareness and interest were aroused differently from my previous years in NYC as a working and touring musician. There were no big-band leaders my age, really, especially vocalists. I didn't think about having or leading a big band – only as a passing fancy to sing with one. Mentors also guided my decision for this project. Some directly, others indirectly. Jazz education and my jazz education career played a huge part in producing this
record, as I'm thinking about the response to this question. Of course, Dr. Ira Wiggins' invitation to accept a position to build the vocal component at NCCU is pivotal. Wiggins (or Doc as we all affectionately call him), has carved out a sound that is legendary amongst HBCU big bands. (We were proud to be one of the ten inaugural big bands at the 2020 Jack Rudin Collegiate Big Band Championship at Jazz at Lincoln Center this year.)
I watched Andrew Hill, Dr. Billy Taylor, Stanley Cowell and Mr. Jimmy Heath carve a sound through their compositions for big bands, chamber ensembles, smaller groups. They all mesmerized and intrigued me because my question was always, "how can I get some of that?" LOL! Stellar musicianship, great writers, leadership in their roles in academia, musicians' musicians. I aspire to be like them as a woman big band leader, musician, composer, arranger, academe.
In thinking about this answer Willard, here we are at the same conundrum. Again, where are the women? Jazz education has a terrible track record, lacking representation in women jazz educators. Plenty of women vocal jazz educators. Not many lead big bands, teach theory or arranging for instance, or have leadership roles in the Jazz Studies departments or programs. I know pianist Geri Allen was a director of Jazz Studies, pianist Dee Spencer, and Jeri Brown I think was the only woman vocalist that led a jazz program, now flutist Nicole Mitchell heads a Jazz Studies unit (University of Pittsburgh) as a woman director. And, I have a ton of respect for Roxanne Stevenson, (who directs the big band at Chicago State). We have to do better about clearing the way to equity of women represented in Jazz period.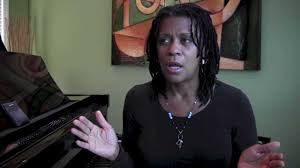 The musicians on this record are all from your home area in the Raleigh-Durham area. Some folks sleep that part of the country as far as jazz and its jazz musicians, but what would you tell those folks about jazz talent in that area?
I believe that jazz has to have tradition, of swing and the blues. In North Carolina, there is a deep and rich tapestry of musicians who come out of the church tradition, and the blues tradition. A lot of what you hear from musicians in our area, especially younger musicians, is a result of the many universities that teach jazz. Dr. Ira Wiggins, Director of Jazz Studies at NCCU has influenced several generations of musicians in the Durham area for instance, and for a long time UNCC was the only place to earn a Bachelor of Music in Jazz Studies, and the first to have a Master of Music in Jazz Studies, not only at an HBCU, but in the state. You hear that legacy on my record, as many of the musicians (faculty and alums) are in my band. I came to North Carolina from New York kicking and screaming, but I'm happy I did. I thought I would lose whatever I assumed you get only in NYC to be a "real jazz musician." Happily, what I did was assimilate into what felt very familiar to my Chicago, (South-Side) roots.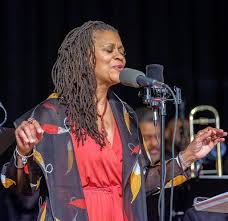 There is a true sound here in North Carolina. Think about the musicians from here: John Coltrane, Jimmy Heath, Roberta Flack, Thelonious Monk, Max Roach. The sound expressed itself on the record was organic. It wasn't something we discussed beforehand and declared to any of the musicians to try and achieve. I attribute it to those deep church roots. The jazz musicians who choose to pay homage to the blues in their playing perform with a soulfulness that is palatable.
Dr. Wiggins and Brian Horton are both from Kinston, NC and there is a legacy of music from that region (think of James Brown's saxophonist Maceo Parker). Reedman Brian Miller has a big, fat beautiful tenor sound, which you can also in his alto playing. Ameen Saleem (longtime bassist with Roy Hargrove) has that consistent phat sound, as does Lynn Grissett on trumpet – searing and soulful, he puts his stamp on his solos, and you instantly know to which tradition he pays homage. I could go through each chair in the band, all having ties to North Carolina, and concurrent threads through playing in church, maybe paying dues in NYC, and having experience in pop, soul and R&B. Lynn Grissett played in the horn section with Prince, trombonist Robert Trowers toured with Randy Weston and in the big bands of Lionel Hampton and Count Basie.
With so much history and experience amidst the personnel, I only had to make the right choices of repertoire, hire supportive staff, great arrangers, and a great conductor so I could focus on doing my thing. The record was crowd-funded and galvanized over 100 people who love Jazz, and recorded in front of a live audience in an historic church near downtown Durham. I felt like I had the wind at my back and a pocket full of all the gold in Africa. The entire process has been a blast! I hope listeners find it enjoyable.
Learn more about this enterprising artist at www.lenorahelm.com.