This year marks the 50th year in jazz radio for a true jazz warrior, DC's own Rusty Hassan. Currently heard regularly on WPFW 89.3FM in the DMV, the Washington metro region's Pacifica station, on his Thursday Late Night Jazz show 10:00pm-midnight (full disclosure: this writer is heard on the same time slot on Wednesday nights with Ancient/Future Radio). Rusty Hassan is a distinguished fixture on the DC jazz scene, known by musicians and fans far & wide, someone who has contributed immeasurably to this community since landing here as an undergrad at Georgetown University.
In 2017-18 DC JazzFest conducted an oral history project through funding from the DC Oral History Collaborative, ultimately for oral history interviews that will be available through the DC Public Library system. Rusty and this writer collaborated on several of these oral history interviews, but the first in our series of interviews was my one-on-one with Rusty himself. In celebration of his 50 years in jazz radio, here is Part One of an edited version of our oral history interview.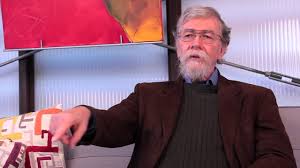 Willard Jenkins: Please give us your full given name.
Rusty Hassan: My full given name is Hugh Joseph Hassan lll. Right after I was born my aunt, when she saw my bright red hair at birth, she tagged me with the nickname Rusty because she didn't want me to be called Red.
How did the name Rusty stick with you all these years?
It just stuck. I was just Rusty with my family and my friends.
So as a kid you were known as Rusty among your peers?
Absolutely. It was only the nuns in my grade school who would call me Hugh to be proper.
Where were you born and where did you grow up?
I was born in Bound Brook, NJ but I grew up in various parts of Greenwich, CT. The reason I was born in Bound Brook, NJ is because my mother was from New Jersey and she met my father who lived in Connecticut. I lived in Connecticut until I went to Georgetown University and Washington, DC became my home.
Where did you spend the majority of your childhood?
The majority of my childhood was in Greenwich. Right after I was born my parents lived in a section of Greenwich called Glenville, where my father had a tavern and his sisters and brother-in-law had a liquor store. It was a multi-family home in the Italian section of Glenville and in 1950 after my twin brother & sister were born in 1948 they moved to public housing in Riverside, which is part of Greenwich also, called Adams Gardens. This is Greenwich, CT so the projects are not the projects; it was very nice public housing to say the least. I loved that because there were lots of kids there to play with. When I was 11 we moved to a single family home. I lived there until I graduated from college; I spent the summers there in Greenwich.
Where are your mother & father's respective families from?
My mother's family is primarily German Catholic, but part of the family came from Luxembourg and that was always a trip to the map to find out this little country in Europe where parts of the family came from. And my father's family was Irish Catholic – in spite of the Arab-sounding last name. His mother, Hannah Dailey, came from County Cork so he was on his mother's side first generation Irish American.
Did either of your parents have an interest in music?
My dad's interest in music was primarily things like Mitch Miller Sing Along With Mitch, or even though he was very Catholic, listening to the Mormon Tabernacle Choir; he was not hip in any way.
My mother however… I discovered when I got into jazz around the 8th grade I discovered an album of some 78 rpm records in a book form, and it was Jazz at the Philharmonic playing "Body & Soul" and "Rosetta." It listed Illinois Jacquet, and the pianist was listed as Shorty Nadine, who I later discovered was Nat "King" Cole. So my mother in her youth certainly had an interest in jazz. One of the 78s was Woody Herman's "Woodchopper's Ball." It was like a gold mine for me to discover these 78s! But it wasn't the music being played in the house.
Are there any musicians in your family?
My father had a violin, he took violin lessons as a kid, but he never played in the house, he just showed it off. There was music in the house because we had radios. In the 50s it was fascinating because the diversity of music that you'd get on AM radio was mind-boggling.
Greenwich is a suburb of New York City, so we had the New York stations: we had WMCA, WNEW, WABC, all of them playing Rock & Roll and Top 40 radio at the time. In the mix along with Elvis Presley singing "Don't Be Cruel" could be Fats Domino doing "Blueberry Hill" or Louis Armstrong doing "Mack The Knife," or something along those lines. So I was listening to radio and listening to music and I was drawn to a lot of instrumental music. Around that time instrumental things would make their way to Top 40 also, so I'd be drawn to that.
During that same time I was into model airplanes, so I would make particularly World War ll fighter planes and bombers and things like that. New Year's Day 1958 I'm making a model airplane, twisting the radio dial around and somebody played the entire Benny Goodman 1938 Carnegie Hall concert and I just got drawn into that! Hearing the jam session on "Honeysuckle Rose", hearing Johnny Hodges and Lester Young… I didn't know who I was listening to, unless they announced it, but I said 'wow, this is something!' And I discovered the records at Woolworth's. I went right out and bought the 2 volumes of the LPs of this 1938 Carnegie Hall concert.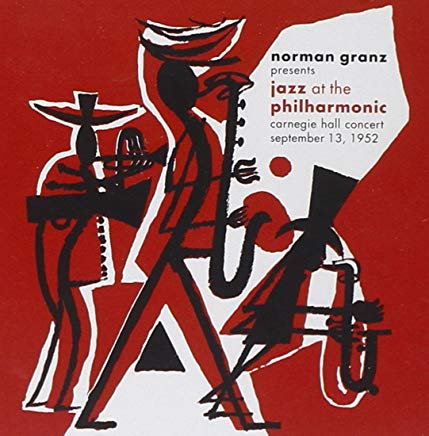 Was there any music influence on you outside of your home?
I had a classmate in 8th grade – we went to high school together 9th grade through the 12th grade – his name was Norman Fettig, his nickname was Butch, he had an interest in jazz also. His older brother was in the Air Force and left behind jazz albums. Among the jazz albums was "For Musicians Only," Dizzy Gillespie with Sonny Stitt; "Ellington Indigo," "Ellington Jazz Party" with Dizzy Gillespie as a guest artist… So we'd be listening to those records at his house and I'd say "oh, I've gotta find this one, or I've gotta buy that one…"
So between me and Butch we fed on each other in terms of our interest in jazz and as we got into high school and got a little older Butch was like the plotter in many ways… "Come on, let's do this," so went to what was called the Daily News Jazz Festival at Madison Square Garden, it had to be 1962. On the bill was Dave Brubeck –who was really big at that time, with "Take Five" being a hit record – Carmen McRae, Sonny Rollins performed with Jim Hall [on guitar] right around the time "The Bridge" album came out, Maynard Ferguson – who had an album that was really hot at that time called "Maynard '61" with a tune on it called "Ole" that Slide Hampton arranged. Chris Connor sang with him. That really expanded my horizon with all these artists!
When we got our driver's license that year we would drive into the city a lot, we were two white kids in Small's Paradise checking out the music there. In 1963 we told our parents we were going to spend the weekend at each other's house and we drove my '54 Studebaker across Connecticut to Newport, so we were at the Newport Jazz Festival in 1963.
Herbie Mann performed with a very eclectic rhythm section – he was into Brazilian and Cuban music. I remember [Carlos] Patato Valdes was in that group as a percussionist. In the evening concert they announced that John Coltrane would be recording, but Jimmy Smith performed before that and Jimmy had people dancing on their chairs and he didn't want to stop, he was cookin'! And when he was finished they brought on John Coltrane and he came on performing "My Favorite Things" with McCoy Tyner, Jimmy Garrison, and Roy Haynes. My friend Butch was pulling on me saying we had to leave, but I didn't want to leave listening to Coltrane, I was just transfixed, it just grabbed me.
How old were you at the time?
I was 17.
Were you conscious of segregation and discrimination growing up in Greenwich?
No, I was really oblivious because there were maybe one or two black families in the housing project. The Catholic schools were all white. I became more conscious of race through the music. Getting into jazz, delving into the history of this music as an African American art form… We were blessed with a great public library in Greenwich that had a music section where you could check out albums, so I was able to get "Relaxin' With Miles Davis," Modern Jazz Quartet "European Concert" at the library, and books on jazz. So I'm reading up on the music while listening to it; beyond the liner notes I was able to read books like Jazz, It's Evolution and It's Essence by Andre Hodier and it questioned whether Art Tatum was a genius. I said to myself "wait a minute, with people like Teddy Wilson and Fats Waller around, who sets the standards for genius?
Many years later when I was at a luncheon with Dr. Billy Taylor when he was doing a lecture at Georgetown University, and I'm talking to somebody on my left, I'm overhearing Billy talking about that very same article and how the musicians all pulled his coat. My education about this music that was created by black Americans, and seeking out the music to hear these artists, made me conscious of race – and through the news media reporting on the Civil Rights movement and stuff like that in the late 50s and early 60s.
My buddy and I contemplated whether we could come down to the March on Washington in August. But I knew a couple of weeks later I was going to Washington to go to Georgetown University. It wasn't until I got to Washington that I really became more aware of race and racism and segregation and on a more personal level.
You mentioned that you and your friend slipped into New York to go to the jazz festival at Madison Square Garden, then you mentioned Newport. During that same general time frame were there other opportunities that you took advantage of to hear live music?
Yes. In fact, in 1960 or '61 – one of our classmates father was principle at Stamford High School, I went to a Jesuit high school – Fairfield College Preparatory High School in Fairfield, CT, about 20 minutes away from Greenwich. This guy's dad had his son at the Catholic school because he didn't want his son attending the school he was principle at. But when they presented the Dave Brubeck Quartet he said 'bring your friends.' Dave Brubeck lived in Wilton, CT at that time. So I got to see the quartet, with Paul Desmond, Joe Morello, and Eugene Wright… I was 13 or 14 and this was prior to those festivals. Backtracking even further, when I discovered my mom's 78s I was 12 and she saw my interest in music so she took me to see Lionel Hampton at a local junior high school, playing all of the instruments that he did!
Was that your first experience with live music?
Yeah, absolutely.
What effect did that experience have on you?
It was great, it was fascinating, I told myself I had to have more of this! It stoked the fire. Hearing the Benny Goodman concert on radio sparked me to really search out the radio dial.
What age were you when you heard that Benny Goodman broadcast?
I had to have been 12, New Year's Day 1958. I discovered Symphony Sid's show, and he was playing things like "Maynard Ferguson 1961" and Stan Getz "Focus" with "I'm Late, I'm Late"… these are things I was discovering at the time. The third album I bought was a Royal Roost album called "Diz and Bird" and I found out later that it was a live recording of a concert, with no identification of the musicians – which really upset me at the time! I knew it was Dizzy Gillespie and Charlie Parker and just what Parker and Gillespie were doing cut through to me; it was like the 'wow' moment! It was like 'what are these guys doing!' They were playing "Groovin' High" and "Night in Tunisia" and just Parker's work was fascinating. I discovered that one of his key recordings – his first as a leader – doing "Now's The Time," "Ko-Ko," "Billie's Bounce"… was recorded on the day I was born!
Would you characterize yourself as a bit different from your peers in wanting to know the background of these things and discovering these various jazz facts?
In high school there was a coterie of us that were really into jazz and during the lunch break we would talk about jazz. There was a nightly radio show by a guy who just talked, his name was Jean Shepherd and he talked about jazz sometimes. He actually did a narration on a Charles Mingus album called "The Clown." He would narrate stories and philosophize. So there was a group of us who would ask 'what did Jean Shepherd talk about last night?' Somebody would talk about checking out Art Blakey and the Jazz Messengers with Thelonious Monk, with Monk as a sideman on an Art Blakey record, and it sounded pretty way out, but… wow! So we'd go back and check out these recordings.
During those times were you and your jazz-loving peers viewed as being different by the rest of your peers?
Yeah, I would say so; most of the rest of our peers were listening to rock & roll.
So how did you high school jazz lovers come together?
Talking outside of class, about a dozen of us. I had this Maynard Ferguson Hollywood Party album with Shelly Manne playing drums, it was a West Coast album but it was cookin'. Playing that for one of my other friends who weren't really into the music and the response was 'I don't really like music without words', just couldn't get into it at all. And then there was the progression of some of the folks that were into jazz when Coltrane became a fixation for me…. When I was in college and home for the summer I'd play Coltrane's "Live at Birdland" and "Afro Blue" just blew me away, and some of my friends would say 'no, that's too way out for me, I can't get into that.'
Were you considered oddballs?
This is the time when Jack Kerouac's book On The Road had been out for a few years and that was about the Beats. We were considered hipsters, the beatniks. This was before hippies, this was '61-'63. We missed the Beat Generation but we were identified as the hipsters of the school.
Did you guys consider yourselves advanced musically for that time?
Absolutely, and so much so the perception of us that came through was… When I graduated from high school the yearbook had captions under our pictures and the caption under my yearbook photo went something like this: 'Prep's angry young man, rides in an out of this world Studebaker, disciple of Kerouac, wastes his time reading dirty books, and it's all pseudo.'
So what were the dirty books you were accused of reading?
[Laughs] I have no idea, maybe Jack Kerouac's On the Road or something. One of the guys who were into jazz who I wasn't really that tight with, when I saw him at the 50th anniversary I asked him whether it was he who wrote that caption, because when my mother read that she had a little fit, 'oh, how embarrassing…' I thought my mother had tossed my yearbook, and then many years later when I'm home visiting as an adult, she said 'guess what I found, our neighbor when she was moving found your yearbook, you'd left it up there for 30 years'! For years I was blaming my mother for tossing it!
As a kid were you active or interested in any of the other arts besides music?
Yeah, I got active in the drama society in high school and I was doing mostly stage work, but I acted in one of the plays in a very bit part. I was not athletic enough to play baseball or football, so I ran cross country and got my high school letter doing cross country, I was able to run rather well back then.
Considering what you said about the influence of radio and listening to Jean Shepherd, Symphony Sid and others, what kinds of radio programs did you enjoy and what was it about those programs that you enjoyed?
Jean Shepherd with his narrations and his story telling, and his sense of humor I really enjoyed. But even more so discovering jazz radio through Symphony Sid, and also Mort Fega had a jazz radio show in New York and I got to meet him at jazz conferences and that was a thrill. And then discovering Billy Taylor, who was at WLIB doing an incredible show.
So you pulled in all of those shows from Greenwich?
Yeah, listening to New York radio, and then becoming a friend of Billy Taylor later on in my adult life; discovering the music through radio was really a joy to me. Frequently going through Caldor's or other department stores and just flipping through the record bins. I think beyond hearing the "Relaxin' With Miles" from the library, I'm flipping through and I find "Birth of the Cool" and it was fascinating, but a little bit too subtle for me at the time, I guess it was an acquired taste for an adolescent.
But then going back and picking up [Miles Davis] "Friday Night at the Blackhawk," from his hard bop phase, and really getting into that album, playing with Hank Mobley, Wynton Kelly, Paul Chambers, and Jimmy Cobb. I would play that one over and over again, and then seeking out "Saturday Night at the Blackhawk" when I had the money. Eighth grade… Benny Goodman's Carnegie Hall concert, then Diz & Bird…
How did those records stoke your interest in actually collecting records?
I'd play those over and over then I'd say 'I need something else now.' I'm trying to figure out how did I discover Charlie Parker and Dizzy Gillespie… it must have been something I heard on the radio, "Diz & Bird," got me into bebop. Then it was about what's coming out new at that time, from hearing it on the radio. Symphony Sid would play "Ole"… well that's Maynard Ferguson '61, so I'd get that – I was about 15. Buying records supplanted buying model airplanes very quickly!
Did you have a job as a kid or did you have an allowance that enabled you to buy records?
In the summertime I was a caddy at a golf course, when I was 13 or 14, I started earning money, not a whole lot but it was enough to buy records.
How much were those records at that time?
$3.98 for mono, $4.98 for stereo.
How old were you when it became clear that this was an obsession?
I guess when I was about 14 or 15. Last year of high school, first year of college was really when Motown was beginning to breakthrough in terms of pop music… with Afro-American music being played on Top 40 radio, the Motown sound… And I really got into what became called the Soul sound – Otis Redding… So by the time I'm in college I'm listening to other genres that are interconnected with jazz and enjoying it also.
When you started collecting records, what were you playing them on?
A little portable stereo, and my parents had one of those consoles about the size of a table, so I'd come out there and play them sometimes. When I was in high school I had a little portable stereo in my bedroom, listening to records while doing my homework. I focused more on that than the Latin I was supposed to be studying. I graduated from high school in 1963, from Fairfield Prep, a Jesuit high school. I applied to Boston College, Georgetown, and University of Connecticut. I got into Georgetown.
What was your next step after high school?
After high school, I got accepted to Georgetown University in Washington, DC. I came down to Washington in the Fall of 1963, took my albums with me. At first, I didn't even have a record player in the room. Gradually, I started checking out the jazz scene in Washington. I didn't go there at first, but I saw an ad for an unusual sounding name for a group, the JFK Quintet [ed. Note: saxophonist and tireless John Coltrane transcriber Andrew White was a member of that band] at the Bohemian Caverns. Ultimately, I would discover that club. In 1965, my roommate Toby Mason and I, went to go see Ramsey Lewis at the Bohemian Caverns. There was a big truck outside. We went in and they were recording, and Ramsey did this R&B tune called "The In Crowd". That got released the following summer …
So you were there for that classic recording.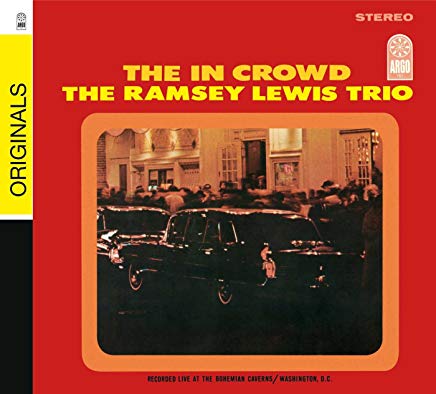 I'm clapping on The In-Crowd! But what really, really sticks with me from the Bohemian Caverns, was when I went by myself to see the John Coltrane Quartet with McCoy Tyner, Jimmy Garrison, and Elvin Jones.
What year was that?
'65; the performance was so intense… And when Coltrane finished, he was walking by and he had that expression that's like on the cover of a Love Supreme… I let him walk by me. I couldn't say anything I was tongue-tied. Later on, as I got to know McCoy Tyner and I told him that story, he laughed. He said, "John was really friendly. He would have talked to you all night just about music. Don't talk about sports." My freshman year I didn't get out to hear too much music. My sophomore year, I did.
When you got to DC, how would you describe the jazz scene when you arrived to attend Georgetown?
It was exciting in many ways. Going to the Caverns and see John Coltrane… There was actually a bar that I went to. It was 18 drinking age for beer at that time in DC, and there was a bar that had a jazz jukebox. It had Coltrane on the jukebox, it had Modern Jazz Quartet, the Crusaders. It had a crusty bartender who owned the bar, named Joe Cohen. That was sort of the hang out.
What the name of that place?
It was called the One Step Down.
And where was it located?
It was on Pennsylvania Avenue, 2000 block… It was only later in the '70s when they started presenting live music, and I'm trying to remember. I think maybe it was Lawrence Wheatley who persuaded him to allow him to do some jazz workshops there, and they started dealing with some local artists. Somehow, this woman came down from New York, and I don't know how she wheedled her way into it, but she came in with Joe. Her name was Ann Mabuchi. She said, "We should start bringing down people from New York." So in the '70s, she would be booking Lee Konitz… Any major act that wasn't playing at Blues Alley would be playing at The One Step Down. This is a decade later. This is like in the '70s now.
When you first started going to The One Step Down what was the scene there?
When I first started going there, it was because of the music on the jukebox.
Did it have the same physical configuration as the place that eventually presented live music?
Absolutely. All they did was move some tables around. It was not even a stage that they had. It was space next to the bar.
What else was happening on the DC jazz scene at that time?
On the DC jazz scene you had the Cellar Door, Blues Alley opened up I think in '65. You had a place called Shadows on M Street. The Modern Jazz Quartet played there. You know, you had all these clubs playing jazz. Interestingly enough, Blues Alley when it started, had a separate room for the bar. So it was an even smaller club, and they had a house rhythm section accompanying the artists coming through there. Bass player by the name of Billy Taylor who was the son of the bass player named Billy Taylor who played with Duke Ellington. They would have acts like Marian McPartland. In fact, I did an interview with her when she was playing at Blues Alley.
Then in the late '70s, John Dimitriou came in, who owns Jazz Alley in Seattle. He came as a manager for a guy named John Munyon who bought the club. They opened up the bar area, pushed the bar back up against the area, and made it a whole wider space. Started booking hard bop, Art Blakey, the Heath Brothers, and stuff like that. This is around the same time in the '70s that Ann Mabuchi's bringing people down from New York, booking national acts there at the One Step Down.
In the '70s, when I moved into this neighborhood, there was a guy who lived over on Hamlin Street, named Bill Harris, guitarist, who did a solo jazz guitar album, who started off playing rhythm and blues earlier on. He would have a party every Labor Day, and bring in guitarists like Kenny Burrell, to play in his backyard. His dream was to have a club, so he found a spot at 18th and Rhode Island Avenue NE, and he opened it up and called it Pig Foot. The irony of Pig Foot, it's named after the Bessie Smith song "Give Me a Pig Foot and a Bottle of Beer". Further down the street were two other clubs that were black-owned: Mr. Wise, and Moore's Love and Peace.
Were these places in competition with each other?
Yeah, of course, but it was a friendly competition. It was like you go from one spot to the other to see artists. I wanna backtrack a little bit to get the chronology back to the '60s, when I'm …just getting to DC, and discovering these places, like the Bohemian Caverns in the '60s. Going to the One Step Down for the jukebox. Then hanging out with Carolyn to go to the Howard Theater to hear the R&B acts and soul acts, and Motown acts. I was looking at the music as a connection. I'm into jazz, and at Georgetown right off campus, there were two restaurant bars. One was the very tony 1789. The 1789 had the downstairs beer garden called the Tombs, and the upstairs restaurant was very classy. Right next to it was a lunch counter bar type place called T Hands, owned by Lebanese immigrants with affordable food and beer. One day, I'm drinking some beer and hanging out with some friends, we're talking and having a grand old time. A guy walks in and he's ordering something from the counter, and he's holding albums. You know how we jazz fans are, hip and in the know.
I asked about the albums, we were talking and he had some pretty good stuff under his arms. We started talking some more. He said, "Well, I just play these on my jazz show on the campus station, but I gotta give up the show to take a class. Why don't you do it? You know enough about this stuff." I said, "Well, I never did radio." He said, "Well yeah, come by next week. I'll show you what to do." It was very serendipitous. That's how I started doing jazz radio as a student at Georgetown on the FM station that the University had at that time.
At the time, were you acquainted at all with many DC jazz musicians?
I was starting to meet them, but not quite yet. But then when I got the radio show going …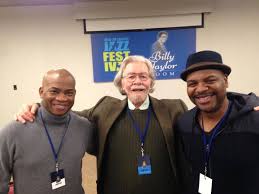 A fixture on DMV live music scene: Rusty backstage at the Mid-Atlantic Jazz Festival with guitarists Russell Malone & Bobby Broom
STAY TUNED FOR PART TWO…