Operating in our truly international city has given the DC Jazz Festival a unique programming perspective that reflects what we refer to as The International Language of Jazz. DC's vibrant community of foreign embassies has been a blessing in our efforts at broadening our year-round programming profile. Our Fishman Embassy Series, named after DCJF founder Charlie Fishman, who early on recognized the possibilities for engagement of DC's embassy community, has established very fortuitous collaborations with a number of foreign embassies, including the embassies of Switzerland, France, Japan, South Africa, Colombia, Spain, Korea, Singapore, Italy, Finland, and Canada.
Those partnerships have enabled us to expand upon one of our ongoing festival themes, to celebrate The International Language of Jazz through presenting artists native to those countries. There was a time, particularly back in the 40s-through 60s, when U.S. jazz musicians were hungrily sought after overseas, and in many cases their acceptance at foreign ports far exceeded the level of acclaim and acceptance afforded them in their own home country. Fast forward to the 21st century and through those many foreign tours (particularly across Europe) the gospel of jazz has effectively been spread globally. In an increasing number of countries this has included development of conservatory-level jazz education programs, many with curricular consultation from leading U.S. music conservatories and jazz educators. Consequently jazz artists and actual scenes are available pretty much worldwide.
I got a nice taste of that recently when I was invited to participate in the first Jazz Across Borders conference, in St. Petersburg, Russia. Encouraged and supported by the Ministry of Culture of the Russian Federation, and spearheaded by the country's leading jazzman, saxophonist-composer-bandleader Igor Butman, "Jazz Across Borders (JAB) is a professional platform designed to assemble international and Russian jazz community representatives."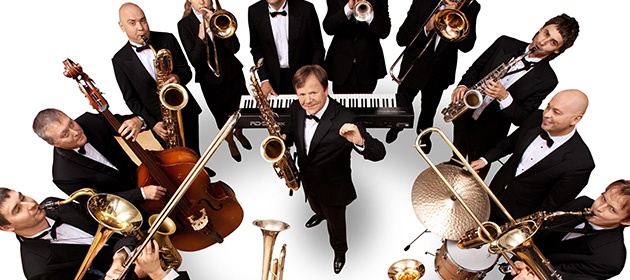 Igor Butman & the Moscow Jazz Orchestra
The core of the JAB conference was a series of panel discussions, round tables, workshops, and meetings of jazz industry representatives. Each late afternoon/early evening featured showcase performances by some of Russia's leading and emerging jazz artists and bands in an atmosphere reflective of both the former Jazz Times Convention (reincarnated as Jazz Connect) and IAJE conferences. Also included were jazz club nights, and St. Petersburg does indeed have several vibrant jazz clubs, and a culminating gala concert that included performances by several featured Russian jazz artists and a collaboration between vocalist Kurt Elling and the Moscow Jazz Orchestra.
In somewhat the same manner of January's Jazz Connect Conference (which in 2018 is being re-christened the Jazz Congress, in partnership with Jazz at Lincoln Center) aligned itself with the big APAP performing arts presenter conference in New York City, Jazz Across Borders was held in conjunction with the larger (6th annual) St. Petersburg International Cultural Forum conference. Jazz Across Borders took place on the bustling floors of the St. Petersburg State Academic Chapel November 17-18.
Your correspondent was invited to participate in a panel discussion of festival presenters titled "Jazz Festivals: working with government and sponsors" that was moderated by Elena Zelentsova of Russia's Skolkovo Foundation. Handheld translators with earpieces were provided as the dialogue shifted easily from Russian to English on the series of culturally diverse panel discussions. Our lively discussion included saxophonist Kent Sangster, producer of Canada's Edmonton Jazz Festival; Michelle Day, vice president of the Thelonious Monk Institute detailed the history of the Monk Institute's growing International Jazz Day observances, in 2018 to be held on April 30th in St. Petersburg, a point of obvious Russian pride; and our discussion was rounded out by two gentlemen from Russia's burgeoning jazz festival scene, Andrei Levchenko, producer of the Kaliningrad City Jazz Festival, and Valery Korotkov, head of JIVE Group agency, which runs numerous festivals, concerts and club events in Russia.
Several other panelists were guests from around the jazz world, including such fellow U.S. participants as artist manager Pat Harris, booking agent Ina Dittke, JazzTimes publisher Lee Mergner, Berklee College of Music V.P. Dr. Larry Simpson, journalist Ted Panken, director of jazz programming at the Kennedy Center Kevin Struthers, international booking agent Katherine McVicker, and Adam Shatz, musician and co-producer of NYC Winter Jazzfest. Other guests in our group of international guests included Ros Rigby, president of the Europe Jazz Network, and producer of the Gateshead International Jazz Festival (UK), Carlo Pagnotta the founder and artistic director of Umbria Jazz (Italy), booking agent Catherine Mayer (Germany), Simon Cooke managing director of Ronnie Scott's Jazz Club (London), and Peter Gontha, founder & producer of the Java Jazz Festival (Indonesia).



The lobby bar at the Hotel Krempinsky in St. Petersburg was a convenient hang for our group of visiting conferees from the US, UK, France and Italy during JAB
Throughout JAB the energy in the venues and the hallways was palpably high and there were an impressive number of millennials in the house; all were quite eager to soak in the jazz vibe. The White Hall room which hosted the various forums and panel discussions – on global issues ranging from festival, concert and club presenter concerns to jazz media and jazz education panels, to such more specific concerns as panels on "The peculiarities of working on tours for foreign performers in Russia and Russian performers abroad," "The specifics of promoting jazz artists in Russia and abroad," and "Russia: New opportunities. Infrastructure of Russian jazz market: myths and reality," to an overview of "the history and development of Russian jazz art fem the 20s till present," a discussion that included Igor Butman among its speakers. On the roundtable discussion on promoting jazz artists in Russia, agent-manager Pat Harris suggested that from her perspective one thing the fall of the record industry has done is to level the playing field. In this modern paradigm there is no longer a certain class of artists blessed with that label deal leg up on the field. Throughout the two days these sessions were packed with genuinely eager-to-be-informed and attentive conferees.



Packed, attentive audiences like this were the rule during the Jazz Across Borders conference
The showcases featured many of Russia's most talented ensembles, with a particular bent towards younger, emerging talent. The impressive LRK Trio (piano-bass-drums) concluded its set with the pianist strapping on accordion and the band adapting a traditional Russian folklore dance to its decidedly modern jazz perspective. Later, the Yakov Okun Quartet weighed in from a more traditional modern approach, in a relaxed, reflective manner. Throughout, the fresh, youthful energy of the attendees was quite refreshing, a sensibility which also permeated the clubs we visited, including White Nights Jazz Club. There was an energizing zeal for the music in St. Petersburg that was quite positively affirming. The showcase bands performed with a passion and desire to seek the original that was quite impressive. At the 6pm Black Hall showcase on Friday, Dock in Absolute brought the funk, opening with a nice balance of bass clarinet and electric bass with a fresh feel wrapped in old socks.


Dock in Absolute showcasing
The closing gala concert featured Igor's exceptional brother and sister-in-law Oleg (drums) and Natalia Butman (piano & voice) in trio, conference guest John Beasley conducting the Moscow Jazz Orchestra through one of his (Thelonious) Monk'estra charts, and the evening's featured set with the roaring orchestra skillfully framing and accompanying vocalist Kurt Elling's set. before yet another deeply attentive full house in the big hall at St. Petersburg State Academic Chapel. Yes, jazz does indeed live a charmed life in Russia!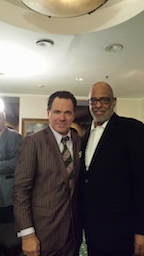 Kurt Elling and Berklee's Dr. Larry Simpson chillin' at the Hotel Krempinsky following Kurt's conference closing triumph with the Moscow Jazz Orchestra