Spurred in part by artist manager and dear friend Gail Boyd's Alternative Venues for Jazz Facebook page, this is the third installment in an occasional focus on alternative jazz presenters and their art of presenting. The benefits of having begun my career in jazz presenting as a founding member and later concert curator of the former Northeast Ohio Jazz Society gave me invaluable grounding and insights into presenting jazz performances, starting in 1977. We built up from presenting the late David Chertok's wonderful jazz-on-film programs to packed, enthusiastic houses at Cleveland State University Auditorium (I fondly recall encountering an eager audience awaiting entry to the auditorium that snaked down the hallway all the way down the stairs, then proceeded to clap and cheer wildly during the program… for great jazz performances on film no less) to presenting such artists as Dexter Gordon, Woody Shaw, the Heath Brothers (very near annually for awhile), Arthur Blythe, Bobby Hutcherson, Cedar Walton (all coincidentally were recording for Columbia Records at the time; the label was virtually cornering the market on jazz mastery for a short window under Bruce Lundvall's brilliant stewardship), a typically memorable experience with the Sun Ra Arkestra where afterwards Ra held court for a rapt crew of celebrants in his dressing room for hours), and a host of others, at CSU and later at Cuyahoga Community College (Tri-C, host of the long-standing Tri-C JazzFest, where I had my initial contracted experience as a jazz presenter).
Always anxious to connect with others who were presenting jazz in the not-for-profit arena (the organization featured in this interview's not-for-profit is Audiences for the Arts), I was an eager registrant at both the JazzTimes and NAJE (later the ill-fated IAJE) conventions. One guy I'd generally see at those conferences, one who would always be in the same room for any panel discussions or lectures related to presenting jazz performances, was Julie Lokin, who was one of the principals behind the NYC-based not-for-profit presenting organization known as New Audiences. As part of our ongoing Independent Ear series on jazz presenting and presenters in the not-for-profit arena, through that ubiquitous 21st century connector known as Facebook, I sought out Julie Lokin for some questions on the whys and wherefores of New Audiences. But first, here's a thumbnail sketch of how New Audiences began (you can read the complete account of their initial foray into jazz presenting at www.newaudiences.com).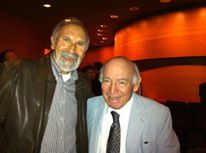 Julie Lokin (left) with one of the Godfathers of jazz presenting, NEA Jazz Master George Wein
Julie Lokin, Art Weiner and Seth Willenson were all friends and jazz freaks who during the sixties had produced jazz concerts in college. Art and Julie met as members of the Jazz Society of Hunter College and Seth produced concerts at Cornell University. In 1971 while they each worked in related aspects of the motion picture industry, all three remained dedicated jazz lovers and decried what appeared to be the demise of jazz in the Big Apple. With youthful naivety and unbound enthusiasm, they decided that they would trigger the return of the New York jazz scene by organizing a major jazz event at a major New York venue. That event would prove to be a truly historic concert performance by the great Charles Mingus.
They sometimes call it the "jazz capital of the world, " but in 1971 the scene in New York for live jazz was pretty dead. Thankfully, today a myriad of clubs in New York feature jazz, and jazz fans enjoy a regular cycle of jazz concerts in major venues. But in the early seventies there were only a handful of jazz clubs, notably, the venerable Village Vanguard and Slugs (known for being the place where Lee Morgan was shot and killed). There were virtually no jazz concerts of importance taking place. Somehow we got the idea that we could do something to bring jazz back. We decided to produce a week-long series of jazz events at a major concert hall, combining jazz with other arts and media.
We struggled with the selection of an artist with whom we could sell enough tickets to cover our investment and whose performance would attract the public attention we were seeking. As each of us had been fans of Charlie Mingus' music, we talked about presenting him, but there were a host of reasons for rejecting the idea. Mingus' reputation for being a volatile personality was well known. In the sixties, at the old Five Spot on the Bowery, we ourselves had witnessed Mingus storming into the club well after the time scheduled for the set and watched with amazement as he berated musicians and patrons alike. I had heard the story of his punching his trombone player Jimmy Knepper in the mouth. His famous Town Hall concert of 1962 was also on our minds, where Mingus continued to write out parts for his musicians on the Town Hall stage in front of the amazed paying concert audience. We recalled our experience in 1965 when we actually had a brief telephone conversation with Mingus. We were inquiring about Mingus' interest in doing a concert for the Hunter College Jazz Society and it was a conversation, filled with nonsequiturs, which seemed to go nowhere. Mingus was saying that he didn't want to do concert music, he wanted to play music for dancing. "I don't mean any of that Lester Lanin shit," he said, but he didn't seem to grasp the great opportunity that the Jazz Society believed it had to offer.
The concert was a great success, both musically and commercially, and was the forerunner for many more great things in jazz. George Wein was so taken by the success of the event that it solidified his own thinking about bringing the Newport Jazz Festival to New York. Not long after the Philharmonic Hall concert Wein announced the inauguration of the Festival in New York which was to become an institution, a multi-venue two week event which, as it turned out, had many similarities in scope to our original concept for bringing jazz back to New York. Well, with Mingus' help, perhaps we did. The concert reignited Mingus' recording and performing career. Columbia produced a great 2-LP recording. Lokin and Weiner started a concert production company called New Audiences which for more than twenty five years has presented virtually every major jazz artist in concert.
Independent Ear: With the obvious and surprising success of your Mingus concert, what were your next steps?
Julie Lokin: Given the success of the Mingus concert, we immediately took the profits and put deposits down on two more dates at Philharmonic Hall (later to become Fisher Hall, now Geffen Hall). We presented Miles Davis on the next date. To change things up, on the third date we did a folk concert with Phil Ochs, Doc Watson and David Bromberg. All three shows were sold out. At this point Art Weiner, my long time friend and college buddy decided to give up our "day jobs" and tried to make New Audiences into a full time concert production company and music public relations firm.
Was New Audiences incorporated as a not-for-profit and when did you form your organization?
We incorporated New Audiences as a for profit corporation. We also incorporated a not-for-profit called Audiences for the Arts, Inc. with the thought of going after grants. The name actually belonged to my original partner, Art Weiner. He had a music and film PR company. When we together started the concert production company, we took the name. In our first concert with Mingus, we didn't use the NA name. The ads said Bill Cosby presents… since we thought adding his name would lend credibility to the show.
We decided to go with New Audiences after that rather than using Lokin and Weiner Present since it created the allusion that we were big. We also, and perhaps the main reason, was that we wanted to attract folks to music they didn't necessarily get exposed to in usual concert scene. It seemed to work. BTW I keep saying music but we did so much more.
We did comedy, dance, and various combinations. Like jazz and dance. We used blues and jazz on the same bill. We combined three styles of blues on the same bill. We combined jazz and classical. It was fun and we loved what we were doing.
New Audiences has presented a diverse mix of artists. What's been the mission of New Audiences?
Our mission if you want to call it that, was to present concerts that people wanted to see. When we started, no one was catering to jazz, folk, world music fans. In the beginning we were very fortunate in doing shows with artists who's music we personally liked. Also, there was an audience who enjoyed going to reserved seat, prestige concert venues like Lincoln Center, Carnegie Hall and Town Hall. Later, the Beacon Theater. Our audience and the artists were looking to enjoy performances out of smoky, uncomfortable, expensive clubs.
Is New Audiences still active in concert presentation?
Unfortunately the concert industry has changed dramatically. With major corporations like AEG and Live Nation it became hard to compete. Jazz at Lincoln Center and the Blue Note have become very active in concerts and have very deep pockets. After 40 plus years, it was time to move aside. Also, the real headliners grew fewer and fewer. We used to headline and sell out major venues with artists like Miles, Sonny, Monk, Mingus, B.B. King, Jobim, Nacimento, Muddy Waters, Weather Report, RTF. Now, there are very few legitimate headliners that can sell 2800 seats. The artists who can like Herbie, Chick, Metheny, Krall are often presented by the large rock promoters today.
What's your sense of the whole jazz concert presenting scene in New York these days?
New York City is probably the most competitive markets in the country. There are about 10 clubs who compete for jazz groups. They are at a great advantage since they own their own real estate. It costs a fortune to pay the rent for the major concert halls. The concert halls all have contracts with the stagehands union. The clubs don't. Also, as the jazz audience decreases, a club is a safer play. No performer wants to look out at half empty concert hall. Most New York clubs have much smaller capacities. A major factor is that smoking is prohibited so it's a better environment to play a club.
Talk about your own current activities.
I love the music and go out as often as possible to see new artists. I like all kinds of music not just jazz.
Beyond music it will probably surprise folks to know I am very active as a volunteer EMT (emergency medical technician). I just completed a 15 year run as a commissioner in the Fair Harbor Fire District. My wife and I own a house on Fire Island. I was a volunteer firefighter but just do the medical work now. I also volunteer with the Central Park Medical unit. For a 5 year period I taught concert management in the music business department at NYU. I'd love to teach again.
There have been many DIY jazz presenting efforts at diverse places across the country; there is even a Facebook conversation page called Alternative Venues for Jazz as folks contemplate creating performance spaces for jazz. What advice would you give to anyone contemplating becoming a jazz presenter, whether at traditional venues or alternative spaces?
Gail asked me to join Alternative Venues group. I wish I could be more helpful there but my experience is in the established big venues. I think it's a wonderful idea to present shows in alternative venues. of course, the artists need to compromise on their fees.