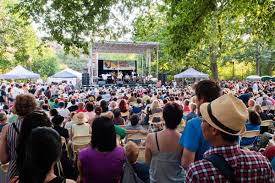 I read a Facebook post from a very well-meaning person who works on the media/publicist side of jazz. The post posed a pretty old question, one that has been hashed and re-hashed now for decades. In posting a link to the talent lineup of the New Orleans Jazz & Heritage Festival, the poster asked how such a festival could continue to fly the jazz flag in its name, given that NOJ&HF is well-known for presenting a broad spectrum of music, jazz being just one of those flavors. Initially I responded that NOJ&HF has such a significant jazz presenting menu, what with the robust offerings of the WWOZ Jazz Tent and the Economy Hall space presenting so much traditional jazz, I have no problem with the name game.
The more I thought about the many misconceptions of this nature, including my own work in festival presenting/producing, I felt it necessary to also post the following thoughts:
One of the hard lessons to be learned from jazz festival presentation is that unless you are fortunate enough to benefit from some significantly large subsidy, one that is sufficient enough to cover artist fees, production costs and all the myriad costs associated with producing a jazz festival, and that subsidy is significant enough to enable you to present your festival free of charge (and here it appears Matt Merewitz may be seduced by his Chicago Jazz Festival experience) you are going to have to leaven your talent lineup with artists who make sense for your community and who will attract "the masses" to come hear the more uncompromising artistic segment of your event. That part is something folks seem to have a difficult time understanding but it is a pure fact of festival production life! Many of us in the festival presenting sector strive to at least make those artists we present in order to attract mass audiences, at least be extensions of the jazz tradition whose music is in some substantive way informed by jazz. But these are the often times harsh realities of presenting a jazz festival.
What's your take? And after you read this, please scroll down for musician-educator Paul Carr's take on producing the annual Mid-Atlantic Jazz Festival, coming up the weekend of February 17 in suburban DC.