Since my first experience there in the early 90s, attendance at the Monterey Jazz Festival (MJF) has been an essential part of my annual travel calendar. That is best exemplified by the fact that once the mid-September MJF date is announced, the calendar is immediately marked for travel and the mind set. Significantly that's the case regardless of subsequent news of the festival lineup over the succeeding months. The true mark of a successful festival comes when that festival's constituency cares less about questions of lineup and trusts in the everlasting high quality of the event.
Certainly the Monterey Jazz Festival's idyllic physical setting is endlessly appealing. The great bassist Ray Drummond, who grew up in the area and is a frequent presence at MJF regardless of whether he's performing, has used the old label "God's country", to sum up the geographic charms of the Monterey Peninsula. After nearly 20 years of practically uninterrupted attendance at MJF, who am I to quibble with Ray's characterization?
The charms of MJF begin with the journey itself. Granted, what is essentially a long (Friday-Monday) weekend cross-country trip to California might be a bit daunting for some; don't count this writer in that cadre, nor the legion of others who make the 5-8 hour drive up from the southern parts of the state to what is essentially North-central California, just north of the breathtakingly beautiful vistas of Big Sur.
From DC we generally choose a non-stop flight to either Oakland or San Francisco; yes, San Jose is closer but doesn't offer the same non-stop flight access from the East as do the two Bay Area ports. From the Bay Area, the chosen routine is the 90-mile drive south to Monterey. A major nuance in that particular segment of the journey: depending upon how much time you've afforded yourself, you can make that trip most judiciously via the 101 freeway or take the legendary Pacific Coast Highway, Rt. 1, which has always been our preferred route. The seaside vistas along Rt. 1 are simply incredible, and if surfing is of interest, that stretch of the Pacific is nirvana.
After six hours on a plane, about the last thing I need is the potential driver stresses of the 101; the scenic route it is! Rt. 1 takes you down through tranquil Santa Cruz, home base of Tim Jackson, who I first encountered back in the old Lila Wallace-Readers Digest National Jazz Network days as director of Santa Cruz's legendary Kuumbwa Jazz Center. Kuumbwa, where Jackson first made his bones as a jazz curator, has long specialized in presenting major touring jazz artists and bands, many of whom come down after stints in San Francisco, on Monday evenings.
Which brings me back to the primary reason why assiduously scanning the Monterey Jazz Festival artist lineup well in advance of the event – and MJF is prolific in its press notices and web updates – is for this writer a largely unnecessary exercise. In Tim Jackson we trust! Tim, who is only MJF's second artistic director in its storied history, succeeded the legendary founder Jimmy Lyons in 1992. Tim is a man of impeccable jazz tastes, one who is quite savvy at assembling compelling Monterey lineups, so much so that one can always trip plan with complete confidence that the talent lineup will always be stellar. Tim Jackson's programming acumen was recognized at this year's 59th annual festival when Berklee College of Music bestowed its George Wein Impressario Award on him, an award presented by Berklee Provost, Dr. Larry Simpson, my old Cleveland homie who is part of our regular MJF crew (seen left, in black jacket, presenting the award to an all smiles Tim Jackson).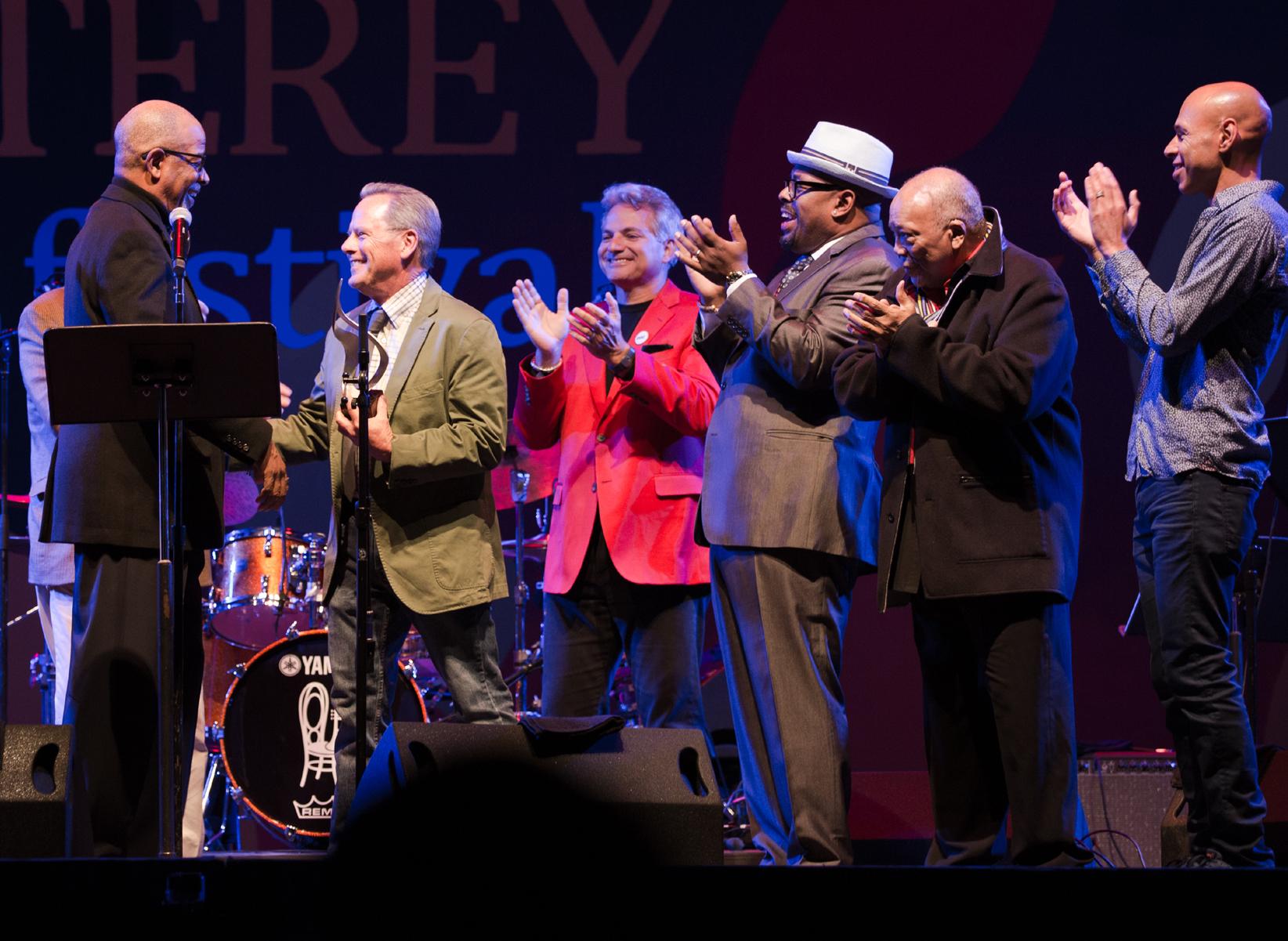 That whole aspect of crew, or family, is another of the MJF hallmarks. The festival always feels like a bit of a family reunion, with folks meeting up there annually after years of attendance. A full measure of the dedication many fans feel towards the Monterey experience came to me on my first trip out there. One evening Sonny Rollins was on the Jimmy Lyons stage and my seats in the big Arena (capacity: 5,000) were towards the rear of the facility. If you've ever experienced Sonny Rollins in concert you know there's a distinct visual element to his performances, the way he stalks the stage to emote that big tenor from several sonic vantage points. Seeking a better viewpoint I wandered up close, hugging one of the walls that abut the grandstand area on either side of the Arena. Standing there amidst torrents of tenor madness, I quickly spied an empty aisle seat on one of the first few rows of metal chairs. Easing into that seat while blissfully riding Sonny's cloud, a few minutes into my revery, an exceedingly polite usher tapped my shoulder to alert me that the woman whose seat I was occupying was walking down the aisle towards said seat, "…and she's had that same seat for 40 years!" 'Nuff said, that's how it is at Monterey; folks just keep coming back and enjoying their annual alliances, friendships, and most of all the great music.
Also not lost on the keen observer, particularly those of us who've long decried what by all appearances has been a diminishing black audience for jazz over the last few decades, is the fact that MJF consistently attracts a robust African American constituency among its large audiences. The black audience factor at Monterey is so significant that after a few years attendance this observer finally broke down and asked Tim Jackson why MJF enjoys a seemingly larger African American audience than most ticketed jazz festivals (to anyone who foolishly suggests that black folks don't turn out for jazz, dig the audience at any free-of-charge jazz performance in an urban area, particularly a free festival; economics – along with who's onstage – often dictates the complexion of a jazz audience). Very simple, Tim explained, MJF founder Jimmy Lyons (not to be confused with the late alto player of the same name who toiled most auspiciously alongside Cecil Taylor) had a long career in jazz radio and was apparently hip enough to be quite a popular voice in the black community. When Lyons started MJF in 1958, it seems he was Pied Piper enough that his black constituents simply followed him to the festival.
Held on the Monterey County Fairgrounds (a very pleasant daily walk from the Hyatt Hotel, the festival's host hotel where all the musicians stay, making for quite the scene each post-fest night), besides the main venue in the open-air Arena (on what is now the Jimmy Lyons Stage, same stage where Jimi Hendrix immolated his guitar at Monterey Pop), the festival also plays three indoor venues, including the intimate Coffeehouse Gallery, and the spacious Nightclub and Dizzy's Den. The Garden Stage is the second largest capacity venue, and there's a small Courtyard Stage suitable for solo pianists or trios, and the Northcoast Brewing Jazz Education Stage, which on Saturday and Sunday afternoons during the matinee sessions (which play all the other venues) hosts many exceptional student ensembles. MJF has a major stake in jazz education, including its Next Generation Jazz Orchestra. This kind of 3-ring circus set-up certainly encourages shrewd navigation of the MJF schedule grid, often leaving one scrambling to catch at least a good portion of every set of interest, along with shrugging the shoulders at the occasional missed opportunity.
The availability of such a variety of venues, particularly in the hands of a curator with the acumen of Tim Jackson, conjures endless artistic combinations. For example, tenor saxophonist Joshua Redman was the featured Showcase Artist. On Friday evening at Dizzy's Den he was featured as part of the edgy and engaging Still Dreaming ensemble, featuring trumpeter Ron Miles, bassist Scott Colley, and drummer Brian Blade in an updated echo of Old and New Dreams, the great 70s post-Ornette Coleman band featuring Joshua's father Dewey Redman, Don Cherry, Charlie Haden and Ed Blackwell. On Saturday night at the Arena, Redman played his partnership with The Bad Plus, and on Sunday evening his quartet closed Dizzy's Den. In a typical bit of Monterey programming, the glorious young vocalist Cecile McLorin Salvant, opened the Friday night program in the Arena, and later that evening followed Still Dreaming for the closing set at Dizzy's Den. Her two stints were much to the delight of a visible coterie of women Salvant followers who've begun to take up her stylish white frame glasses look as a bit of quirky cult following that is rare for 21st century jazz, yet delightful to see.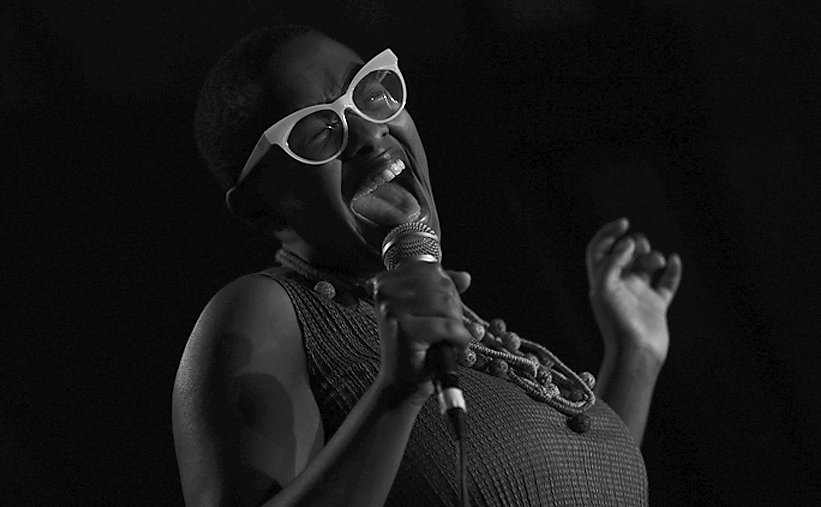 The versatile bass master Christian McBride was music director for one of the festival highlights, Friday night's marvelous Tribute to Quincy Jones (who stayed for the hang all weekend) "The A&M Years". McBride joined an all-star big band that included Hubert Laws, James Carter, Dave Grusin, Lewis Nash, and cameos by Richard Bona (whose own Afro-Cuban flavored band preceded the tribute) and Gregoire Maret, plus lead vocals by Valerie Simpson, directed by John Clayton. They beautifully reprised selections from Q's "Walking in Space" era on A&M Records. Another festival high point came the following Saturday evening when McBride's soulfully swinging trio played the last set at Dizzy's, with the impressively facile young pianist Christian Sands and Cleveland's own Jerome Jennings on drums.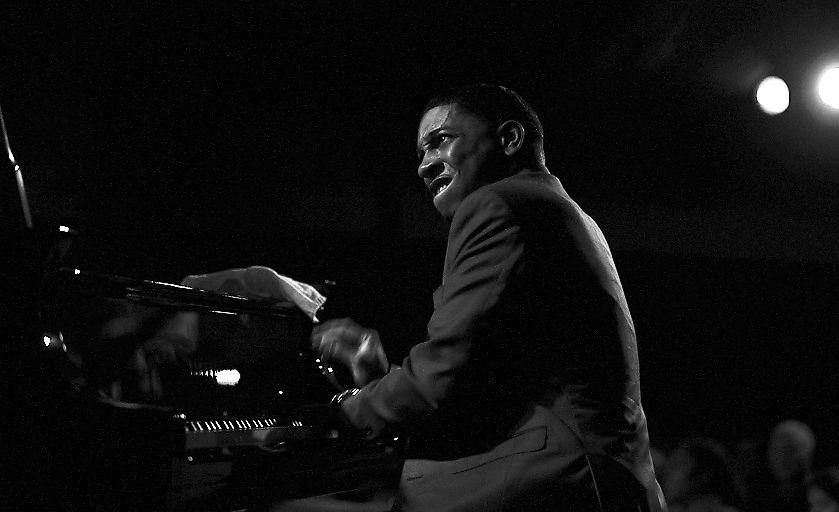 CHRISTIAN SANDS DIGS INTO CHRISTIAN MCBRIDE'S SET AT DIZZY'S DEN
Not totally beholden to the firmly established, MJF also offers ample stage to the emerging artists in the music. One notable example, besides the ubiquitous wunderkind pianist Joey Alexander playing to a packed house on the Garden Stage Saturday night, perhaps the most promising young artist of this year's MJF was the homegrown flutist-vocalist Elena Pinderhughes (mark that name down for future reference). The remarkably poised Ms. Pinderhughes, who matriculated in MJF's student Next Generation Jazz Orchestra, showed up on the Arena stage Saturday night in the latest edition of drummer and this year's Artist-in-Residence Terri Lyne Carrington's women-centric Mosaic Project, as part of TLC's "Love and Soul" program, adroitly navigating her flute and voice, and delivering a penetrating poetic expression. Next day Elena led her own band at 6:15 on the Garden Stage. She was not by a longshot the only promising young artist to grace the 2016 MJF stages. Also notable was the Friday night opening set on the Nightclub stage delivered by drummer-vocalist Jamison Ross, whose engaging voice is poised to appeal directly to at least a segment of the same audience that Gregory Porter has captivated. The latter, who never fails to positively thrill the Monterey audience, was featured on the Sunday matinee in the Arena, opposite the rising tenor man of the day, Kamasi Washington.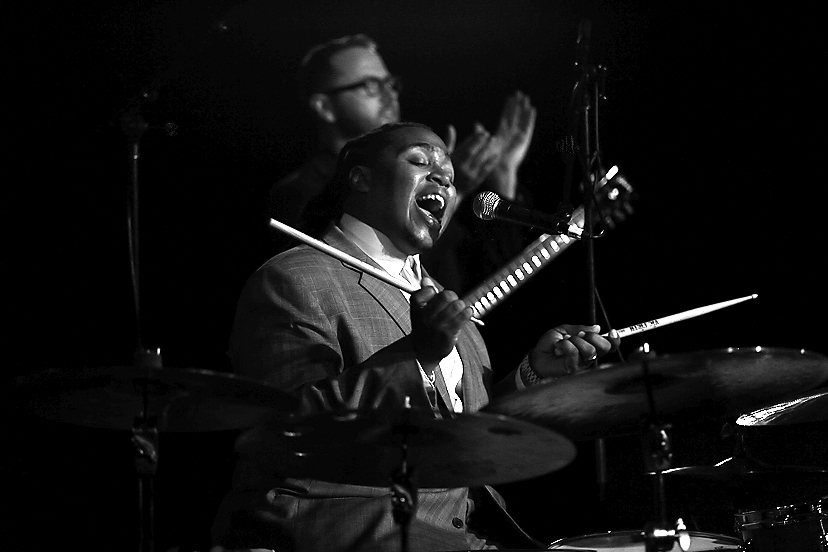 JAMISON ROSS SKILLFULLY BALANCES HIS DRUM AND VOCAL EXPLOITS
Additional festival interconnections found Bad Plus pianist Ethan Iverson joining the great drummer Billy Hart's quartet for Hart's 75th birthday celebration on the Nighclub stage Saturday night. The protean bassist John Patitucci led his Electric Guitar Quartet on the Nightclub Stage, the next night joining Wayne Shorter's impeccable quartet on the Arena Stage for the premier performance of Shorter's latest opus, "The Unfolding," with the Monterey Jazz Festival Wind Ensemble, as did Brian Blade who'd earlier drummed with Still Dreaming. No wonder Quincy Jones stuck around for the weekend, to his seeming endless delight. Besides the wonderful Friday evening reprise of his A&M recordings, two of his young proteges performed on festival stages, including the young Cuban pianist Alfredo Rodriguez and the multi-instrumentalist YouTube sensation Jacob Collier.
One mediocre exception to the raft of rewarding performances was a rather tired performance billed as "The Ultimate Tribute to Ray Charles", with the ghost band Ray Charles Orchestra and Maceo Parker. The latter quizzically (though fairly skillfully) reprised Charles vocals, yet largely failed to deliver on his own signature alto saxophone. That was the only bobble this observer experienced. There was much to be loved at this year's MJF edition, including the delightful surprise of guitarist Bill Frisell playing Wes Montgomery's classic "Bumpin'"! And besides the many exceptional performances, MJF's humanities component delivered rewarding conversations with Terri Lyne Carrington & Toshiko Akiyoshi, and Quincy Jones & Clint Eastwood (a longtime MJF board member), each skillfully moderated by Ashley Kahn, journalist Dan Ouellette's annual live DownBeat Blindfold Test (this year with McBride), and screenings of the film Brownie Speaks: The Life, Music & Legacy of Clifford Brown in yet another MJF venue, the Jazz Theater, where those seeking shelter from the evening nip can catch simulcasts of all Arena performances throughout the festival.
All black & white performance photos by Tyrone Kenney, aka The ArtOgrapher; lookout for his Neo Bop project…