Winter Jazzfest 2016
January 13-17
From the time George Wein and the Lorillards launched the Newport Jazz Festival in '54 and Jimmy Lyons hatched the Monterey Jazz Festival in '58, the whole idea of what constitutes such an event has metamorphosed into endless permutations. One thing is certain, any community worth its salt in the cultural destination universe absolutely must have at lease one annual jazz festival; it has become a measure of a community's good taste.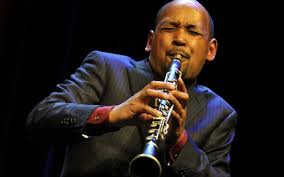 On the other hand, there is no community in the culture universe quite like New York City, where there is no need for any measure of artistic seal of approval simply because practically every night in New York is a visual arts, classical music, theater, and film festival; and the same certainly holds true for jazz. So how does one go about crafting a jazz festival for the ultimate diverse community, not to mention one boasting all manner of venues, from prodigious green spaces and concert halls to literal holes in the wall – which ironically are often where one encounters the most vital artistic perspectives NYC has to offer?
The wise heads who developed the Winter Jazzfest, rather than reinvent the wheel, simply cobbled together multiple venues, ranging from modest auditoriums, to a house of worship, to the many varied club spaces that dot Greenwich Village; some of which regularly feature jazz and its extensions, others for whom jazz and its extensions simply fits their perspective on music. The big tent effect they established has worked in spades, to the point that WJF stands as a vital annual jazz touchstone in the Jazz Mecca.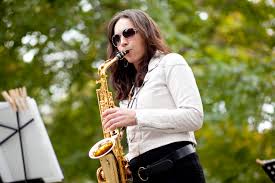 A key element in the producer's savvy festival scheduling is its synergy with the concurrent staging of the Association of Performing Arts Presenters (APAP) annual conference (January 15-19) at the Hilton, and the nascent Jazz Connect Conference (January 14/15) at St. Peter's Church. WJF's scheduling is particularly perceptive because both conferences are the province of thousands of multi-discipline presenters at APAP, and scores of jazz presenters at Jazz Connect. Prior to WJF, the APAP conference featured all manner of showcase performances across New York, events fostered by managers, agents, and artists eager for the attention of those who book and present the arts; still does, but now the performance universe during conference time is particularly robust from a jazz perspective, thanks to WJF.
WJF is a marathon, one that encourages either the purchase of a full-festival pass, or a measure of perseverance. That's because the performances are presented in a dizzying array of venues, are generally 60 minutes in length, and are scheduled in tight proximity. It's tempting to scan the WJF schedule, highlight your faves, and fantasize about easing from venue to venue. Audience beware – the great majority of these venues are tightly packed, often standing room only sardine style, and in fact some venues (like Judson Memorial Church) are purely stand-up. So the notion of hopping venue-to-venue to catch your faves is not exactly for the faint of heart.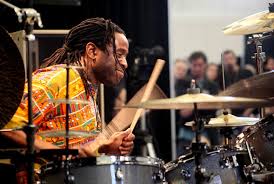 After experiencing a degree of frustration with my first few WJF experiences, having mapped out what I thought was a tasty menu of possibilities only to be continually pressed up against some back wall with barely a sightline to the stage, never succeeding in finding a seat, overhearing the wise advice of a journalist colleague I adopted another tactic last January. Three of us on our WJF hang simply scoped out which venue had the tastiest menu, arrived early enough to cop front row seats (!), and camped out for the evening; typical WJF performance menus run from roughly 6:00pm until after midnight.
This year WJF offers its usual confounding array of aural treats (and isn't that ultimately the point?), ranging from an array of restless explorers (from Vijay Iyer and Don Byron to Matana Roberts, Chris Speed and the endlessly Omniverse exploring Sun Ra Arkestra under 91-year old saxophonist Marshall Allen's leadership), to varying 21st century Latin perspectives (try the Gregorio Uribe Big Band for some Cumbia, or Pedrito Martinez call to the saints, or perhaps Chris Washburne's nouveau Acid Mambo Project), to adherents of the blues & swing tradition (Christian McBride, the prodigious New Orleans-based clarinetist Evan Christopher, or next great jazz piano ace Christian Sands). Drummer Will Calhoun's tribute to Elvin Jones promises some paradiddle fireworks; bassist Michael Formanek's Ensemble Kolossus sounds like massive fun, expect the unexpected from folks like the OGIB Quartet (Oliver Lake, Graham Haynes, Joe Fonda, Barry Altschul), and who knows from (promising) lights like altoist Sharel Cassity & Elektra, the newest Blue Note Records signing GoGo Penguins, or Bad Plus (drummer) Dave King's two assemblages, Trucking Company and Vector Families (hmmm). And believe me, that's just a tiny sample size of the music available from WJF.


OK, so that's largely the instrumental perspective – though there's liable to be some singing going on in any of the above. But perhaps you're one who needs some words with your music. WJF vocal performances run a broad spectrum, including the endlessly engaging Rene Marie, Nicole Henry, the sensational Revive Music project "Sarah Vaughan & Clifford Brown Reimagined", to the ultimate cool, hi hop informed crooning of Jose James, to Charenee Wade's impressive Gil Scott-Heron project. And did I mention the venerable record label ECM is hosting two evenings of its artists at The New School Tischman Auditorium? Whew… in fact double Whew! Let me stop here and direct you to www.winterjazzfest.com for complete details. Be there, or be… Maybe I'll see you somewhere Friday evening.