The historic Harlem community of New York City and U Street of Washington, DC are two of the most storied crossroads of the black experience in America. And there is more than a little shared history and more than a few common personalities that link the two communities. That was precisely the sentiment of Houston-born Jason Moran, the 20+ year Harlem resident pianist-composer and artistic advisor to jazz at the Kennedy Center. Through his sharp curatorial mind, the Kennedy Center and the Apollo Theatre have partnered for this Mother's Day weekend of what are bound to be two exceptional nights of music. Yes, you read that right… in this age of artistic collaboration, a partnership between the Apollo and the Kennedy Center!
Tonight, Saturday, May 9 this richly promising program – curated by Moran and co-music directed by he and DC-native pianist Marc Cary (who'll bring the go-go element, along with several vets of the form) – launches at the Apollo Theatre. The following night, Sunday, May 10 (and what a Mother's Day gift this could be!) the entire caravan will touch down at the Kennedy Center for a free program at 6:00pm on the Millennium Stage and a ticketed blow-out upstairs on the Terrace level in the Crossroads Club.
I was honored to have been commissioned by the Apollo to do an onstage interview with Moran some weeks back at the Apollo Cafe, and subsequently write the program notes for both venues. For those who cannot make either evening, the program notes are here courtesy of the Independent Ear. Hopefully these notes shed some light on the clear artistic connections between Harlem and U Street. Harlem has historically been the more celebrated and well-chronicled of these two crossroads of black America. An excellent source of further illustration of the glories of DC's U Street environs can be found in the book Washington's U Street (A biography) by Blair Ruble (Woodrow Wilson Center Press/The Johns Hopkins University Press).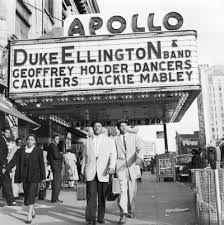 Celebrating the rich Harlem & U Street Jazz traditions
By Willard Jenkins
The Harlem Nights/U Street Lights project – a collaboration of the Apollo Theater and the Kennedy Center – represents a beautiful synergy. This project being curated by pianist-composer Jason Moran, a Harlem resident and Artistic Advisor for Jazz at the Kennedy Center is apropos on many levels. There is such a rich history of interchange between these two crossroads of African American history that enriches this presentation in myriad respects. The simpatico between these two communities – Harlem and DC's U Street corridor – represents linkages dating back to the early 20th century.
The Apollo evening, Saturday, May 9, which will be followed on Sunday, May 10 at the Kennedy Center, is part of the historic 81-year old theater's annual Harlem Jazz Shrines partnership with Harlem Stage, Jazzmobile, and Columbia University. This celebration of venues and crossroads important to the development of jazz music recognizes the deep jazz history of the Harlem community. The Harlem/U Street links, which include the legendary "chittlin' circuit" connections between the Apollo Theater and DC's Howard Theatre, cut across African American history beyond the music.
The Harlem Renaissance was the socio-cultural, artistic flowering that ignited Harlem and the black world from the end of World War 1 to the mid-1930s. That fabled period was a creative hothouse for a legion of black men and women of arts & letters. This era and beyond also saw the development of both the Harlem and U Street communities as essential centers of jazz advancements, including the fabled Harlem stride piano sounds of Fats Waller, Willie "The Lion" Smith, and DC native son Duke Ellington.


Alain Locke, the first African American Rhodes scholar, in 1912 took an assistant professorship at Howard University, which looms a stone's throw north of the U Street corridor in the Shaw neighborhood of DC. It was Locke, along with literary artists Georgia Douglas Johnson, Jean Toomer, Langston Hughes, and Horace Gregory who plotted the Harlem Renaissance in Shaw environs around Howard. Other leading figures of that cultural revolution included poet Angelika Grimke, a DC public school teacher, and Howard University librarian Edward Christopher Williams, who had written critical, anonymous screeds detailing the foibles of DC's "talented tenth" and their exclusive community around U Street.
The U Street community, which thrived across the 20s, 30s and 40s as a center of black life in DC, grew such a bustling nightlife that it was bestowed the grand sobriquet "Black Broadway" during the period, frequented by a diverse cross-section of the populace. Much like Harlem, U Street is where all of DC's first-class black entertainment – whether of the theatrical variety, or that found in cabarets and nightclubs – found welcome stages and vibrant audiences, from the Howard, Dunbar, Republic and Lincoln theaters, to the Lincoln Colonnade (located in the lower level of the Lincoln Theater), and the Crystal Caverns. The Lincoln Colonnade, along with the Scottish Rite Temple down on R St., and the Murray Palace Casino were the home of DC's happy feet, much akin to the high times of the Savoy Ballroom. However, like Harlem, one need only venture a block or two away from the U Street highlife to experience the deprivation of scant opportunity and sheer poverty. High times on U Street abruptly gave way to urban flight, boarded-up storefronts and decay following the outrage and insurrection that filled U Street in reaction to Martin Luther King's 1968 assassination.
Proto jazz pioneer bandleader James Reese Europe, born in Mobile, AL in 1881, moved with his family to DC at age 10, attending public school and beginning his music lessons in the city. Towards the end of 1904 he relocated to New York. There he founded the Clef Club, a precursor to the black musicians union locals. In 1917 Europe organized the 369th Infantry Regiment military band for the war effort, a band that became known as the "Harlem Hellfighters." Post-war many of the Harlem Hellfighters, black men from across the U.S. and Puerto Rico, continued their careers in Harlem. Members of that band included composer-lyricist and drum major Noble Sissle and pianist Eubie Blake, who together produced Broadway's first African American musical, "Shuffle Along." Many other veterans of Europe's campaign became regulars at Harlem's swing & dance shrine the Savoy Ballroom.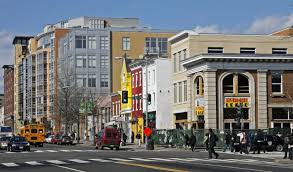 HISTORIC U STREET
The U Street entertainment hub, the fabled Howard Theatre, which preceded the Apollo by 23 years, staged plays by Alain Locke's Howard University Players. Duke Ellington, who became one of the jazz kings of Harlem when he relocated to New York, made some of his earliest appearances as leader of his Serenaders at Howard Theatre band competitions. In 1923 young Ellington made the move to New York City on the advice of Fats Waller, along with banjoist Elmer Snowden's Washingtonians band. Not long after the move the band grew restless over scarcity of gigs, ousted Snowden and installed Duke as their leader.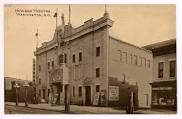 THE HOWARD THEATER THEN


THE HOWARD THEATER NOW
Among the Washingtonians band members who also made the move from the U Street highlife to New York were saxophonist Otto "Toby" Hardwick, Ellington's original drummer, Sonny Greer, who had played in the Howard Theatre Orchestra before joining Duke in 1919, and trumpeter Arthur Whetsol; all were part of Duke's first New York recording, for the Victor label. Eventually Duke settled in Harlem's fabled "Sugar Hill," After establishing his band and sound in New York, the Duke Ellington Orchestra became king of the historic Harlem shrine at the corner of Lenox Avenue and 142nd Street, the Cotton Club. Another who made a similar move, only from the clubs of Harlem to the U Street hothouse in 1935, was New Orleans self-designated "inventor" of jazz, pianist Jelly Roll Morton. Morton established residence at the Jungle Inn at 1211 U Street.
In later years, post-Harlem Renaissance and U Street's 1930s-40s Black Broadway heydays, DC and Harlem musicians regularly traded licks and cut heads at such uptown modern jazz shrines as Minton's Playhouse and Monroe's Uptown House, and U Street's Club Crystal Cavern, which later became the Bohemian Caverns. These included the erudite pianist Dr. Billy Taylor, DC native, Harlem broadcaster, founder of Harlem's longest-enduring jazz institution Jazzmobile, and the catalyst behind Jazz at the Kennedy Center. Bohemian Caverns, thriving today as U Street's jazz pillar was, in its Crystal Caverns days, home to many of the same artists who brought the modern jazz sounds to the Apollo stage, including Ramsey Lewis, Cannonball Adderley, Les McCann, Nancy Wilson, Oscar Brown, Jr., Miles Davis, and John Coltrane.
Fast forward to 2015 and the vibrant Harlem Nights/U Street Lights and its brilliant cast of artists and we find further synergy, with Harlemites, Harlem transplants (including the curator and the music director), artists who've graced Harlem and U Street stages, and some of DC's finest. For project curator Jason Moran, that relationship begins with two of what he characterizes as "pivotal pianists: Duke Ellington and his relationship between DC and Harlem, Billy Taylor and his relationship between DC and especially [his founding] Jazzmobile [as] a way to keep the music in the "community", and now with Marc Cary and Ben Williams being in Harlem [while] continuing to represent their relative DC generations. These [Harlem and U Street] neighborhoods still strive to keep the music embedded in the community. So why not put together some of the great musicians from the local scenes in DC and Harlem, and think about our sonic histories," Moran muses. "It's really a party about two neighborhoods, and how the music helps us tell these stories."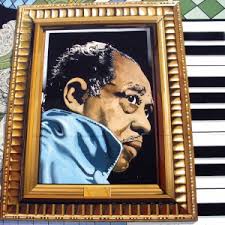 COURTESY OF THIS MURAL THE DISTINCTIVE VISAGE OF DUKE ELLINGTON IS A PERMANENT FIXTURE ON U STREET
Music director, pianist-keyboardist Marc Cary, will bring the distinctive funk dynamic of go-go rhythms to the project. A Duke Ellington School for the Arts grad, Cary grew up playing on DC's go-go scene, a sound so ubiquitous in mid-70s through 80s Washington that you could hear it from dancehalls and clubs in DC's black community, to buskers regaling Metro stations. Cary will honor that sound and the late, esteemed DC bandleader Chuck Brown, the Godfather of go-go. "Chuck Brown taught us jazz songs through go-go music," as Marc tells it. "Brown educated an entire generation of audience members through his choice of jazz standards," says Moran, standards into which Brown injected new energy through go-go rhythms. In addition to Cary, the go-go tradition will be royally represented by two of the rhythm kings of that sound – hand drummer Milton "Go Go Mickey" Freeman, and drummer Kenneth "Kwick" Gross.
A born and raised Harlemite, saxophonist Bill Saxton, known as "Harlem's Jazz King," is proprietor of Bill's Place, located in a former speakeasy on "Swing Street," a stretch of 133rd Street between Lenox and Seventh Avenues. What is now Bill's Place was once a nightlife haunt of Ellington, Fats Waller, and Langston Hughes, dating back to the Harlem Renaissance. Another saxophonist on the program is DC native Brian Settles. An Ellington School grad, Settles studied in NYC at the New School as well as at Howard, and is currently one of Washington's most advanced players.
Harlem Nights/U Street Lights vocalists include Howard University's renowned Afro Blue; Queen Esther, who has lately been featured at the refurbished Minton's; and Brianna Thomas. Ms. Thomas won the Jazzmobile Competition and was a Betty Carter Jazz Ahead student at the Kennedy Center.
Duke Ellington School grads trumpeter Donvonte McCoy and bassist Ben Williams, will join seasoned pianist Bertha Hope – whose late husband Elmo Hope caressed the ivories in Harlem shrines – pianist Gerald Clayton, saxophonist Lakecia Benjamin, who crosses freely between jazz, hip hop and neo soul, pianist Federico Pena, and special guest trumpeter Roy Hargrove. Rounding out this auspicious cast on drums is NEA Jazz Master and DC native Jimmy Cobb in what promises to be the jazz weekend of the season!