This is a story of one jazz musician's sense of humanity that has been deeply touched by personal experience. While perusing the myriad possibilities offered by the annual Winterjazzfest (January 9-10), conspicuously tagged onto many of the releases about that mid-winter NYC delight was a January 8 event with the curious title Jazz Legends Play for Disability Pride. That benefit, organized by the soulful organist-pianist Mike LeDonne, was held at the Quaker's Friends Meeting House in Manhattan, and was scheduled to feature such greats as NEA Jazz Masters Ron Carter, George Coleman, Benny Golson, and Jimmy Cobb, along with Renee Rosnes, Russell Malone, Brad Mehldau, Peter Bernstein and a cast of dozens. A subsequent post from Jim Eigo's Jazz Promo Services detailed LeDonne's touching motivation behind producing this event; touched to his core by his daughter's disability, he aimed to generate a disability pride parade that he hoped would have a similar impact on public consciousness as the gay pride parades held around the world.
We caught up to Mike LeDonne recently, after he disembarked from a jazz cruise, for further details on what has so energized him to address the plight of the disabled.
Please talk about your family experience that has motivated your increased interest in the plight of the disabled.
On Valentine's Day 2004 my daughter Mary was born very premature and had to finish baking in an incubator for almost 3 months. Covered in wires and attached to machines that had alarms going off all the time she fought through and thrived. We were told that she would be morbidly obese, severely mentally retarded and have behavioral problems. This was because they found she had a syndrome called Prader Willi. To us, all we saw was someone severely cute and sweet. She made it home and had to eventually have a shunt put in her tiny head that drained the fluid from her brain down to her stomach because besides Prader Willi Syndrome she also had hydrocephalus. She fought through many brain surgeries as the shunt kept failing and once again we were in the hospital for 3 months. She'd come back from having an old tube taken out and a new tube drilled into a new place in her skull, with her head all bandaged, sit up and smile and start playing with her toys. Today she is not morbidly obese and, although she is non verbal, has blossomed into quite a character.
Having Mary in our lives has been the greatest experience my wife and I could have imagined and we could not be prouder of her. We have seen a whole new dimension to humanity through her. Through my family's experience I've learned that love is a very powerful force. Doctor's and medicine are very necessary but Mary has taught us that love is truly a healing force and goes way beyond anything doctor or medicine can achieve.
My interest in getting involved with Disability rights is to try to change stereotypes and raise awareness about who and what the disabled truly are – just people like you and me. They are not "special" but people dealing, the best way they can, with a disability and trying to achieve and maintain the best and most independent lifestyle they can.
Ultimately what is your goal as far as putting your heightened awareness of disabled persons on the front burner of our collective consciousness?
To increase civil rights and try to bring the non-disabled public out of the dark ages and change the way they look at and define the disabled. To get them to give people with disabilities (PWD's) equal respect and treat them as full fledged human beings. To realize that they have all the same wants, desires and problems we all face. To stop the pity and replace it with a sense of pride both in and out of the community.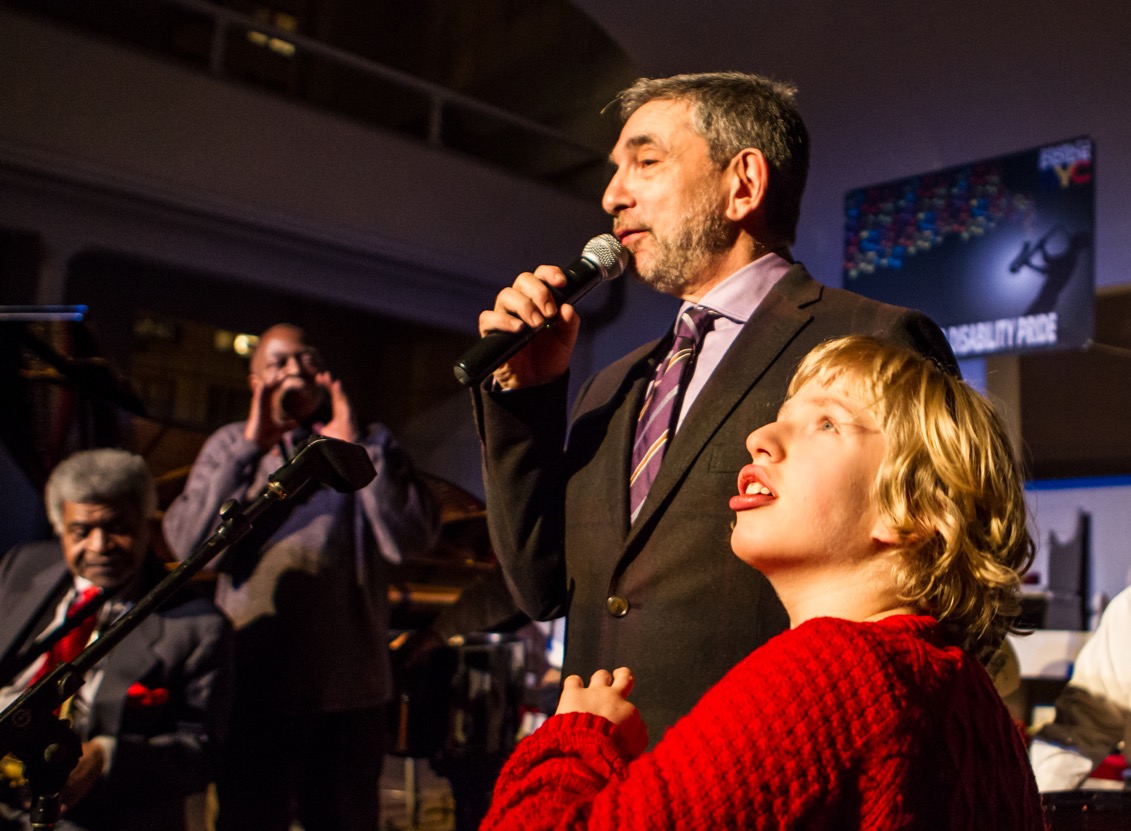 Mike LeDonne introducing Mary at the Jazz Legends Play for Disability Pride event, with George Coleman (left) and event MC Rob Crocker of WBGO
I would like to help the parents of the disabled come out of the closet, so to speak, as far as accepting that their child is disabled and feel proud of them for who and what they are. To love and care for them but not be overly protective and wind up smothering their ability to be independent.
For children like my daughter I would like to educate parents of the abled to teach their children to stop staring at disabled children like they have 2 heads just because they are in a wheelchair and may look different than they do. To take the opportunity to educate their children and to increase awareness that children with disabilities are not "weird" but simply another diverse and beautiful aspect of humanity. I would like them to see what I see when I look at Mary and know what I know.
To educate the medical community. Our experience was a typical one. From the moment you get pregnant you're told to go through all these tests because, God forbid, the child you're carrying might be disabled in some way. They tell you that if you find out that your child is likely to be disabled, you can simply end the pregnancy and try again. I was never an anti-abortion person, and I'm still not, but I now know that to end a pregnancy because the child is going to be different than other children is completely wrong and should never happen unless the child is going to go through some kind of horrible suffering. Thank God they didn't have a test like that for my daughter's rare syndrome because the thought that we might have ended that pregnancy and not have
Mary today sends a chill down my spine. This whole attitude about a disabled human being something you can simply get rid of just goes to reinforce all the horrible stereotypes to come. It's all backwards and barbaric and needs to be brought out into the light and exposed.
And then there's the scariest thought of all for any parent of a disabled child. What happens to my child when we're gone? Right now the picture is far from rosy. State-run institutions make a lot of money housing the disabled and don't support the idea of them achieving an independent lifestyle. They would rather keep the money flowing into their institutions where they too often simply drug the disabled, stick them in a wheelchair and shove them in a corner. Sounds horrible but this is what happens all too often and it has to stop.
Talk about your recent benefit concert on January 9; how that all came together and the ultimate results of the evening.
Jazz Legends For Disability Pride was an incredible and historic event. It brought together all my worlds under one roof where we were all equals and bonded together by a mutual love for this music. All my musical heroes and friends, Ron Carter, Benny Golson, Jimmy Cobb, George Coleman, Buster Williams, Brad Mehldau, Harold Mabern and many others were there playing jazz music of the highest level. Each band came out and played 2 tunes back to back for 2 hours. It's impossible to describe the feeling in that place that night but it's something I will never forget. At the end I brought my daughter Mary to the front of the place and introduced her to everyone and told them that I couldn't be prouder that she is my child. A huge cheer went up from the crowd and all the musicians. That is a moment I will never forget.
It was a major undertaking for me and, just like forming my non profit, something I had no idea how to do or had ever done before. Thanks to some old friends, who helped me figure out where to get all the things in place that a concert like that needed, and to some new friends, like Winter Jazzfest who joined forces with me and helped me with promotion and selling tickets, I was able to put it all together. Even Steinway Piano, who I have endorsed since the 80's, sponsored the piano which means they gave us a beautiful instrument that I picked out, delivered it, tuned and picked it up, for free. That is something they don't normally do.
None of this has been easy. In fact it's been more work and demanded more patience than I ever thought myself capable of. But the night was so unbelievable and beautiful and this cause is so huge and important it gives me the strength to persevere.
Where are you going from here, what are your next steps in these efforts?
The next step is also another huge one. We are now planning our first Disability Pride Parade set for July 12. The Mayor's office has joined with us and is helping us but even with that there's a ton of things we have to coordinate and get together. We have the route but we need to get all kinds of things for the event. We are planning a parade and then a celebration in the form of a big street party. We will have many entertainers, all from the disability community, along with guest speakers. We hope to have food and drink and basically a huge party. We raised a lot of money at the fund raiser but we need a lot more because having a parade in NYC is not cheap. We are hoping for some corporate backing if possible but we are also depending on the kindness of others in the form of tax deductible donations. All donations can be made out our website www.disabilitypridenyc.com.
How can people stay in touch with your activities on behalf of the disabled?
We are updating our website so it will be more accessible for people with disabilities. People should check it periodically as we will be using it to keep everyone up to date.
WWW.DISABILITYPRIDE.COM