There is so much to be done
on earth, do it soon!
I cannot carry on the everyday life I am living;
art demands this sacrifice too.
Rest, diversion, amusement –
only so that I can
function more powerfully in my art.
– Ludwig Van Beethoven, 1814 (from The Quotable Musician by Sheila E. Anderson)
In my work with artists and as a presenter I'm forever seeking new angles and advanced means of bringing creative music to the public. A recent post from trumpeter-composer Taylor Ho Bynum, whose work I know primarily from his participation in NEA Jazz Master Anthony Braxton's projects, detailed what I found to be a unique effort at engaging more people and potentially new audiences in his original music expressions. It seems Mr. Bynum is something of a cycling devotee… so much so that he is about to embark upon a West Coast tour, traveling literally from the Pacific Northwest to Mexico, armed with his bike, his gear and his trumpet. Along the way he'll make strategic stops at an array of venues to engage with resident artists in various configurations, spreading the joy of music on the pedal. This was too good to pass up, I had to ask some questions.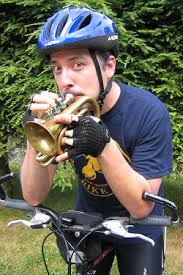 How did you come up with this bike tour idea? Will you be traveling alone and how did you plot your travel route?
Partly the bike tour idea happened simply because I love playing music and I enjoy biking. But there are a lot of other inspiration/instigations. The usual experience of touring as a musician is rather surreal – you visit wonderful places, but you only see the airport, the venue, and the hotel. You never have a chance to really experience the areas you're playing in. By traveling by bicycle, you really get to feel the geography, the people, the vibe of a place. And the creative mind is so much fresher after traveling through forests, beaches, mountains, then if you spent the whole time in a plane or car; it opens up a different kind of meditative/contemplative/aware improvisational mindset. Also, there are so many places in the US where I never get to perform; this gets me out of the big cities and meeting and playing for people in other locales.
I will be traveling alone, though happy if someone tags along for a day or two. I'll be hooking up with musician friends in many of the larger cities (Vancouver, Seattle, Portland, Bay Area, Los Angeles) for some of the concerts, but will also be playing a lot of spontaneous solos in whatever interesting places I find myself.
As far as plotting the route – once I settled on the West Coast (I had also considered cross country, but there are such long stretches without any kind of gig possibilities that way – I also like the symbolism of border to border as much as coast to coast) the route is pretty self-evident. Though I did take the advice to ride north to south, supposedly the headwinds are much in your favor in that direction.
Once you determined that this was viable, how did you build your schedule of performance activities?
I reached out to various musicians all along the coast, either old friends or folks I was interested in playing with for the first time, and while not everyone I hoped to collaborate with was available, many of them were, and that formed the basic skeleton of the tour. I also had some nice anchor gigs that solidified the itinerary – in a bit of luck, the Angel City Jazz Festival in Los Angeles coincided with my tour plans, and they were interested in both my group and Anthony Braxton's ensemble that I play in, so that helped define the endpoint. Then much of the schedule is still undefined – I look forward to the surprise moments of music along the journey.
This is such a thoroughly unique idea – at least in my experience – but from the photo I saw of you on your bike, clearly you're an experienced cyclist. And obviously this is not suitable for someone who just rides in the park on weekends or some musician who pedals down to Sam Ash for a box of reeds to avoid rush hour traffic. What's been your training regimen for this tour?
I love biking, but I must admit I'm not one of those hard core guys with the fancy gear and super fast bike. I'm kind of a slow and steady rider rather than a speedy one. So my training (which I have to say, has been harder this time around as I'm pushing 40 – among other things, this experience is helping me come to grips with the realities of not being quite as young anymore) is basically just getting on the bike a lot, taking long rides around my hometown of New Haven. Ideally I should be doing at least 150-200 miles a week by now, with a freelance musician schedule it's hard to be totally consistent but I'm getting there.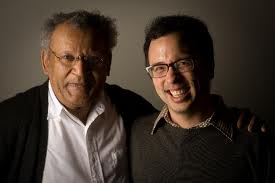 Our intrepid biker is a frequent collaborator on NEA Jazz Master Anthony Braxton's projects
Given the variety of musical collaborations you have scheduled along your tour, what do you ultimately hope to achieve musically with this Bike Tour?
I'm really thrilled by the artistic variety of this trip, so many musicians I'm looking forward to collaborating with, and I love mixing it up from orchestra compositions to small ensembles to solos. But in a way, I see the entire 5-weeks and 1800 miles as a single composition – I often like composing suites, so this is the biggest, longest one I've ever tried. Each concert is its own movement, but I like the idea of the whole musical experience, however diverse each section may be, coming together under one overarching idea/concept.
Would you recommend other artists look for such unique ways to bring their artistry to diverse communities?
I wouldn't necessarily recommend for every musician to jump on a bike, the particulars of this project just happen to fit my interests and aesthetic. But I do think it is past time for us as musicians to be as creative in the context of how we present our music as we try to be in the music itself. We need to experiment with new ideas in where we play, how it is presented, how we got to the gig, what kind of audience we're playing for. For me, doing this kind of tour gives me the chance to connect to a new audience, gives me the chance to talk about my music in a different way, to help a new listener understand the analogy I see between the process of taking a long bike journey and the process of improvisational navigation through structured compositional form. My ideal audience is one that comes to the music free of preconceptions but open to explore a new experience – if the story of me biking to the concert helps them embrace that mindset, the project is a success.
Taylor Ho Bynum Bike Tour schedule (as of 6/27/14)
Thursday, August 28: Sunset solo at Wreck Beach, Vancouver, BC
Friday, August 29: Duo with Francois Houle (clarinet). The Apartment, 119B E Pender St, Vancouver, BC.
Saturday, August 30: Ensemble with Lisa Cay Miller (piano) and other musicians tba. China Cloud, 524 Main St, Vancouver, BC.
Wednesday, September 3: Quartet with Cuong Vu (trumpet), Carmen Rothwell (bass), and Dylan van der Schyff (drums). The Royal Room, 5000 Rainier Ave S, Seattle, WA.
Sunday, September 7: The Portland Jazz Composers Ensemble, 12-piece ensemble led by Douglas Detrick (trumpet). Central Hotel, 8608 N Lombard St, Portland, OR.
Friday, September 12: Duo with Gregg Moore (tuba), Arcata, CA. House concert, rsvp required.
Tuesday, September 16: OrcheSperry, 14-piece ensemble led by Phillip Greenlief (saxophone). Berkeley Arts, 2133 University Ave, Berkeley, CA.
Wednesday, September 17: Quartet with James Fei (saxophone), Lisa Mezzacappa (bass), and Jordan Glenn (drums), performing the '70s quartet music of Anthony Braxton. Duende, 468 19th St, Oakland, CA.
Friday, September 19: Duos with Myra Melford (piano).Center for New Music, 55 Taylor St, San Francisco, CA.
Saturday, September 27: Anthony Braxton Trio, with Braxton (saxophones, electronics) and Kyoko Kitamura (voice). Angel City Jazz Festival, Zipper Hall, 200 South Grand Ave, Los Angeles, CA.
Sunday, September 28: 7-tette with Nicole Mitchell (flute), Michael Dessen (trombone), Jeff Gauthier (violin), Jeff Parker (guitar), Mark Dresser (bass), and Alex Cline (drums). Angel City Jazz Festival, Barnsdall Art Park Gallery Theater, 4800 Hollywood Blvd, Los Angeles, CA.
Monday, September 29: Duo with Mark Dresser (bass).Saddleback College, 28000 Marguerite Pkwy, Mission Viejo, CA.
Tuesday, September 30: Sunset solo at Border Field State Park, San Diego, CA.
Wednesday, October 1: Sunrise solo, Playas de Tijuana, Mexico.
Here's a performance from a previous Taylor Ho Bynum "Acoustic bicycle tour: