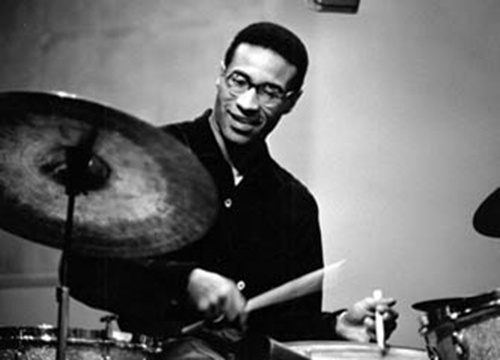 Entering a second floor room of the Library of Congress' Jefferson Building on January 27 I encountered scores of folks huddled around two long tables festooned with vivid memories from the life of one of the giants of this music we call jazz. Spotting Howard Dodson, curator of Howard University's historic Spingarn Collection, eyes glued intently to one particular artifact, he informed me that he was reading a fascinating, deeply passionate handwritten letter from Maya Angelou to Max Roach in the sad aftermath of Malcolm X's assassination. Adjacent to that letter was a vivid photo of Max picketing Carnegie Hall on behalf of the "Africa for Africans" cause that had famously disrupted a Miles Davis concert appearance. Nearby was a biting, handwritten letter from Charles Mingus bitterly admonishing Max over some perceived slight relative to their stormy Debut Records partnership, with the telling salutation "Hate" above Mingus' signature. Elsewhere on display among the samples was one of Roach's grade school report cards, with a 'D' mark by his music class. Other artifacts attested to a life very politically led, often on the cutting edge of various movements for African American justice in this country.
The legacy of NEA Jazz Master Max Roach goes way deeper than his stature as one of the signature drummers in American music history. That fact was driven home by a wonderful event last Monday at the Library of Congress, which introduced its acquisition of the Max Roach Collection. In the company of Max's five children, LOC Senior Music Specialist and jazz curator Larry Appelbaum – one of my WPFW radio colleagues – interviewed the family and we were treated to their warm recollections of growing up with the great drummer, though as this collection clearly reveals, limiting him to his peerless drum and music legacy is selling him way short, Max Roach was a renaissance man of the first order.
Prior to eliciting his children's recollections of Max Roach the father, Appelbaum screened several rare video clips, including one of Roach telling a Library of Congress audience his vivid remembrance of first climbing onto Sonny Greer's prodigious drumset at age 17 to play with the Duke Ellington Orchestra. Also included was a clip from the classic film "Carmen Jones," with Max set up on a bar drumming while Pearl Bailey sang and dancers acted out a joyous scene; and what might be characterized as an early music video from Max's classic drum & voice mash-up of his solo and Dr. Martin Luther King Jr.'s historic "I Have a Dream" speech from Roach's Chatahoochie Red album (Columbia Records), replete with animated drawings of Roach and King. Later son Raoul Roach recalled being in the room as Max patiently explained his request to use King's speech in his music context by telephone to Coretta Scott King.

Max Roach's children: left to right Daryl, Maxine, Raoul, Dara and Ayo at Monday's Library of Congress event (photo: Washington Post)
Appelbaum also previewed several of the audio treasures in the Roach collection, including a rarest of rare living room recording of the late and somewhat mysterious Philadelphia piano master Hassan Ibn Ali, whom Max had famously introduced on the pianist's heretofore only known recording as The Legendary Hassan on their Atlantic Records trio date with Art Davis on bass. Also among the audio Appelbaum previewed at the event was a clip from an Ossie Davis/Ruby Dee theatrical documentary with Max on drums and Billy Taylor on piano. Our collective appetites whetted for all things Max, Larry's conversation with the master's children provided further insights into this complex man.
We so often think of these giants as somehow larger than life, beyond reproach even. To his children he was just "Dad", no matter if Miles Davis was sitting across from them at dinner as he often was, or Dizzy Gillespie was in the house playing chess, Harry Belafonte dropped by to chew the fat, or countless other notables were at the house enjoying Max's company, some perhaps imploring his participation in one human rights campaign or another. As Maxine Roach, the violist and leader of the Uptown String Quartet (and lone musician among Max's children) remarked "Our family is thrilled that our father's rich legacy has found a home at the Library of Congress. Our father had a sense of his place in the history of America's original music and for decades he collected testaments to his mastery in the form of recorded sounds, video, photos, papers, letters, awards, collaborations, gifts, honors, struggles and friendships. All will be on display at this very great and prestigious institution."
Max's meticulousness in preserving his legacy was driven home several times at Monday's event. During his presentation Appelbaum remarked that elements in Max's collection mark the beginning of what he envisions as a new research phase in jazz history, provided by access to musicians' official business papers, as opposed to the anecdotal and often sketchy recollections of business dealings in the music's historic days. Indeed, among the sample artifacts on display at Monday's event were a couple of Max's performance contracts, including one from the New Orleans Jazz & Heritage Festival.
In addition to a couple of interview opportunities, I had the good fortune of being in Max Roach's company on several occasions, including a long afternoon spent in the home of a mutual friend in Cleveland at which he invited a visit next time we were in New York. In town for a festival, along with good friend and pianist Eric Gould (current Jazz Composition Chair at Berklee College of Music), we took him up on that invitation and stopped by his Central Park West apartment. We were greeted warmly and spent a great afternoon being regaled, Max holding court with the added bonus of Amiri Baraka in the house working with Max on his memoirs – the manuscript of which is now part of the Library of Congress Max Roach Collection.
During Monday's program the mind drifted back to the many interviews with Randy Weston for our book African Rhythms (Duke University Press) when Randy would recount his great times growing up with Max in their Bedford-Stuyvesant neighborhood; about how he first met Dizzy Gillespie at Max's house, with George Russell sketching out "Cubana Be, Cubana Bop" as he recovered from tuberculosis. Or how one day he dropped by Max's and there was Charlie Parker, whereby Max insisted that Randy immediately play some of his compositions for Bird. That Max Roach was a pivotal figure of 21st century world culture is certainly clarified by the enormity and importance of his artifacts now lovingly stored and in preservation at the Library of Congress.
This enormous Max Roach Collection includes over 100,000 items, approximately 80,000 of which are manuscripts and papers, and hundreds of sound and video recordings, including unreleased recordings of Max and Abbey Lincoln in concert in Iran, and a duet recording with Cecil Taylor in Italy. The Max Roach Collection will be available to researchers in the Library's Performing Arts Reading Room in their Madison Building, located on the opposite corner from the U.S. Capital Building on Pennsylvania Avenue. For more information on this collection as well as the LOC's holdings in music, theater and dance go online to www.loc.gov/rr/perform/.