Is the Bay Area's new jazz jewel, the SFJAZZ Center, somehow simply Jazz at Lincoln Center West? The answer is emphatically NO. Fact is this is the first free-standing institution dedicated to jazz in this country. "SFJAZZ stands on its own merits, I love the education, the music that's coming out of [SFJAZZ]. Jazz at Lincoln Center has nothing but support and love for them," in the words of JALC major domo Wynton Marsalis. If anything, SFJAZZ is the next step in the evolution of homes for jazz at the institutional level. Did I just utter a dirty word? For years the naysayers have decried the "institutionalization" of jazz music, as if that were somehow a bitter pill to swallow. But as my visit to the SFJAZZ Center last week proved, nothing could be further from the truth in the Bay Area; this is one of the healthiest developments in the music in all my years of deep investment in the art form. I'm left wondering what took us so long!
The mission last weekend was as part of my ongoing work for Arts Midwest with the NEA Jazz Masters Live grant program. SFJAZZ was the recipient of a modest grant to support a 3-day residency by NEAJM Eddie Palmieri, so I traveled to the Bay Area on Thanksgiving weekend for a site visit on the venue and to report on their Palmieri project. From my Union Square area hotel, it was a quick stroll down Powell Street on a temperate 70-degree day amidst the Black Friday revelers and clanking street cars to the light rail Metro station on Market Street. Two stops later and a couple of blocks walk and I arrived at the impressive SFJAZZ Center at 201 Franklin Street in the Hayes Valley district. Gazing up at the SFJAZZ sign at the southeast corner of the building, the immediate impression was that clearly this is a new day for jazz in this country!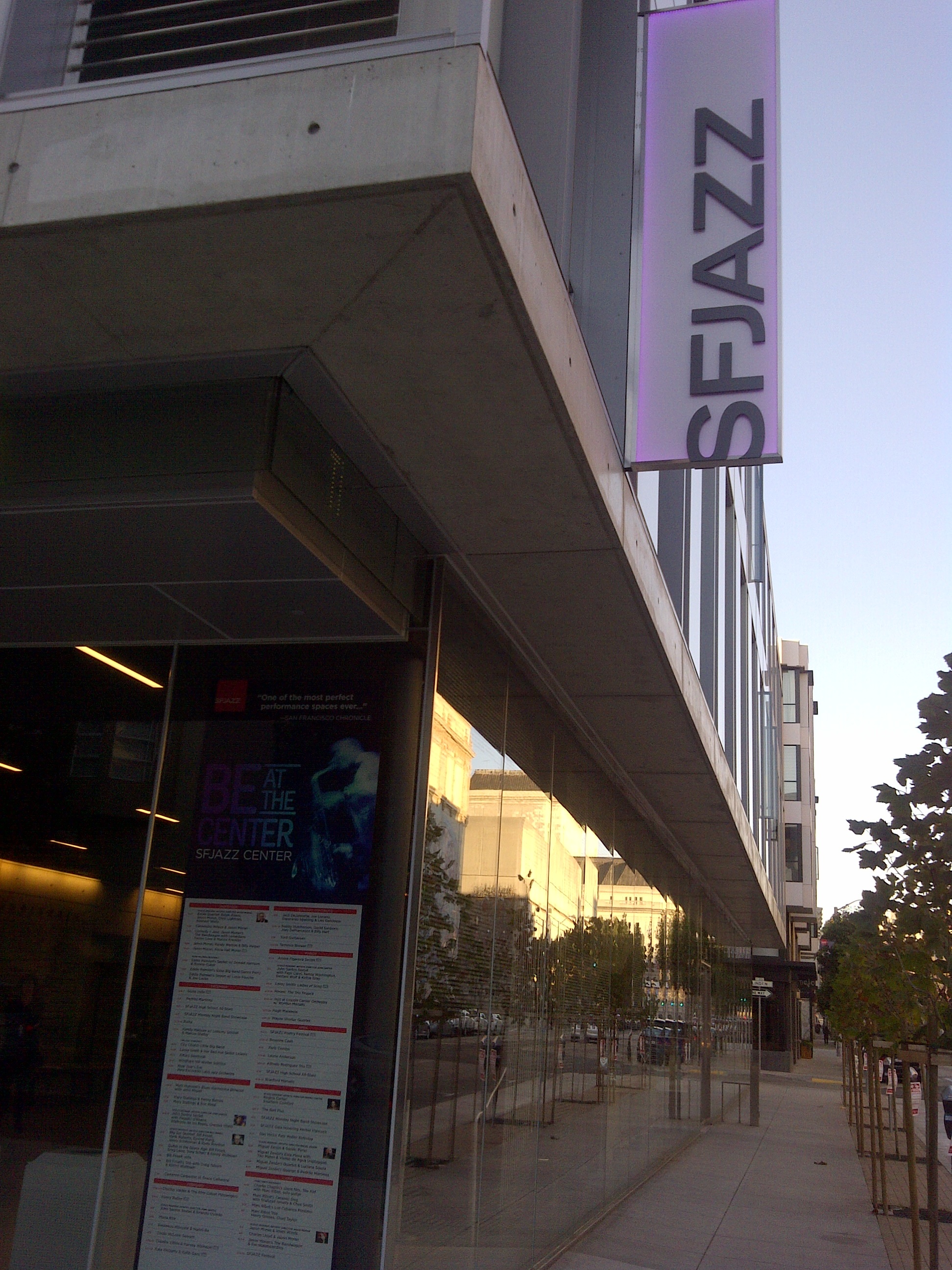 First impression was of a shiny new building thoroughly lacking in ostentation, blending in well with its surroundings; a quite purposeful impression I later learned from SFJAZZ development director Barrett Shaver on our tour of the facility. The idea was to construct an attractive, eminently accommodating structure that wouldn't stand out like some pretentious architectural sore thumb amidst its neighbors. A quick glance across the street revealed an unoccupied building somewhat gussied up by two rows of exquisite Herman Leonard photographs of assorted jazz immortals writ large, covering window spaces; lending still more jazz props to the neighborhood, as did the welcoming SFJAZZ posters in the windows of nearby businesses. Clearly this is a treasured neighbor.
Another conspicuously welcoming aspect is the glass enclosed lower level, which allows passing pedestrians and busy traffic a quick gaze into the building, further beckoning the uninitiated; covert audience development. Walkers and drivers can peer into the Joe Henderson Lab, the gift shop/box office in the street level lobby, and the adjacent SFJAZZ restaurant South. The gazing-through-glass aspect is repeated inside South. From a convenient perch at the bar, patrons can peer directly onto a portion of the stage in the main venue, the 700-seat Miner Auditorium. Obviously that's further enticement to restaurant patrons to check out the main events, if they hadn't already. By 60-minutes before showtime South was packed with patrons, buzzing on the southern cuisine menu and enjoying pre-show supper at their tables or beverages at the bar.
The floor-level seating entrance is on the main lobby; for the great majority entering Miner for Eddie Palmieri's opening evening of Latin Jazz – his rhythm section, including the versatile young bassist Luques Curtis (who was a bedrock, energizing presence all weekend) plus guest saxophonists Big Chief Donald Harrison and bari ace Ronnie Cuber it was up the stairs or the elevator to the comfortable, acoustically sound main auditorium. A healthy, eager audience awaited and Palmieri delivered, keeping the pots on high heat, as he did throughout the weekend.
Eddie's weekend long residency harkened back to yesteryear, when multi-night stands were the rule rather than the exception we find in these days of one-nighters even at jazz clubs. Shaver confirmed that as part of SFJAZZ founder and executive artistic director Randall Kline's master plan. Kline is a sterling presenter whose work I've appreciated dating back to our first encounters as part of the old Lila Wallace-Reader's Digest National Jazz Network during my National Jazz Service Organization days. Even back then, in the early 90s, Kline was clear in his intentions to build this edifice. Shaver, who has been with SFJAZZ for nine years, confirmed that "One of the big changes for us was the presenting structure, the framework in our seasons. We went from presenting a single artist in a single venue on a single night, to now having theoretically seven nights a week at our disposal [with the opening of the SFJAZZ Center]; you have a lot more room to get creative with that. Randall is really looking at it as [ideally] 4-night runs," Shaver confirmed. At this point about 60% of SFJAZZ's bookings are such multi-night stands, which also bodes well for the institution's robust jazz education component which often engages visiting pros as teachers in addition to its in-house educators, a program directed by the very active Latin Jazz pianist-bandleader Rebeca Mauleon, she of the slick fedoras.
Palmieri's Saturday evening delivered an entirely different flavor, courtesy of his robust Salsa Big Band (2-shows @ 7 & 9:30). Knowing this evening was bound to excite would-be happy dancing feet and agile hips, I asked Shaver about the dance opportunity when we took the tour amidst Eddie's rhythm section soundchecking on Friday afternoon. Simple, he explained, the floor-level seating in Miner is entirely portable, revealing a very accommodating dance floor when removed, a dance floor even when filled wouldn't detract from the concert-seated contingent. Sure enough, that evening when I arrived at my seat the dance floor was positively vibrating with anticipation. Maybe two bars into Eddie's first piece the dancers began streaming onto the floor and the mambo mix was in session, fun being the first priority over skill, though there were some impressive light-footed couples on the floor to be sure. And the flexible nature of the space also includes strategic curtains that can be employed from the ceiling to re-configure Miner in several different ways.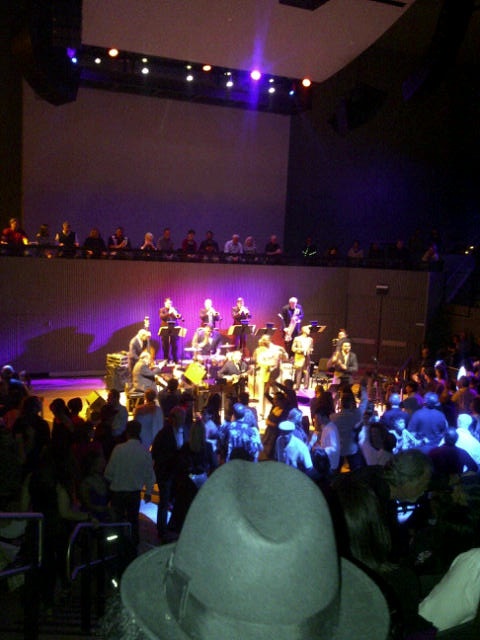 The dancers were out in joyous force for Eddie Palmieri's Salsa Big Band
On Sunday afternoon at the 80-seat Joe Henderson Lab, named after the late NEA Jazz Master tenorist who had a close relationship with SFJAZZ's earliest incarnation, and a room designed for intimate performances and education events, the brilliant musicologist-percussionist-historian John Santos did an interview with the maestro that morphed into more of an enlightening/entertaining conversation due to Palmieri's well-noted loquacious nature. Santos, one of the current season's rotating "resident artistic directors" (who are billed as "The most forward-thinking musicians in jazz, curating exclusive concerts and educational programs" by SFJAZZ's development brochure) proved a skilled interlocutor as always, though with Eddie Palmieri you merely have to flip the switch.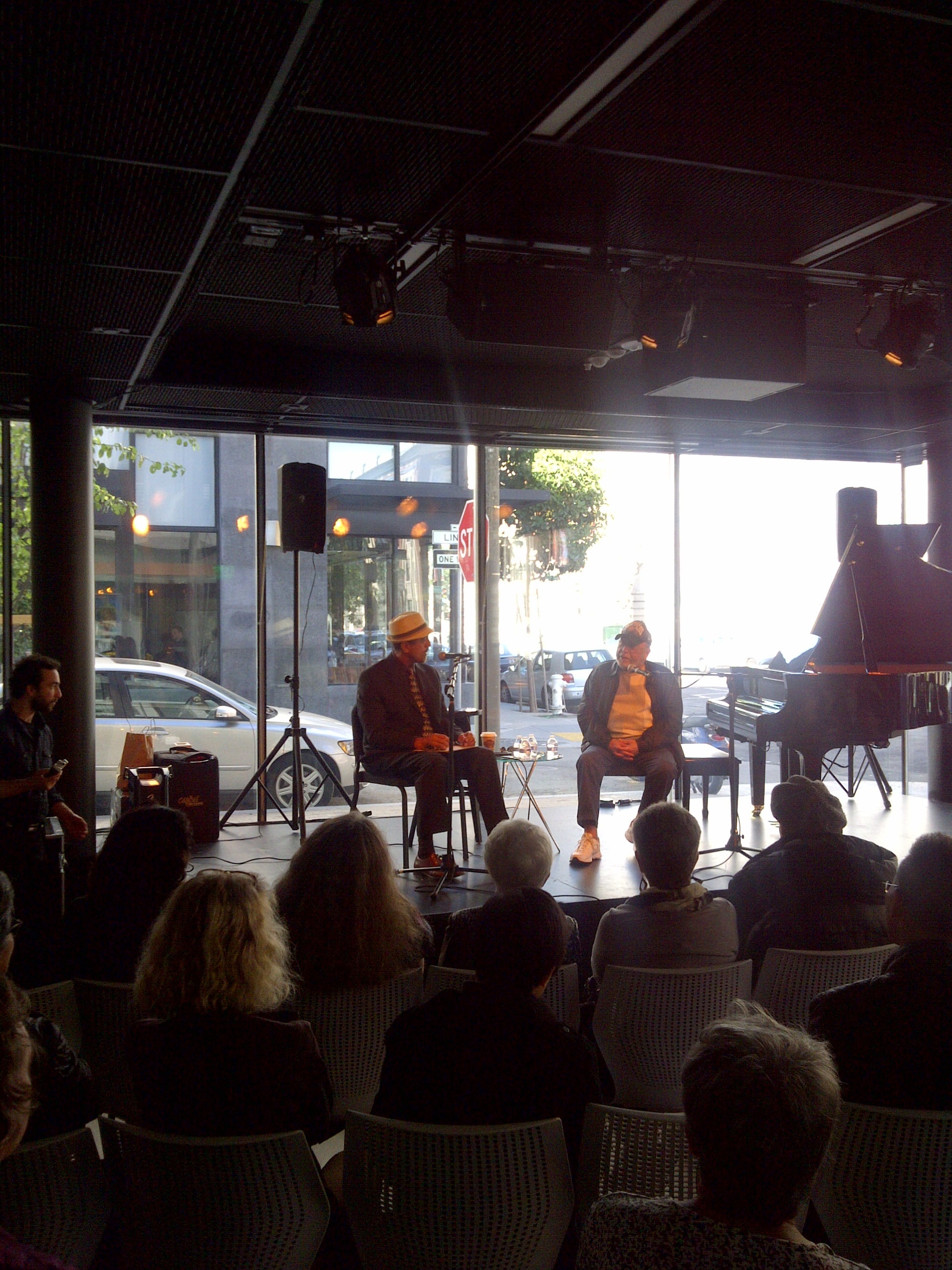 John Santos (left) strolling through Eddie Palmieri's rich history
Palmieri's closing evening was another Latin Jazz exploration, with Eddie introducing two young firebreathing horn players during the first half. The second half of the evening was sublime, with guest vibraphonist Joe Locke in partnership with Palmieri recalling Eddie's past hook-ups with Cal Tjader. A casual perusal of the SFJAZZ season program booklet made clear that this was just one of many tasty treats on the SFJAZZ menu, including recent past curatorial stints from such seekers as Zakir Hussain, Bill Frisell, Regina Carter, and Jason Moran. This certainly bodes well for the Bay Area's cultural and social calendars, and is yet another jewel in jazz's 21st century evolution.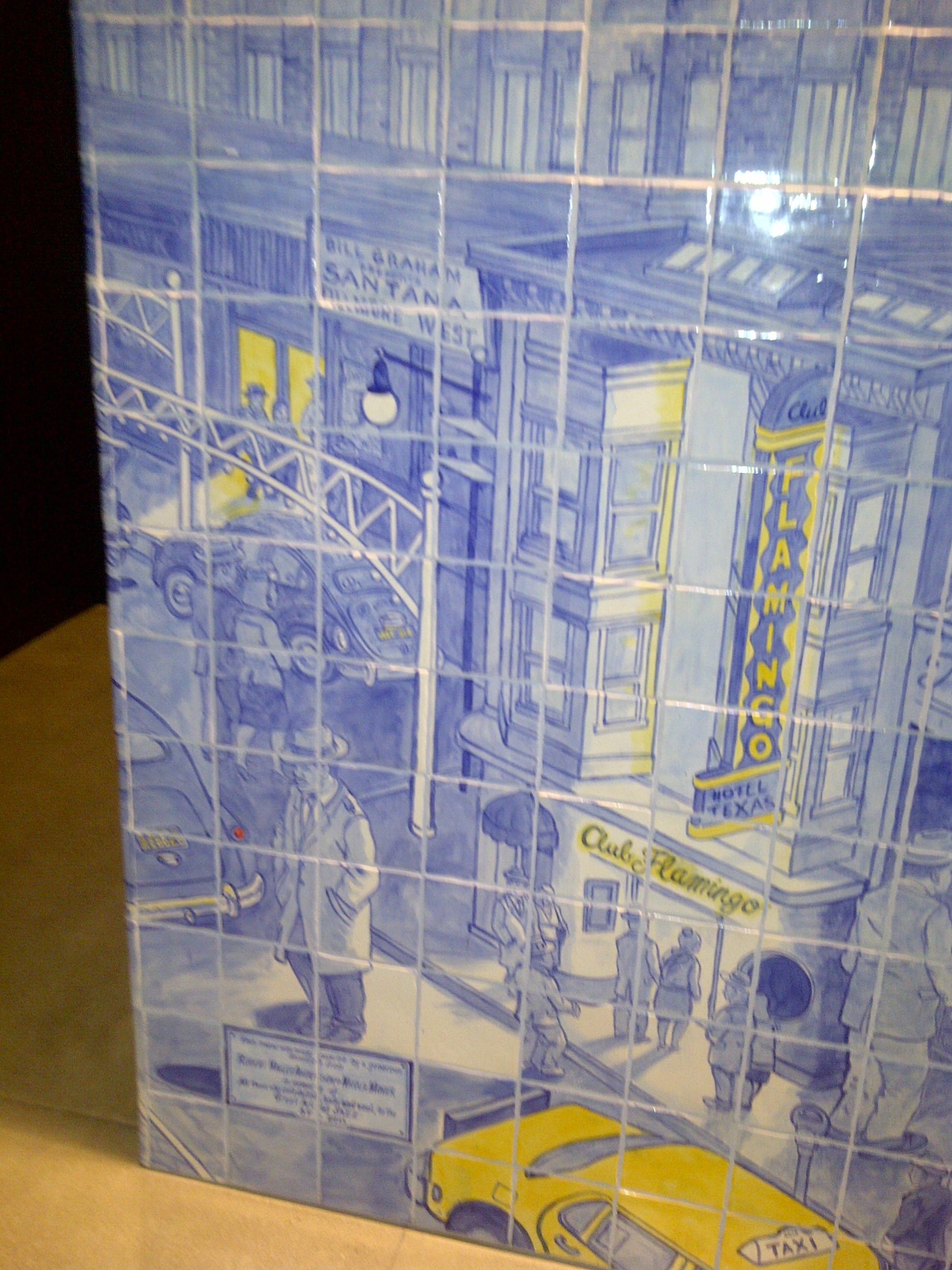 This 3-panel mural, with its slightly quirky depictions of jazz history and San Francisco jazz history, has two panels adorning the second level lobby and a third in the Green Room.