Ain't But a Few of Us
Black music writers tell their story…
Anthony Dean-Harris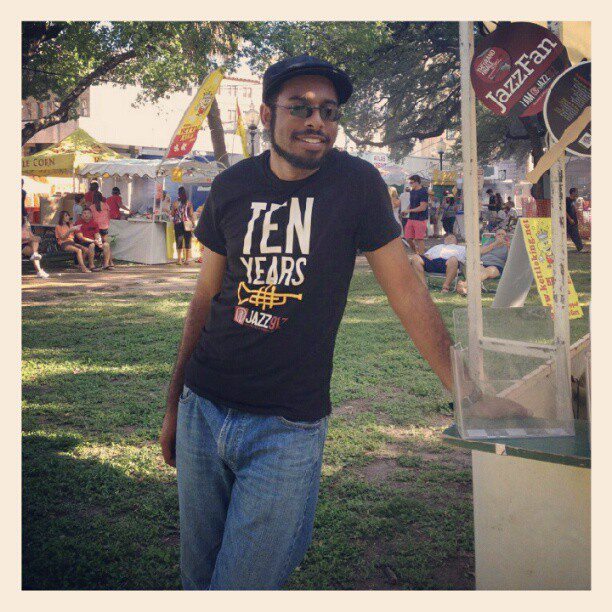 I first encountered the young writer Anthony Dean-Harris via his very active jazz-based blog at http://www.NEXTBOP.com. Just to give you a sense of where he's been coming from with NEXTBOP, here's how he characterizes the site: "The philosophy of Nextbop isn't just about promoting jazz to jazz lovers. Nextbop is about appealing to everyone. It's about promoting jazz to the world. It's about showing the indie rock crowd, the punk rock crowd, the hip hop crowd, the R&B crowd, the bluegrass crowd, and so many other scenes that this kind of music is great and it's not so far off from what you're used to hearing." Being all about jazz audience development here with the Independent Ear, and with my work in general, that philosophy certainly struck a chord with this editor!
As with any upwardly mobile, energetic young striver, change is afoot for Anthony Dean-Harris, news he conveyed recently. "I, in consultation with my partner Sebastien, have decided to end Nextbop at the end of this year in order to oversee the blog at The Art of Cool Project (http://www.theartofcoolproject.com), a non-profit organization that puts on jazz and jazz-related shows in Durham, NC," with their first festival in the works for April 2014. "Starting [in October] posts for Nextbop will post simultaneously at Art of Cool so as to get folks comfortable, eventually heading there by next year and to grow its audience."
Clearly Anthony Dean-Harris was a fresh new candidate for this latest installment in the "Ain't But a Few of Us" series of dialogues with African American jazz writers…
WHAT MOTIVATED YOU TO WRITE ABOUT SERIOUS MUSIC IN THE FIRST PLACE?
I've always loved jazz and grew up around it and I knew I've wanted to be a writer since high school when I knew I wanted to go to Trinity University for college because of its jazz station, KRTU San Antonio. However, I didn't get a scholarship to Trinity, though I did get one for Morehouse College. So I ended up going there and my family soon followed me up to support me, experience the American black mecca [Atlanta] themselves, and keep costs low (or at least as low as one can in an area with a significantly higher cost of living than San Antonio). When I graduated from Morehouse in 2008, the recession had just hit and my family decided that since I was done with school, we'd all head back from Atlanta to our hometown of San Antonio.
Once home, I got involved as a volunteer with a city council race and met the late Kathy Clay-Little, a columnist for the San Antonio Express-News and publisher of the community newspaper African-American Expressions. We were talking at the campaign office one day about her plans to put on a small jazz festival on Fathers' Day and who she should try to book. When she learned of my love of jazz, she asked if I'd like to cover concerts for her paper. I gladly said yes and one of my first assignments was to attend the annual KRTU spring concert with her, including the opening VIP reception. It was there, before the evening's performer Ramsey Lewis, that I met many of the folks who ran KRTU. Those folks said I should have a show there, especially since one of their hosts was leaving soon. Over the next few months, I eventually ended up taking over The Line-Up, posting the playlists to my personal blog.
It was around this time that I ran across sites like Nextbop and NPR's jazz blog, A Blog Supreme. ABS's editor, Patrick Jarenwattananon, posed a question to a few folks in the jazz scene, asking if they were to share ten albums of jazz music with a newcomer to the genre, which albums would they choose, however all the albums could only be from the last twenty years. Nextbop's founders, Sebastien Helary and Justin Wee, had a great list and that's when I was impressed by the site and its potential. I also put together a list unsolicited and sent it to Jarenwattananon, who graciously posted it to the site. That's how Sebastien ran across my blog with its playlists from my radio show and my writing from college back when I was on the newspaper staff as opinions editor. Seb contacted me about writing for Nextbop and as time went by and we grew a rapport, and as he learned that my college journalism background was perfect training for managing and growing the site, I eventually ended up as Nextbop's editor and my role as writing about jazz music pretty much cemented.
I can see God's hand in a lot of this, leading me from one role to another and making me incredibly happy (though still pretty poor, but I get plenty of new music and see a lot of shows in support of this community, so it all works out).
WHEN YOU FIRST STARTED WRITING ABOUT MUSIC WERE YOU AWARE OF THE DEARTH OF AFRICAN AMERICANS WRITING ABOUT SERIOUS MUSIC?
I can't say I was aware of the dearth of black writers on jazz music, but I can't say I was too surprised by it. The genre has been growing and changing a lot over the century of its existence, and as it goes with pretty much anything, it's all too common for blacks to be shut out or limited from telling our own stories, framing our own narratives, or just giving our own perspective built from our backgrounds. Fortunately, it's a bit easier for us to change this as the internet has democratised access and ability to do so but the work continues.
WHY DO YOU SUPPOSE THAT'S STILL SUCH A GLARING DISPARITY – WHERE YOU HAVE A SIGNIFICANT NUMBER OF BLACK MUSICIANS MAKING SERIOUS MUSIC BUT SO FEW BLACK MEDIA COMMENTATORS ON THE MUSIC?
I don't like to think there are so many countervailing forces oppressing black journalists in this regard (there might be some who are indeed doing so maliciously, but I don't want to cut wide swaths like that), but I do think that it could mostly be the public's lack of familiarity with black voices. Much of my work focuses on contextualization– we are what we see everyday. We cannot know what we have not been exposed to and we're experts on those things that surround us. There may very well be newspaper, magazine, and web editors who simply aren't around voices of color who may be aware of black jazz (and R&B/hip hop/soul/etc) music and don't even know that they don't know this. In an increasingly nicheified musical landscape where people can read only the coverage they want to read, it may be getting easier to get our voices out there but difficult in entirely different ways to get work into disparate eyes.
DO YOU THINK THAT DISPARITY OR DEARTH OF AFRICAN AMERICAN JAZZ WRITERS CONTRIBUTES TO HOW THE MUSIC IS COVERED?
I definitely think this, largely because of contextualization. Take for example Kanye West's recent appearance on Late Night with Jimmy Fallon. The following day, there were many posts on music blogs linking to the performance– the standard web aggregation coverage of the day without much substance added to it other than "Watch this video!" It may have been noted that Charlie Wilson was present and singing, but a black voice well versed in Wilson's body of work could have noted how many of Wilson's trademark "shabba-dabba-tweet-tweet-tweet"s (and one or two "ooh'-weeEE's) he ad-libbed. Of course, white writers who aren't exposed to the back catalog of The Gap Band may not have even noticed this merited mentioning because they don't know what they don't know. This is how that added black perspective affects the discourse.
For black music to be, as it always has been, a crucial part of culture, informed people must also be part of the discourse about the music's impact.
SINCE YOU'VE BEEN WRITING ABOUT SERIOUS MUSIC, HAVE YOU EVER FOUND YOURSELF QUESTIONING WHY SOME MUSICIANS MAY BE ELEVATED OVER OTHERS, AND IS IT YOUR SENSE THAT HAS ANYTHING TO DO WITH THE LACK OF CULTURAL DIVERSITY AMONG WRITERS COVERING THE MUSIC?
Since I've been writing about jazz, especially as I've run my own publication, I've come to realize essentially how this job and the attention given to some artists over others natually occurs. I've realized some of the seemingly trivial things like appealing album art determines whether or not I'll devote attention to an album, or when an email hits my inbox at just the right time for me to care, or how important having a good press release and readily accessible songs to stream make spreading the word more appealing to me. Seeing the inner workings of music journalism like this helped me realize the whole industry functions like this to some degree, and this doesn't even take into consideration how it all works in other genres or larger publications who may pay more attention to SEO optimization than merely discussing quality music and informing the masses of talent that needs a voice. The inner workings of the machine and its simple extension of how we as people pay attention to things explains so much about why music journalism is how it is.
So taking added diversity into account in this regard adjusts things a bit because it's easy to assume people of different cultural backgrounds would have their respective attention drawn to different works. It's the nature of the beast.
WHAT'S YOUR SENSE OF THE INDIFFERENCE OF SO MANY AFRICAN AMERICAN-ORIENTED PUBLICATIONS TOWARDS SERIOUS MUSIC, DESPITE THE FACT THAT SO MANY AFRICAN AMERICAN ARTISTS CONTINUE TO CREATE SERIOUS MUSIC?
When it comes to how black publications cover music of this sort, I don't like to think of it too differently from how mainstream white publications cover mainstream pop music in comparison to other more sophisticated kinds of music. I've been so immersed in the world of jazz since I've been listening as a child, but especially since I've been involved in Nextbop and radio hosting at KRTU, that I have forgotten that this music does indeed have a tendency to be rather inaccessible. My listening to music for musicality, dynamism, quick decisions made on the spot, communalism between musicians, and other aspects that don't bore me like simplicity does is distinctly different from how many others listen to music, searching for quick, visceral connection and catchiness. Every culture has this sort of dichotomy in its art and I'm loath to say black art may have this problem more than other cultures, though black culture's influence on culture at large does shine a different sort of spotlight on the matter that is at times distressing.
HOW WOULD YOU REACT TO THE CONTENTION THAT THE WAY AND TONE OF HOW SERIOUS MUSIC IS COVERED HAS SOMETHING TO DO WITH WHO IS WRITING ABOUT IT?
I'd agree with this in much the same way writing about essentially anything is affected by who is doing the writing.
I'm a writer who loves not only music but also television and film. I'm one of those guys who uses the word "showrunner" a lot and cares about Aaron Sorkin's oeuvre and things of that sort. When people ask me why I care about these sorts of things and how I remember details about television like I do, I tell them it's all part of being a storyteller. In one's family or circle of friends, there's always some person at dinner — a guy back in college, that crazy uncle, a fellow bar patron — who tells stories in a way that makes people listen. Maybe the person describes things ornately, maybe s/he uses wild hand gestures, maybe s/he has a great voice. Whatever it is, the storyteller has attributes that makes his or her stories unique and appealing. A person tells a story in his or her own way that people remember, that causes them to come back for more. If a storyteller has a tendency to talk about interoffice relationships, or uses a camera to show the story, or uses the internet to talk about what happened at a jazz club in New York, these are all different ways to tell a story. I always try to understand that each medium lends itself to different strategies and means of performing the same function– there are people out there who want to hear what the storyteller has to say.
IN YOUR EXPERIENCE WRITING ABOUT SERIOUS MUSIC WHAT HAVE BEEN SOME OF YOUR MOST REWARDING ENCOUNTERS?
The most rewarding experience I've had since running Nextbop was putting together our first unofficial day party during the South By SouthWest festival in Austin, Texas, this last March. It was the first event I had ever organized and we had bands of renown local to Texas and throughout the world agree to play a little burger place built from a reformed car garage. It was humbling that such talented people like Australia's Hiatus Kaiyote and Canada's BADBADNOTGOOD would agree to play such an event for a clear novice like me at something like this, and moreso that it was attended as well as it was. I'm looking to put on another party this coming March without me being nearly as exasperated as I was the first time around, but after the dust cleared and everyone who was there had a great time, I could step back and marvel at just what happened. Writing is such a solitary act (and writers, like many artists, are often very critical of themselves to the point of self-loathing). So to throw an event where people actually show up and enjoy what it is that you do and are happy to say so is extremely satisfying.
Though lately, I've really enjoyed editing the work of others for Nextbop. There are essays like Jon Wertheim's critique of trumpeter Nicholas Payton's contentious nature, or Ben Gray's series looking at original versions of jazz songs and comparing them to cover versions, or just being blessed to post anything Angelika Beener writes that makes me immensely proud of Nextbop and what it has grown to be over these few years.
WHAT OBSTACLES HAVE YOU ENCOUNTERED – BESIDES DIFFICULT EDITORS AND INDIFFERENT PUBLICATIONS – IN YOUR EFFORTS AT COVERING SERIOUS MUSIC?
Since I've mostly been working as my own editor and manager since taking up music journalism, the most difficult part of all this is learning the ropes about all this on my own. Arranging interviews, obtaining press credentials for events, keeping in contact with publicists, and things of that sort is still a fish out of water thing for me. Another part of that, though, is figuring out how to make all this a viable business. Nextbop has been a labor of love for four years now and has yet to make money. I've been working on selling ad space to change that, but this, too, is one of those roles in the business that's new to me. Running the whole business and learning the trade has been a lot to tackle, and though it's been slow going, it's sometimes a comfort to realize what I've picked up along the way in doing so.
10. WHAT HAVE BEEN THE MOST INTRIGUING RECORDS RELEASED SO FAR THIS YEAR?
Laura Mvula's Sing to the Moon
Thundercat's Apocalypse
Gerald Clayton's A Life Forum
The Stepkids' Troubadour
Butcher Brown's a & b-sides
Terence Blanchard's Magnetic
There's definitely a lot more but I'll get to that in the next few months around the time for year-end lists with the rest of the Nextbop staff.