Last weekend, on the occasion of the Dave Brubeck Institute's annual festival, at the invite of the exceedingly pleasant and humble Brubeck executive director Simon Rowe, I had the distinct pleasure of making a site visit to their Stockton, CA digs. I had met Simon at a couple of recent conferences, most notably the Jazz Education Network conference in Atlanta last January. I was immediately struck by the humility and openness of the man, who by profession is not only a skilled and experienced jazz educator but also a pianist heavily invested in the jazz tradition. Unlike other Institute CEOs I've encountered along the way, this forthright Australian man seemed to not only bring a high level of expertise to his work, he also appeared refreshingly open to networking within the jazz community as well as a great thirst for exploring how others have achieved success in their corner of the music world; the lack of a certain all-knowing attitude was remarkable. I was pleasantly surprised to spot Simon at the Jazz Connect conference in New York, which followed on the heels of JEN. Here again, unlike others I've encountered at such Institutes, this was a director interested in being a real, deeply-invested part of the jazz community. We had several subsequent exchanges and the weekend of March 22 I landed in Stockton, specifically on the idyllic campus of the University of the Pacific, for the annual Brubeck Festival.


Simon Rowe directs the Brubeck Institute at the University of the Pacific
For those not familiar, Stockton is about 75 minutes due southeast of the San Francisco Bay Area, though its closer and more convenient to fly into Sacramento. With a student body just north of 5K, the private University of the Pacific is one of those orderly, leafy-green, pristine campuses where students evidence a bit more carefree attitude than one might find on the typical state school mega-campus. One might easily envision student Dave Brubeck wandering around curiously seeking inspiration for the music that must surely have been buzzing around his head during his undergrad days there; in fact there was a lovely story recounted at some point during the weekend about the exact spot on campus where Dave met his eventual wife Iola. And therein was another of that weekend's revelations. Admittedly I've not studied deeply on Brubeck's stellar career, beyond knowing his key recordings, compositions, and bands. But the importance of Iola Brubeck to so many aspects of Dave's hallmark career, from composition development to essential career advisories and bringing a level of common sense to a head constantly muddled by all manner of compositional and band leadership minutia, was driven home by the many stories and anecdotes I heard all weekend. Theirs was truly a partnership. Iola Brubeck was a serene presence at all of the festival activities – sans any sense of the ever-vigilant widow's guardian of the flame, micro-managing posture I might add.
I suppose the same could be said of the two Brubeck sons on hand for the festival as well, bassist-trombonist Chris Brubeck and middle brother, drummer Dan Brubeck, both of whom appeared quite pleased at how their beloved dad's legacy is being preserved at UOP. Apropos, their band set brought a rousing closure to the festival's concert component. Their energetic performance included several re-imaginings of chestnuts from Dave's book, like my personal Brubeck favorite "In Your Own Sweet Way." And no, despite the fact this was a three evening festival (with some free music by the Brubeck Fellows on the lawn Saturday afternoon), audiences were not worn out by tired, rote versions of "Take Five" or "Blue Rondo a la Turk", though they were both in the house.
In addition to the festival the Brubeck presence on the UOP campus also houses an extensive Dave Brubeck Archives. On-site we examined some fascinating documents relative to Brubeck's various pronouncements and stances on civil rights – including a newspaper nugget detailing the fact that he gave up $40K in income as a result of his hardline stance that he would not bring his most famous quartet, integrated by bassist Eugene Wright, to play for segregated southern audiences in the turbulent '60s at the height of his popularity. That kind of conviction is not common; an impression enhanced all the more by a quick calculation of what $40K would mean in 2013 dollars versus 1960s bucks! Dave Brubeck the humanitarian is highlighted in his archives at nearly the same level as Dave Brubeck the pianist-composer. We were treated to at least one rare recording, a rehearsal tape for Dave's performance of "The Real Ambassadors" at the Monterey Jazz Festival with Dave rehearsing Louis Armstrong's vocal with Carmen McRae in Pops' absence. Ever heard Dave Brubeck sing? Archivist Michael Wurtz can hook you up! Facts surrounding the development and staging of "The Real Ambassadors" and Iola Brubeck's key role were also made crystal clear at the archives. The Dave Brubeck Archives are housed in the UOP University Library; learn more at http://go.pacific.edu/specialcollections or contact Michael Wurtz at 209/946-3105.
Arriving on Thursday afternoon, a couple of days after the festival kicked off, our first stop was a festival reception at an art exhibit at the LH Horton Gallery titled "The Art of Jazz" featuring jazz- themed works adjacent to the campus of Delta College. Among other interesting pieces we encountered the meticulously collaged baby grand piano conversion in the photo below, significantly with the equally iconoclastic Thelonious Monk, a Brubeck favorite, gazing down from an adjacent wall.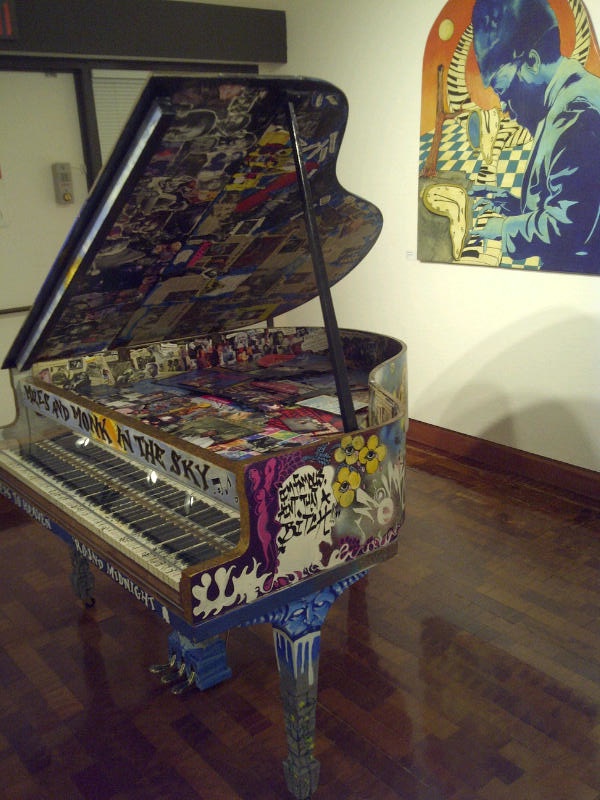 That evening the resourceful trumpeter-flugelhornist-composer Tom Harrell led his superb quintet – Danny Grissett on piano, Jonathan Blake on drums, Ugonna Okegwo on bass and tenor man Wayne Escoffery – through a harmonically expansive program of his original music. Particularly impressive was drummer Blake, whose accommodating style balances an innate sense of pushing and prodding the music in a way that brings real heft to the ensemble. There's an impressive economy of motion in Jonathan Blake's work, his cymbal set-up is low at drumhead level. And Tom Harrell remains one of the craftiest trumpeters in the music.
Friday afternoon presented the heart of the Brubeck Festival humanities component: interview/symposia with Gunther Schuller and Wynton Marsalis. In the company of fellow journalists Ashley Kahn and Howard Mandel, we had the pleasure of motoring to several activities with the erudite Schuller, mind still razor-sharp despite the physical infirmities of his senior years that have slowed his gait. For Schuller's symposium he was quizzed by Simon Rowe on his brilliant career, including anecdotes from his fruitful Third Stream efforts of the 1950s when he and cohorts including pianist John Lewis endeavored with varying degrees of success to bridge the supposed gap between jazz and European concert music. Inevitably there were also details on Schuller's participation on french horn in the Miles Davis Nonet billed as The Birth of the Cool. Part of that legend had musicians experimenting at Gil Evans' midtown Manhattan apartment. When Mandel inquired further, Schuller chuckled that apparently the place was awash in the blue haze of "smoke" and mattresses strewn across the floor; somewhat the crash pad. The ever-accommodating and erudite Wynton was quizzed by a squad of four eager UOP students before a rapt, full-house audience. Marsalis warmly recognized Schuller in recounting his successful teenaged audition for a spot in the annual summer intensive at Tanglewood. Among the judges of the young aspirants, Schuller championed Wynton's admission to the program despite the fact that Marsalis fell south of the age limitation. Gunther recalled spotting Wynton off in a corner prepping for his audition, whispering to his trumpet not to fail him.
Later that evening the festival's musical highlight was provided by the Jazz at Lincoln Center Orchestra. Arriving at the Bob Hope Theatre in downtown Stockton, it was refreshing to see an energetic audience lined up around the block to enter the sold-out theater. Once the band was announced the audience erupted in a display of pure joy that was startling. And the joy never let up as they lifted what had been a tired Orchestra on the final date of a 3-week tour to heights they likely hadn't imagined when they dragged themselves onstage, weary from travel. The true fireworks came from the second half of the show when Wynton programmed a set that included arrangements of pieces associated with some of Brubeck's favorite pianists, including Thelonious Monk's "Light Blue," and Chick Corea's "Windows." Dave himself was represented by the week's most successful "Blue Rondo a la Turk" essay.
The festival closed with a Saturday evening concert featuring the Brubeck Fellows (preceding the Brubeck Sons), augmented by choir and horn quartet, in a program of Brubeck's work for jazz band and voice that was conducted by Dave's longtime manager Russell Gloyd, who proved a most affable navigator guiding the audience through several delightful Brubeck anecdotes and generally demystifying what might have been a ponderous program in less skilled hands.


The latest crew of Brubeck Fellows studying at the Dave Brubeck Institute
Each evening the festival was capped off by an afterglow set at the club Take Five, just off the Stockton strip known as the "Miracle Mile." A very accommodating room carved out by the wise woman who owns the joint, adjacent to her lively sports bar, Take Five serves as club/workshop for the Brubeck Fellows quintet and whatever visiting artists, or in this case festival artists, arrive at the Brubeck Institute to educate. The first of our three Take Five nightcaps we heard Simon Rowe on piano in a band that included impressive alto man Patrick Langham (below), the director of jazz studies at UOP, and guest vocalist Janeice Jaffe. Closing night of the festival at Take Five featured the Brubeck Fellows, eager and impressive young musicians to be sure.


Patrick Langham
To learn more about the Brubeck Institute, including their Fellowship Program for young musicians and the Brubeck Summer Colony, visit http://pacific.edu/community/centers-clinics-and-institute/Brubeck-Institute. You're going to witness more and more Brubeck Fellows on the frontlines of jazz development in years to come, including one exceptional alum I saw recently in a performance of his own music, young drummer Justin Brown, who is seen most often these days as a member of Gerald Clayton's trio, along with bassist Joe Sanders who also prepped at the Brubeck Institute.