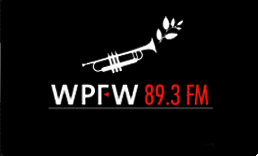 As we detailed in last week's IE post, radio station WPFW, the Pacifica Radio Network outlet serving the Washington, DC metro region at 89.3 FM and streaming live at http://www.wpfw.org, has been embroiled in a program schedule controversy the likes of which our station has never experienced. As with any all-volunteer programmer, community radio station, there are indeed times when either programming changes and alterations, or further programmer training is required. WPFW is not exempt from that equation; and to be honest there were programs and programmers on our weekly schedule that could certainly have used some refreshing or re-training. I've been a WPFW programmer for over 23 years and I cannot tell you how long it has been since we've had any sense of thorough, substantive program & programmer evaluation process, much less training towards better programming practices. Program and programmer quality control has been virtually non-existant for well over five years now. It is true that as certain programming has grown tired and stale around the edges or in a handful of cases practically useless, quite frankly for some of our most severe critics our beloved station has slipped inexorably into irrelevance as a result. That's the plain truth.
But how are programmers supposed to improve when management offers nothing in the way of formal program/programmer evaluation, training or quality control measures? Despite these disparities, WPFW has solidly remained the DC area's station for "Jazz & Justice", just as our motto suggests. Along with that motto is a fierce sense of pride among its programmers as our station has been the beacon for jazz radio in the DC area for the past three decades, particularly so with the demise of the area's other jazz outlet WDCU (the erstwhile "Jazz 90"), which was quite unceremoniously sold to CSpan Radio by its charter-holder, the DC government, in the early 90s (the majority of 'DCU's programmers – like Rusty Hassan pictured below, and Candy Shannon mentioned in this editorial – found convenient refuge at WPFW).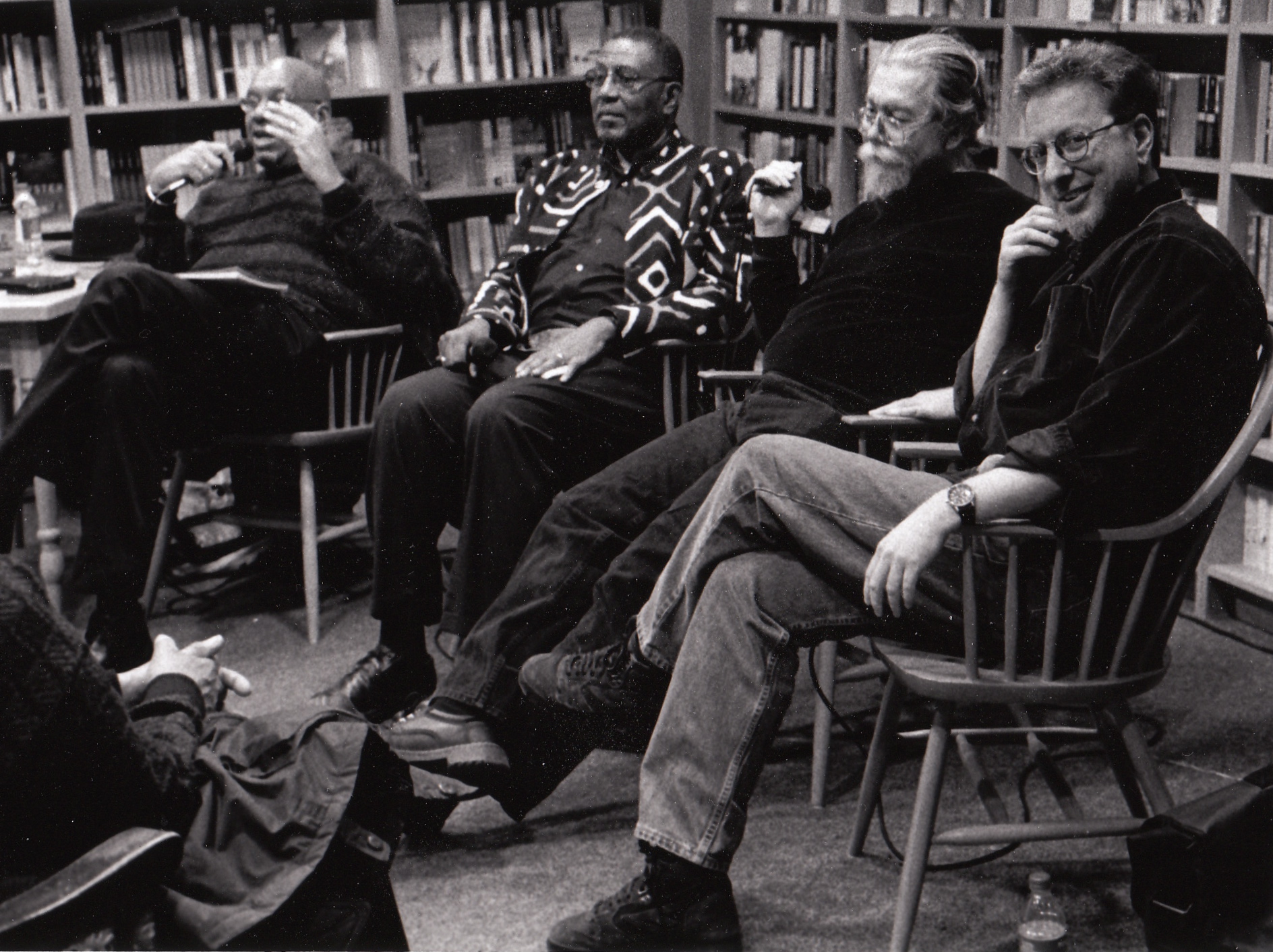 L to R: Veteran WPFW jazz programmers Willard Jenkins, Askia Muhammad, Rusty Hassan, Larry Appelbaum
The number of true jazzologists on WPFW's airways has been impressive for many years, despite the fact that the station has been burdened by a lean bottom line which is currently bleeding red ink, and beset with either ill-equipped management or management lacking true vision; and currently both factors have slipped down to the incompetent level where it concerns current station management. Not to mention the fact that current station management's sole response to the red ink bath is to mount yet another community-straining on-air pledge drive.
How else, other than sheer management incompetence, to explain last week's rollout of a drastic new program schedule grid mere days before the new schedule's Monday, December 3 launch? Last week witnessed the sorry specter of programmers arriving at the station to do their shows, only to be told upon arrival that they were either being summarily dismissed (no 'thanks for the memories') from their programs, or at best their shows were either being re-jiggered or shifted to a new, unfamiliar time slot. In one case, the Monday evening jazz show host Brother Ah (french horn player Robert Northern to you longtime jazz heads familiar with the horn sections that graced such classics as Thelonious Monk's big band sessions, Miles Davis' classic "Miles Ahead", or John Coltrane's "Africa Brass") was informed that his 11/26 show would be his last in that time slot, by telephone on his way to the studio! Brother Ah was also given a take-it-or-leave it new time slot of Wednesdays 10pm-midnight. Personal circumstances prohibited his taking on that new slot, so he was in effect simply out… at least for the moment.
As these changes were rolled out anecdotally to each of our programmers, community outrage began to build steadily as news leaked out; but NO ONE had yet to see the new program grid! For many years I hosted the Friday Afternoon Drivetime jazz slot, 4-6pm on Friday evenings. When we left temporarily in '07 for New Orleans, so that Suzan Jenkins could launch the then-new Thelonious Monk Institute graduate studies program and take a visiting professorship, both at Loyola University in New Orleans (since relocated once again, this time to UCLA – a subject that might require a book to detail its own Institute peccadillos), community radio being what it is, I lost my place in the pecking order. Upon our return in fall '08, I was soon offered a new program slot, 5-8am on Thursdays, part of the station's Morning Jazz strip. (I digress here for a moment to mention that the M-F Morning Jazz strip also included such station stalwarts as journalist Askia Muhammad and Katea Stitt, daughter of Sonny.) The new program schedule grid totally exorcised the Morning Jazz strip, with Askia and Katea (who also happens to be the station's Music Director) now totally out as music programmers, Friday host Lady Myrrh relegated to an overnight graveyard show shift (which I'm not even sure she accepted), and the two guys who alternated hosting on Monday mornings also booted to the overnight graveyard. When the now-former program director (finally feeling the intense heat of community scrutiny, and fearing that he would forever be linked to the current station management incompetence, he tendered his resignation on 12/3) informed me that I was out as of my last scheduled show on Thursday, November 29, he later offered me the new 7-10pm jazz show on Monday evenings.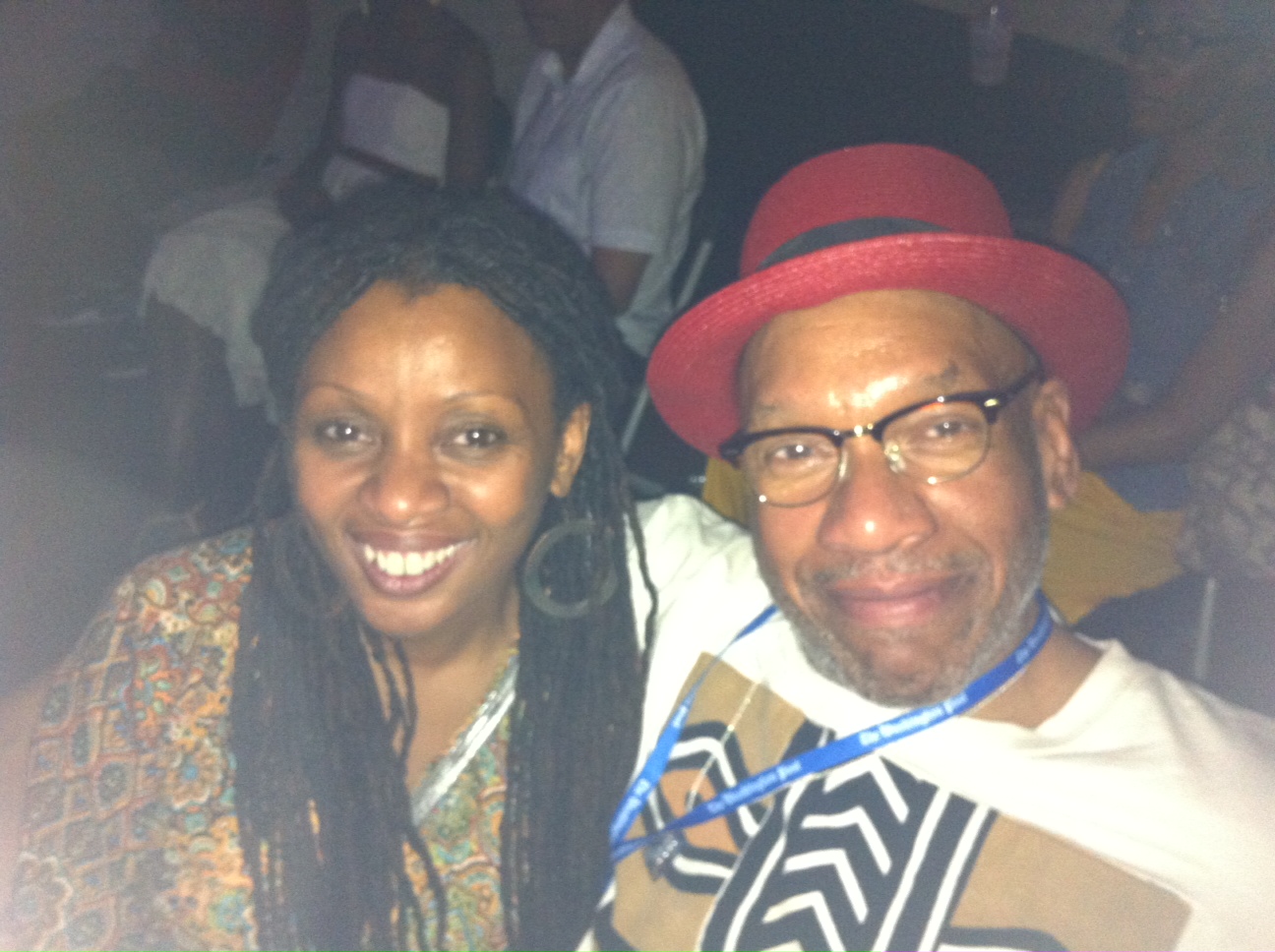 With Katea Stitt at last summer's loft jazz event
Community reaction to this at best clumsy, at worst outrageous and disruptive program schedule change, has been furious. Last Friday, November 30 there was a community rally outside the station, followed by weekend community meetings at the Busboys & Poets literary restaurant and Plymouth Congregational Church. The outpouring of rage moved the Local Station Board president to urge the general manager to reinstate a handful of longtime programmers who had either been given the boot or offered untenable new slots. Among the latter was Brother Ah, who was hastily installed in the new Monday 7-10pm Evening Jazz slot. Wait a minute, isn't that the slot I'd already agreed to take on the new grid? "Yeah," the now-former program director replied, "but John Hughes has ordered Brother Ah in that slot and you've been moved to Wednesdays 10-midnight in the new Night Jazz strip," I was informed as I was out the door last Friday evening on my way to catch Danilo Perez at the Kennedy Center!
Meantime Askia Muhammad now hosts a new M-F AM news/talk/information with occasional music selections "Morning Brew" show, 6-8am. And Candy Shannon, the very capable show host who took my old Afternoon Drivetime Jazz slot on Fridays 4-6pm? She's now relegated to once-weekly providing those occasional interlude music selections for "Morning Brew", along with doing a weekly 5-6am jazz show. The daytime WPFW program grid is now – with the exception of the M-F noon-1pm blues strip – totally news/talk, including the questionable "health" shows hosted by Gary Null M-F 3-4pm, and such mainstream public radio programming that is available elsewhere on the dial as the over-exposed Tavis Smiley and Cornell West, John Hockenberry, NPR's Michel Martin (shows whose institution has since been placed on hold until further notice; the suggestion from some being that Pacifica simply cannot afford to pay the necessary syndication fees associated with carrying these "national" shows), and Pacifica's Mitch Jesserich. And that's part of the community outrage, the critical loss of locally-flavored programming being replaced by tired syndicated porridge.
As usual, the mainstream prints only got it about half right; but here's what the Washington Post published in the Saturday, December 1 edition:WPFW-FM will undergo radical change to a more mainstream lineup of programming
http://wapo.st/Tyb19N
The upshot of jazz music's current status on the WPFW airways is that the music has entirely been relegated to after-dark hours M-F, basically 7pm-6am. The highly popular jazz strip Sundays from 9am-7pm has been altered a bit, at the expense of the Latin strip, and at the total elimination of the Brazilian music show. Granted, where jazz radio is concerned, the DC area is still more blessed by the WPFW schedule than most major urban areas are where it concerns terrestrial jazz radio, I'm afraid. But the clumsy, ham-fisted manner in which this new program grid has been rolled out, not to mention the disruption in community listening patterns (the WPFW Facebook page is littered with moaning and outright outrage over the loss of certain programming, most definitely daytime jazz), and by a passive/aggressive general manager who is so thoroughly lacking in proper communication skills, has engendered goodly measures of DC community outrage. And one salient fact must never be overlooked where it concerns WPFW – our station was founded by and with a distinctly African American perspective and flavor, and that has never sat well with either Pacifica or certain forces in the broader community who would just as soon see this bastion of progressive politics cease speaking truth to power.
We'll keep you abreast of this growing WPFW controversy, with numerous intelligent folks now calling for the general manager's head on a figurative platter at best; but in the meantime the best place to stay current on this fluid situation is to visit the following web site: http://www.ThePeople4PFW.wordpress.com; pay a visit, voice your choice, and read what the WPFW listening community has to say about yet another way jazz broadcasting is disappearing from the terrestrial airways.