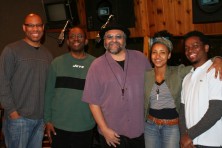 In January Blue Note will release the latest edition of Joe Lovano's Us Five journey. Titled "Cross Culture" the release will feature the original Us Five lineup – with the distinctive double trap drums of Francisco Mela and Otis Brown lll, James Weidman on piano, and Esperanza Spalding on bass. Due to the rapid expansion of Ms. Spalding's burgeoning career as a leader (including recent the recent citation as Jazz Artist of the Year in the 2012 DownBeat Reader's Poll), Joe has engaged another young Berklee stalwart, Peter Slavov, to alternate the bass chair; and the distinctive guitar voice from Benin, West Africa, Lionel Loueke, appears on several tracks as well.
In preparation for writing the liner notes for "Cross Culture", I caught the band back in September when they made an impressive 2-night stand at Blues Alley in DC. That was absolutely one of the best sets I've seen all year! From witnessing Us Five at Blues Alley – including the hoots & hollers of encouragement from an obviously gassed audience – I can attest that this is one of the finest working bands in the music; and that's the key – they're working; they're actively evolving through performance, and not just rehearsing for the next moment. When considering the live evidence coupled with the evolution of their 3 records, I can attest – this is a true BAND.
Next April 20, Tri-C JazzFest will throw Joe Lovano a 60th birthday bash in Cleveland at the Ohio Theatre (go to the Clients section of this website – www.openskyjazz.com for complete Tri-C JazzFest '13 details). For that event Joe will augment Us Five with several of our Cleveland homies, including tenor master Ernie Krivda and B-3 ace Eddie Baccus.
Following Us Five's joyous first set at Blues Alley, I caught up with Joe for some questions about his exciting forthcoming new release "Cross Culture."
Referring to Us Five you've said, "everyone is leading and following." Is that about the same kind of band philosophy as Joe Zawinul's declaration at the beginning of Weather Report that "We always solo, we never solo…"?
JL: Yeah, and the concept that they had was a group effort of creating music within the structures of the pieces. For me in my development, that idea and those players like Joe Zawinul, Wayne Shorter, Miles, Coltrane, Sonny Rollins… people that brought that element into their approach as bandleaders always influenced me a lot. I found myself in a lot of bands that played with that kind of idea; like Charlie Haden Liberation Music Orchestra for example, the trio with Paul Motian and Bill Frisell… And then developing to the point of playing with Hank Jones, and to record with him and play with him.
[Hank] spoke about this, about following and leading in the same time, and how you accompany and how you feed the soloist ideas and react to them – playing with him in a duo and a quartet setting as well. And that's why Hank – through the years – every record he's on, whether its with Cannonball and Miles or Bags & Trane, the way he fed off of the soloist and fed them at the same moment from within the rhythm section… For me, playing with Hank really solidified a lot of things about how to improvise together to create music together.
This particular quintet – Us Five with the double drummer configuration – adds this other element of creativity that happens when we're playing, whatever kind of piece of music it is, whatever kind of song form or structure or open phrases, to break down into groups that are possible within the quintet; that's been the idea from the beginning, for me to have a group like this, it wasn't just to play at the same time, it was to really try to lead and follow. Not just play solos…
Certainly not the standard Head-solos-head format…
Yeah, to really create some inner structures. So within the repertoire you have a band that can be a total new music experience every time through.
It's interesting the way you will play little almost vignettes of a familiar piece (perhaps a Bird snippet) and then launch into something extended and original.
Right, using themes and events that can happen – musical statements that can lead. Like in this piece that we call "Birdyard", it's a free flowing collage of some of Charlie Parker's themes, and harmonies and structures… but just kind of flowing within the band as we're moving along. And when the tempo changes and key changes and all those things are spontaneously happening, from listening to each other and trying to put things together. That's been a really fantastic exploration and something that's been developing over the last period within this band.

How is it working with largely younger musicians in your band?
As you come up in this music, it's a multi-generational experience from the beginning. I found myself as the youngest cat in almost every band I was ever in, for years and years. Then as time goes on things evolve and before you know it you're feeding off these generations – and multi-culturalism also in the music. So that's been a really fantastic realization.
Is that where the whole aspect of the "Cross Culture" idea came from – what with a multi-generational/multi-cultural crew of musicians making this record?
The personnel definitely has come together with that [in mind], but the whole cross-cultural thing for me has been the international touring that I've done – and the collaborations around the world with people since I was 23. My first European tour was with Woody Herman's band, and sitting in and playing with drummers from Morocco in Berlin, and experiencing all these different elements in the music in Asia and Africa, the Middle East and all over Europe, North and South America… It's been amazing to travel like that and to go and play with players from those places. And I have a collection of instruments from those places that I've collected through the years.
That flute you played this evening is kinda new, right? Where'd that instrument come from?
That's a beautiful instrument that flute. I got that in Belfast, its African wood and I've been playing that one for about the last 8 years or so. But collecting gongs; I have a koto I've been playing since the mid-80s when I first went to Hong Kong; African drums, and hand drums and gongs from Asia and the Middle East, from Turkey…
Well we do know you're a closet drummer.
I've been playing drums and involved in that experience and exploration and study since I was real young. My dad played tenor and I guess sometime in the late 50s – I was about five or six years old – and the drummer he was playing with got a new set of drums and gave him his old drums. One day my dad showed up and before I knew it I had a full drum set in my bedroom at my grandmother's house where we were living at the time. At the same time I was learning melodies on the saxophone and learning the technique of getting around on my horn, I was sitting at the snare drum and the cymbal and trying to play the melodies that I was trying to learn on the saxophone.
So it became a melodic experience on the drums for me at first, until I started to actually play some time and accompany people. But that whole thing about vibrating on flutes and instruments from around the world has been a real meditation for me, from a really early age.
As far as making records, the whole idea of arranging pieces for two drums in an acoustic setting like Us Five, what kind of challenges do you deal with as far as arranging the pieces for a record date?
At the beginning, like "Folk Art," the first recording that we did, there were a few tunes that had more set arrangements and I wanted to explore playing as a quintet and then breaking down into specific quartets and trios, so in that sense I kinda mapped out a few arrangements for that first recording. That tune "Powerhouse" that starts out that record, had a set form where the drummers played off each chorus and played off of each other's ideas under one soloist. So to keep a mood and to keep a smoothness – plus be yourself – was a real challenge.
By the time we recorded "Bird Songs" we were touring a lot and on the gigs I was playing Charlie Parker tunes, Coltrane's tunes, Billy Strayhorn's music, some Thelonious Monk… I started adding some tunes that I had played with Hank [Jones] within the repertoire of Us Five. All of a sudden different things started to happen when we were playing famous music and playing it within the flavors of who we are as players. I started to re-arrange some things – like to play "Donna Lee" as a ballad, instead of the bright, brisk tune that it always is. And to play "Yardbird Suite" as a hymn; and I wrote a little interlude between choruses that fit into this other kind of rhythm… little things just seemed to happen from playing together a lot.
"Cross Culture" was a lot more spontaneous. I wrote some themes and some inner parts for the bass and guitar, with Lionel in mind, and I let the rhythm happen from within the way I was playing the heads. The tune "In a Spin" is like a whirling dervish. When we first ran it down at the record date, I could tell Otis and Mela weren't sure – 'what kind of beat do you want off of this?' I said play what you feel off of this and I just played these quarter notes, and then it just took off and all of a sudden that was the take. So there was some real spontaneous energy and rhythms that happened from just the way I played the theme.
Within the repertoire of the band I could segue from whatever tune I want to by just playing the feeling of it, and all of a sudden we're in a new tempo and a new harmony.
On several compositions on "Cross Culture" you switch horns in the middle of the piece. Does that happen spontaneously or is that planned?
That did happen spontaneously on the record. I had a few of the tunes when I just played one specific horn – like the G mezzo soprano on "Journey Within"; the Aulochrome – the double horn – harmonizing on "Modern Man", a tune that I first played with Ed Blackwell and wrote for him on a recording we made called "One for the Soul." We played it in duet and I played alto on that tune. There were a few things where I had something specific in mind, there were other tunes where I switched in the middle and instead of playing like one solo after another, I played a couple of times on the same piece at different moments on different horns, and played shorter little statements.
I didn't look at it as much as a solo as like statements along the way. When you switch horns the timbre and the color changes and all of a sudden it's like a new moment in the same tune. I've been exploring that more and more and with this band it really moves beautifully. Because when I switch horns all of a sudden its like another moment, like a trio moment or another quartet sound, or just a duet moment for a second on another horn. I played the Taragato and then some gongs and log drums and different things.
I noticed that you didn't go real long with these tunes on this record (averaging 6 minutes).
They're statements of – you call them tunes, but they're really like… little events that move right along. Wayne Shorter speaks of some famous tunes of his that others have played; he considers them not finished yet. That's how I'm starting to feel about my music and especially about the way we're exploring things in this band.
After the first set at Blues Alley, I sat down with drummer Otis Brown and bassist, Esperanza Spalding to get their take on working with Joe and Us Five.
Talk about playing in Us Five.
Otis Brown lll: [I Otis at the same time as Joe did, at the Monk Institute summer session at Snowmass-Aspen, CO in the summer of '99; I was out there with a film crew shooting footage for the old BET Jazz show Jazz Ed TV I used to produce and host]. Man, what can I say… Us Five is from the mind of the genius Joe Lovano [laughs]. He put together some amazing musicians and it's always a pleasure to play with. We all have relationships outside of Us Five too and we came together… For Mela and I, we were kind of wary, we didn't know what it was gonna be like, how this was going to work with the two drummers.

I suspect know that's a work in progress.
OB: It is a work in progress, but it's always a work in progress. Joe kinda had a concept in mind when we came to it, he kinda had it mapped out – like 'Mela here, Otis here…' And now it just happens organically. But in the beginning he had a specific idea in mind and thought that we would be the two right [drummers] to bring it together, and it's been magical sometimes. Now the way the communication happens, there's no other band like it – and nothing I've ever played in has been like this.
And what's your take on Us Five?
Esperanza Spalding: What do you want to know? You know what, I've been thinking about this since I got your email [laughs]…

So I'm putting you on the spot?
ES: No, I'm not on the spot, I don't think about it very much, like intellectually; I don't think about good vocabulary words and stuff… I just really feel it, and that sounds very corny and clichéd, but when I remember this band or think about Joe or this ensemble, I get this feeling and its like such a joyful, excited feeling just about the music that happens. I'm not using my small ego self to think about it very much, honestly.
But the one thing that I did think a while ago – like one of the only cohesive, intelligent things… was the fact that the way the two drummers communicate is very ancient. I was just thinking like 'wow', I wonder if Joe was thinking about that when he had the idea of having two drummers talking in that way that they talk.
It really was ancient in one part of that set, where they were communicating in a very African way!
ES: Its like standing between them, Otis says something and Mela's listening like proactively, and then he says something… and they're like the pillars of the communication in a way. I just felt like maybe we're tapping into some very ancient form of communication, like some very pure – not pure in the sense of uncontaminated, but just innate way of communicating. So to have that as the core of all of the phenomenal technical, soulful capacity harmonically, I just think its like the perfect balance. And I notice, like tonight on the first set, the audience gets here and they're like 'ok we're gonna hear Joe and hear some music, so its like a certain level of excitement. And as soon as that first song kicks in, people are like 'whoa…' you can feel the energy and the excitement, and the eagerness to hear what the heck is gonna happen next just swell in the room. And then by the end of the set everybody's is going… people are like really writhing with the excitement of what they just heard. And for all that's going on that's like hip, and all the years combined of people working on this music, its almost like something is distilled that's like the essence of the communication aspect. The communication is sort of a universal thread that makes everyone see the concept; and its something about this band that it has distilled that. I think there's an element of this ancient communication happening that's sort of like a distilled thread of universal communication – person-to-person, musician-to-musician, however you want to look at it.
Look for the release of "Cross Culture" on January 22, 2013… Don't sleep!