The annual August weekend jazz festival presented by the Stonington Opera House on Deer Isle, Maine always sounded like a sweet, kind of best-kept-secret event. My friend and colleague Larry Blumenfeld, veteran jazz writer for the likes of Jazziz magazine (where he served as editor), and more recently for the Village Voice and the Wall Street Journal, was the deserved recipient of this year's JJA Award for Jazz Journalist of the Year. Larry and I spent some rewarding times traveling the World Sacred Music and Gnawa Festival circuit in Morocco and the wistful tone of his conversation when it turned to that weekend of jazz he has produced annually for the Stonington Opera House, for the last dozen years at this point, always sounded enticing.
As a presenter what was particularly intriguing to me was his description of the homey, acoustically-superb opera house and the true community nature of the weekend. Not only was the abundant lobster opportunity enticing, but hearing Larry wax on about the grassroots nature of the festival and the fact that artists were gladly and comfortably housed with patrons while on Deer Isle, this festival certainly sounded unusual. (Lacking much in the way of traditional hotel/motel space, most Deer Isle guests otherwise lodge in bed & breakfasts.) After all, how often will artists willingly submit to staying at private homes while on the road, privacy off the bandstand being of paramount importance? The range of artists Larry has imported to Deer Isle over the dozen years of the Stonington Opera House jazz weekend has been impressive – from Randy Weston and Charles Lloyd to William Parker to the Hot 8 Brass Band; each of whom have been lovingly and enthusiastically welcomed into the cozy, wood frame Opera House (capacity 250+) by generally SRO audiences.
So when the Stonington Opera House received a grant from the NEA Jazz Masters Live program to present NEA Jazz Master Charlie Haden, as part of my coordinating responsibilities for that program (which due to draconian government budget issues is currently either suspended or on hiatus, however one chooses to look at it) a site visit to this year's Stonington event was in order. Unfortunately health matters forced Charlie to cancel his engagement, but Larry was able to skillfully recruit NEAJM Kenny Barron in Haden's stead.
An August 4 flight to the closest airport, Bangor, Maine, was followed by a pleasant but twisty, winding, woodsy 65-mile road trip down Route 15 to Deer Isle (population 1500+) on a picture postcard bay. Locating a parking space just down the rise from the Stonington Opera House on one side, fishing docks on the other, while easing into my space Blumenfeld just happened to be strolling down the main drag on his way to that afternoon's soundcheck. After settling in to an Opera House board member's comfortable guest quarters, amidst clear blue skies and inviting warm temps I walked around the corner to the rustic 100-year old Stonington Opera House's inviting portal, greeted by a NEA Jazz Masters banner festooned on the building, visions of lobster on my plate dancing in my head, a desire finely slaked the following afternoon in the pleasant dockside company of Blumenfeld and Kenny Barron, I'm happy to add.
That night's featured artist, in addition to an enthusiastic group of area high school jazzers who kicked things off, was saxophonist Roy Nathanson's Sotto Voce project. It had been a minute since I'd seen Roy, but my mission was Kenny Barron's residency so I hadn't paid particularly rapt attention to the full scope of that weekend's program, but I was delighted to learn Nathanson was in the mix; intrigue heightened by spotting such challenge-ready musicians as trombonist Curtis Fowlkes and the human beatbox/vocalist Napoleon Maddox soundchecking with Sotto Voce. The mind quickly drifted back to initial encounters with Roy Nathanson and Curtis Fowlkes, when we presented their Jazz Passengers band (initial incarnation of the band including Bill Ware on vibes and Brad Jones on bass) at the first Lila Wallace-Reader's Digest National Jazz Network conference showcase, and to our presentation of Napoleon's Is What? collective at Tri-C JazzFest.
Roy's skillful juggling of the seemingly disparate parts of Sotto Voce – including bassist Tim Kiah, violinist Sam Bardfeld, Fowlkes and Maddox (no drums!) – the group sensibility of the band's shared vocals (you haven't lived until you've heard Curtis Fowlkes' falsetto the pop classic "Sunny"), Roy's poetry and self-deprecating humor breathed an uncanny breath of fresh air. Larry Blumenfeld hesitated a bit when contemplating how his audience would react to the band, but their enthusiastic buy-in to Sotto Voce's ouevre was inspiring. After a lovely post-concert group dinner, clearly some questions were in order for Roy Nathanson.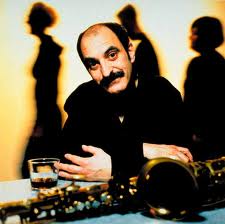 As the Jazz Passengers evolved the band began incorporating more of a vocal sensibility, including collaborations with folks like Debbie Harry (aka "Blondie"). Talk about that evolution.
Composition for me always felt like a form of storytelling and I kind of think that storytelling is the mother of theatre. At the beginning of the Passengers, Curtis and I put together what appeared to be opposite songs – or more like songs that inhabited two ends of a compositional spectrum. These songs covered a wide range of emotions and attitudes. Like on our first CD Broken Night/Red Light we had Indian Club Bombardment which was a multi meter thing that was a serious group improvisation around specific motifs next to a goofy version of "I'll be Glad When You're dead you rascal You." The tension articulated some kind of story that mattered to us. Little by little I found I tried to work all these dispirit qualities into individual pieces and as my lyric writing got more serious I found the tension between the lyrics and the musical composition allowed for really complex stories to unfold. Also I worked with other great lyricists including Ray Dobbins, David Cale, Debbie Harry and Elvis Costello and the other members of the band, particularly [vibist] Bill Ware, who had such serious writing and orchestration skills, so the individual songs began to go in a lot of different directions.
When I saw you recently in Stonington, Maine you were up there for a residency which culminated in a concert by your most recent project, Sotto Voce. Talk about that residency and how that came about.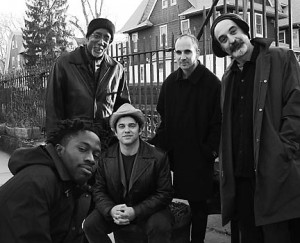 Roy Nathanson's Sotto Voce band
Larry Blumenfeld has always been (thankfully) a big supporter of my work and he did a really nice article about me in the Wall Street Journal for my 60th birthday last year. In the process, he interviewed me and I got to know him a little bit and Larry has a great affection for and some serious history with the Stonington Opera House and the Haystack Mountain School of the Arts which are both wonderful institutions tucked away on a remote Maine Island. They are crazy beautiful institutions that exist solely form the passion of the people involved.
Larry has been the producer of the little jazz festival (The Deer Island Jazz Festival) there for the last 5 or 6 years and one artist that performs generally also does a residency at the two week session that occurs at that time at Haystack. People normally go there for craft/art stuff like sculpture or strange mixed things like 3D drawing and then the musician talks about music, etc. Like Matt Shipp and William Parker [who were past festival artists-in-residence]. But since I've been doing a lot of things which really connect communities together – especially with teenagers form different countries and professional musicians like in my Subway Moon project- Larry and the two great women who run the Opera House – Linda Nelson and Judith Jerome thought it would be cool if I put community members and Haystack artists together with my band to make a piece to celebrate the 100th anniversary of the Opera House. So I ended up putting stories by lobstermen and women to music. They were these wonderful stories that came from kids interviews on the island and we ended up with this cool concert of "Lobster Songs and Stories." Then we had the concert you saw with just "Sotto Voce". It was a wild wonderful weekend
With Sotto Voce you have unusual instrumentation in that you engage a beat boxer, violin, bass, and no drums; every member of the ensemble contributes vocally, plus sampled voices and sounds. What's the inspiration behind your Sotto Voce project?
Like I said – I guess I'm always involved in trying to hone in on a kind of storytelling that bridges and uses all the sounds we have as people. Somehow I have this urge to make songs that bridge the gap between poetry, regular storytelling, instrumental improvisation and normal songs. Rap does this in some ways and opera of course but I've been coming to some kind of homemade way over the years. As I started studying poetry more seriously (I got an MFA in 2007 and put out my first poetry book in 2009) I started looking at ways to combine words and music with Tim Kiah, the Sotto Voce bassist, and Sam Bardfeld the Sotto Voce violinist. Because Tim is such a wonderful singer and the violin has both melodic and chordal possibilities we started to develop a palette that was working for me. By adding Curtis Fowlkes, my closest friend and a wonderful singer besides my favorite trombonist on earth I was able to use the language we have established as a sax/bone duo for years in the Passengers. The final piece was meeting Napoleon Maddox. His amazing mouth percussion sounds and his beautiful singing voice allow for a true bridge between the human voice and words that constitute accepted meanings in language.
So we had ourselves a killing band that's like a ship on the water of language. Since I teach now and I'm older I haven't had the wherewithal to get out there and work in America that much with the band but we play in Europe a lot and when I'm up there doing it I just can't believe how good it feels.
Sotto Voce not only includes some of your poetry, but also various recollections from your life and work, some through samples. What was your thinking in engaging those particular elements in your presentation?
As I say, these are all aspects of storytelling and you can't tell a story without having one. I can only tell about what I know so that generally comes from my own experience and I hope I can make it universal enough to effect people
There are a number of references in your work to your regular mode of transportation on the New York subway system. How did that seemingly mundane (for others perhaps) aspect of your life come to have a place of relative prominence in your verse and music?
I'm an old leftist who believes people's everyday work and life is where the deepest beauty can be found. Only in struggle, everyday embarrassments and defeats can beauty really be earned. But I guess we all know it when we see it. I just try and celebrate those moments as best as I can. The subway is this amazing roaring metaphor where we push up against each other every morning, generally without speaking, but sharing everything about the night before and everything about that coming day in some tangential way. Also the crazy neon lighting and grinding of the tracks in this underground that feels like a collective brain is pretty cool too. It works for me….
Talk about your work as a schoolteacher, in subjects other than music, and how that affects your music.
I started composing for little kids in the early 90s with grants from Meet the Composer and put stories of mostly new Asian immigrant kids to music in Queens. Somehow that turned into a part time job that gave benefits and I loved being around the little ones. I loved (and still love) the line between music and noise. When Debbie Harry left the Passengers and my kid was still pretty little in 2005 I was given the opportunity to start a music department at this wonderful alternative 6-12 grade public school in New York called Institute for Collaborative Education. The principal was this working class hero named John Petinnato who had done all these amazing things with teenage boys that anyone else would have given up on and mixed that mission with creating an innovative school with kids from all kinds of class and race backgrounds; a really Utopian idea that worked more than it doesn't. I was charmed and I needed some more steady income so I took it on while keeping my career going. It's been a lot but the kids are so great and I've been teaching them my kind of songwriting and improvisation for 7 years now. The first group I taught since 6th grade graduated last year. They're all at college now but have a great band called the Luddites and developed a city-wide multi genre improvisation group called Amplified Cactus Collective. I've brought groups to jazz festivals in Europe for 4 years now with Sotto Voce to collaborate with teenagers from other countries. It's a lot of work but quite amazing.
What's next Roy?
I've booked two weeks at the Stone Sept 18-30th coming up. It all revolves around combinations of words and music and I have 5 nights that I'm involved with of new projects. I'm working with a friend Lloyd Miller on a musical film version of a book by Paul Reyes called "Exiles in Eden." His father trashes out foreclosures in Tampa which is the foreclosure capital and Paul works with his father telling stories from that perspective.
Florida is a particularly American mythological nightmare. I went there in high school when my family exploded and Lloyd grew up there too so we are putting that together and presenting some of the songs with Arturo O'Farrill on piano Sept 28th. Sept 22nd I'm doing a bunch of new Sotto Voce material with some of my favorite poets- Jeff Friedman, Gerald Stern, Judith Vollmer, Ross Gay an Anne Marie Marcari. On Sept. 19th I'm doing a show with Lloyd's band the Deedle Deedle Dee's and New York Times Poetry Editor David Orr at 8pm and then a duo with Marc Ribot at 10pm that involves poems I've written based on lyrics to standards like "All the Things Your Are".. I'm hoping to use these two weeks to get these new projects off the ground and then hopefully not get too nuts from teaching everyday!