Last post we detailed the 8th annual DC Jazz Festival, and its admirable outreach efforts that resulted in their building a big tent across Washington that all told encompassed an incredible 21 neighborhoods. One of the key partner organizations in the DC Jazz Festival this year was CapitalBop, the brainchild of two enterprising young Washingtonians, journalist Giovanni Russonello (better known in the jazz community as Gio) and musician and one of my fellow WPFW programmers Luke Stewart. What they delivered to the DC Jazz Festival cannot be discounted; they brought not only a bit of cutting edge music sensibility to the DCJF menu, they also breathed a breath of fresh air into the proceedings by endeavoring to attract a younger demographic component to the festival. They succeeded in attracting a younger audience for often challenging music by establishing an inviting festival atmosphere, including multi-media (an effective panel discussion on the intersection of jazz & hip hop, and a screening of the film "Jazz Icons" which features a number of young heads talking about the current directions in jazz) with food & drink, crafts vendors, and the clever before & between sets audio/video mixology of DJ O's Cool. The latter component cannot be discounted; the deejay's irresistible mix encouraged those who wished to dance (for the most part the loft was a stand-up audience atmosphere) and socialize freely to the music, which proved particularly effective in between pianist Marc Cary's two kinetic shows with his new ensemble.
You can learn more about their efforts at www.CapitalBop.com. In the meantime a few questions for Gio & Luke…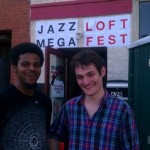 CapitalBop partners Luke Stewart (left) and Gio Russonello (right) at their June 9 DC Jazz Loft Series event (photo: Jason Crane)
Willard Jenkins: What are the origins of Capital Bop, and what's the mission?
Giovanni Russonello: I started CapitalBop in 2010 because I noticed a disconnect between the strong, cohesive, prolific and relatively youthful community of artists in town and the city's populace, which was generally disengaged from the local jazz scene. When I would discuss the music with friends – no matter their age or generation – most would say, "I didn't realize D.C. had much of a jazz scene." My first goal was to start a website that would offer a full calendar and listing of all the jazz going on in town, and would also cover and advance the scene by running reviews, interviews, feature stories, videos and the like. On the day that I launched the website, I ran into Luke – whom I'd met before – and he immediately committed to helping out.
Luke Stewart: Capital Bop was started by Gio. He launched it at the Rosslyn Jazz Festival in 2010, where WPFW also was a media sponsor. We were broadcasting the event live, and was one of the highlights of the year for jazz in the DC area. Gio and I had met at jazz shows before, so he was a friendly familiar face when we bumped into each other at the festival. He was passing out flyers and cards promoting the website and asked if I was interested in contributing to the website. Both his and my own original intention was to contribute more audio, but I have since written and helped to organize shows, in addition to contributing audio I recorded at the DC Jazz Loft performances.
The mission of Capital Bop is to promote and enrich the local DC jazz scene, which Gio and I feel is one of the best jazz scenes in the world. We are blessed to have in our midst some incredible musicians from many different approaches in the Music. Also, the city has a deep legacy in the Music from all eras and movements. Unfortunately, many people are not privy to just how rich the DC area is in the jazz scene and in the history. Through our efforts as a website and an event organizing entity, we hope to bring more awareness to DC's unique jazz community.
WJ: How do you see Capital Bop intersecting with our critical mission to grow the audience for creative music, to further develop that audience in the WDC area?
GR: CapitalBop has always been about reaching out to all present and potential jazz listeners. We truly want to serve as a reliable resource to those with the highest expectations – dedicated fans and musicians who already value jazz for its vitality, its historical significance and its narratives of resilience and joy. But we're also committed to proving the music's relevance and its ability to speak vociferous truths about an existence in the present day. (My thinking is, if it's improvised, it's gotta be about today.) Luke and I know that the music needs a young, sustainable audience, and we also recognize that – taking it from the opposite direction – our commodified and media-saturated generation secretly craves more raw, earnest art-making. A separate point: The District is gentrifying so rapidly, with so many of the "immigrants" often looking straight past those they are displacing – and so many emigrants understandably wishing they could ignore or avoid the population shift. Jazz speaks of universal truths, and it comes from a particular perspective of resistance and communal investment; it is a music that creates democratic spaces, where listeners of all stripes can share in a dynamic experience. I think jazz concerts have a lot to offer in the way of community building. (Check out the broad audience at Bohemian on a Saturday night, and notice how, by the end of the night, everyone is hollering together at a baying trumpet line.)

Among the participants in the jazz/hip hop panel discussion were saxophonist-author-educator Will Smith and WPFW programmers Keanna Faircloth and Bobby Hill, along with three members of WPFW's Decipher Crew of progressive hip hop deejays (photo: Carlyle V. Smith/Capital Bop)
LS: For me as "Avant Music Editor", it is my own mission to really drive this home. DC has a reputation for being somewhat musically conservative in terms of its jazz audience. However, at the same time, there are many musicians who reside in the area and who have come through the area over the years who are continually pushing the envelope beyond playing 4/4 standards. Even so, we feel that it is important not to be myopic in our musical approach. At any given DC Jazz Loft performance, you will find a straight ahead group playing alongside a free jazz group, or a hard bop group. The goal is to portray that we are existing all within the same continuum, and it is important to expose it all.
Also, one of the strengths of Capital Bop is our success in attracting a younger audience to creative music and jazz. It is this audience which is hungry and open to hearing new music. A lot of our audiences are new to the Music, and are looking for a place to start. We have been able to expose people to a more comprehensive look at the world of jazz.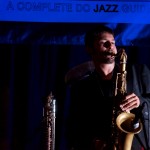 Young DC saxman Elijah Jamal Balbed performed at the DC Jazzloft Megafest with bassist Taurus Mateen and drummer Kush Abadey (photo: Carlyle V. Smith/CapitalBop
WJ: In addition to your web site and your various writings, you are also establishing Capital Bop as a presenting entity. How has that been developing, and what kinds of things have you done thus far from that presenting perspective?
LS: That began with the start of the DC Jazz Loft series in December 2010, which took place at the now shuttered Goldleaf Studios.
An aside about Goldleaf – this was a studio which has been in the DC arts/underground music community since 1998. It has been the home to a number of successful bands from DC such as Trans-Am, Thievery Corporation, and US Royalty. It has also been the home for a number of successful visual artists like Joshua Cogan. Through the years, the studio has held underground events under the names "The Hosiery", "Goldleaf Studios", and "Red Door". My band Laughing Man became tennants of the studio in late 2009. We had been practicing there for a time before we started to organize our own shows featuring local underground groups. The name "Red Door" was penned by my bandmate Brandon Moses, in an attempt to differentiate the things that we were doing from the heavy history that the name "Goldleaf Studios" or "The Hosiery" already had accumulated. Also, it was a clever way to let people know how to get to the space, through the Red Door.
So from the DC Jazz Loft series at Red Door, we have been able to present some of the best young musicians in the DC area, in spaces that we and the musicians feel are conducive to creative freedom and musical exploration. The vibe we try to set is always open and engaging. In addition we have begun to present shows outside of the series, such as our partnership with the NYC-based Search and Restore, headed by kindred Adam Schatz.

Bassist Taurus Mateen in performance at the DC Jazzloft Megafest (photo: Carlyle V. Smith/CapitalBop
GR: In our efforts to accrue broader, younger audiences, the handiest tool has been the D.C. Jazz Loft shows that we present once a month, and in a concentrated series each year at the DC Jazz Festival. We held our first loft in December 2010 at Red Door, aka Gold Leaf Studios, where Luke was renting studio space at the time. In June 2011, we debuted at the DC Jazz Festival with a successful string of four shows spanning three venues, where we paired up local musicians with out-of-town stars. D.C. Jazz Loft shows are low-key, donation-based (except during the festival) and fully focused on music, not commerce. All sorts of people, but especially young people, can get excited about that. At each monthly loft, we present three local acts and end the night in an open jam session. Among performers, we find the shows to encourage experimentation and honest music-making because the audiences end up being delighted to just sit down and let themselves be absorbed by the music.
WJ: Your presentations have been staged in non-traditional venues. Talk about your use of DC spaces.
LS: As before mentioned, we feel that reaching a wider audience has to come through fully engaging with the audience. Through presenting at "Red Door", the space had already accumulated a loyal audience of young curious listeners, so we were able to get some of that audience to our shows, many of whom had never been to a live jazz show. We feel that presenting at non-traditional spaces attracts a newer audience, one who typically are under-served. That is, non jazz club patrons. Too often 20 somethings who might be interested in the Music don't want to spend $20 to get in to a Twins Jazz or a Blues Alley, then have to pay a $10 minimum. In these non-traditional venues, the frills are off, and the prices are lower. This doesn't mean that the crowd gets more rowdy, quite the contrary. This means that the crowd has the opportunity to really engage themselves in the moment, focusing in on the amazing music they are hearing. And that benefits everyone, from the musicians to the audience, both young and old.
GR: I think the music takes to unpretentious, no-frills spaces. Jazz's greats – Louis Armstrong, Duke Ellington, John Coltrane, Albert Ayler – deserve places in the canon, but that doesn't mean we should ignore the fact that jazz is revolutionary music. It isn't a commodity, and it wasn't made to be used as background music on luxury sedan commercials or sultry liquor ads. It has always spoken to a reality (often, one centered in an urban environment) that involves combating oppression, repression or despair with the joy of honest human interaction. What better way to highlight this music, then, than to let people arrive as they wish over the course of a four-hour period; mingle in between sets with other listeners and musicians; pay what they can; and sit up close, face-to-face with the sounds as they're being created?
WJ: Is it safe to say that as far as Capital Bop presentations, despite the "Bop" in your name, you've pretty much specialized in what some might characterize as "edgy", original music?

The lineup board for the DC Jazzloft Megafest Saturday, June 9, 2012 (photo: Carlyle V. Smith/CapitalBop
LS: That is safe to say, however as previously stated, we want to present the music in a way that gives a more comprehensive and non-divisive look into jazz. With jazz being essentially a niche already in today's music industry, there is no room for some of the compartmentalization which exists in some circles. As such we have presented folks like Paul Carr, who few I think would categorize as "edgy". However, he is an important and influential mainstay of the DC community, and is a great performer who needs to be heard. Likewise, we presented a duo set from Joe Bowie and Nasar Abadey alongside a performance from a group lead by Elliott Seppa, two different worlds completely. So we do try to push the envelope, but the real goal is to try and break the notion that jazz music is or should come from a narrow approach. Perhaps that goal in itself is "edgy".
GR: The past is prologue, which makes the present a privilege. What I mean is, every action you take has the advantage of building upon the past. All people, artists, thinkers – from Duke Ellington to Miles Davis to Wynton Marsalis to Frederick Douglass to Albert Einstein – are only offering their variations on and reinterpretations of what they have digested. So history is the foundation and the mortar in every bit of competent artistic work. But if you're expressing something personal, it has to be a variation and a reinterpretation. So yes, we like to highlight artists who we think have something to say in the present moment, and are in full command of their medium. Those people must be pushing their way to the outer "edge" of something. At the last loft, we had alto saxophonist Sarah Hughes, who composes a lot of unusually structured pieces and sometimes uses a looping pedal; rock-jazz fusion steel pan player Jonathan Scales in a friendly "battle" with pannist Victor Provost; and the swingin' guitarist Rodney Richardson. Every one of them did something different, with varying degrees of separation from the clinically defined "jazz tradition," but I'd call each one of them "edgy." The same thing goes for the Jazz Loft MegaFest this Saturday, when we'll have a quintet of all-star high school students playing so-called straight-ahead jazz (the Jazz Academy Youth Combo, directed by Paul Carr); two saxophone-bass-drums trios that each approach the post-Coltrane small group ideal in a different way (Elijah Jamal Balbed-Tarus Mateen-Kush Abadey, and Lenny Robinson's Mad Curious); and a renowned band that blends Indian scales, go-go rhythms, Malian vocals, computer music, speech samples and more (Marc Cary's Cosmic Indigenous, feat. Awa Sangho).
WJ: Talk about your plans for Capital Bop going forward
GR: For Luke and me, the immediate plan after we complete the MegaFest involves beers, books and relaxation. But after a week or so of decompressing, we're prepared to double down on our efforts to cover the scene (which absolutely continues to grow) and present excellent music in exciting spaces. Can't give you too many specifics on planned "innovations," but I can tell you that we're just getting started.
LS: Going forward, we have plans to officially file as a 501 c3 organization. Through this we will expand our live productions to include more ticketed events in addition to the monthly donation-based DC Jazz Loft performances. Also we plan to add an educational element to the organization, reaching out to different schools in DC to conduct workshops and master classes. We are also looking forward to partnering with more arts organizations to produce more interdisciplinary arts events and showcases like the one we are doing this Saturday at the DC Jazz Loft Megafest. We feel that DC is exploding right now with artistic creativity, and we want to have a part in that as a way to further expand and develop our audience and to introduce our audience to some other aspects of the rich art scene in DC.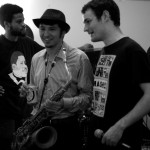 Luke & Gio with Elijah Jamal Balbed (photo: Carlyle V. Smith/Capital Bop)
www.CapitalBop.com for more information…