Last July I had the distinct pleasure of traveling down to New Orleans on a JazzTimes assignment for their annual jazz education issue (published October 2011). The occasion was the Louis "Satchmo" Armstrong Summer Jazz Camp, held typically the first 3 weeks of July on the campus of Loyola University. For those not familiar with the Loyola campus, it's located (along with next door neighbor Tulane University) in the Uptown section of New Orleans, right on picturesque St. Charles Avenue – long noted as one of America's most storied avenues – across the street from beautiful Audubon Park.
The Louis "Satchmo" Armstrong Summer Jazz Camp, which celebrated its 17th anniversary this year, had a 2011 enrollment of 70 students. You can read complete details on the camp in the current JazzTimes jazz education issue. In addition to several faculty, the visit afforded some conversation with the camp's co-founder and Executive Director Jackie Harris, and its artistic director, the iconoclastic tenor saxophonist Edward "Kidd" Jordan.
Jackie Harris is a woman of classic African features with a close haircut, who speaks in measured Southern tones, with a quick and often biting wit. At the time of the camp's inception she served as New Orleans director of the city's Music and Entertainment Commission. For 10 years she served as Assistant Fair Director and Night Concerts Producer for the New Orleans Jazz & Heritage Festival. And she spearheaded the successful movement to have New Orleans' airport named Louis Armstrong International Airport..
The Louis "Satchmo" Armstrong Summer Jazz Camp was the brainchild of yourself and former Mayor Marc Morial. What was the thinking behind this camp?

Jackie Harris: At that time [1995] arts education programs and curriculum were being taken out of public education; there were budget cuts all over the state of Louisiana and actually across the nation. We felt that young people in New Orleans definitely needed to have avenues and opportunities to study jazz music in its birthplace and if we didn't do something about providing those opportunities the cultural heritage of the city of New Orleans and the state of Louisiana could be lost.
Where did you hold the camp initially?
JH: Actually for the [first] 15 years it was held at Menard Elementary School in Gentilly [a solidly middle-class neighborhood that was hard hit by the failure of the federal levees and resulting floods in 2005 in the wake of Hurricane Katrina; and a neighborhood that frankly was overlooked as international attention focused on the devastated Lower Ninth Ward]. When we went there it was an Orleans Parish public school. In 2005, actually before Katrina, the New Orleans School System went bankrupt and a lot of schools were turned over to the state or they became charter schools. So [University of New Orleans] took over [Menard] the summer of Katrina. In summer 2006 we had experienced devastation all over the city of New Orleans and all of the summer programs were cancelled, except for the Louis Armstrong Summer Jazz Camp; we were the only summer music education program that took place that year.
How do you go about recruiting your campers?
JH: We actually recruit locally; we get [famed 90.7 FM roots radio station] WWOZ to make a cart for us and we advertise that way, we also reach out to a number of the local schools, we create fliers for the bulletin boards of schools, we recruit from the New Orleans Center for the Creative Arts [NOCCA, alma mater of the Marsalis brothers, Donald Harrison, Harry Connick, Jr., Kidd Jordan's sons Kent (flute) and Marlon (trumpet), Nicholas Payton, Trombone Shorty, Christian Scott and countless other important contemporary musicians], and if we hear of any young person that is interested in participating in the program and their parents can't afford to pay anything for the program we take them.
What's the age range of your campers?
JH: They range from 10-21. Actually we started from 10-17 and our kids wanted to continue with us after they finished, so we keep expanding the age [laughs].
Do the campers have to audition?
JH: They do audition and there are certain criteria they must meet: #1 they must be at least 10 years old, they must have been studying music for a minimum of 2 years, and be involved in a music education program, either through school or private instruction. That private instruction could come from a family member [in New Orleans, rich with a family music tradition, that's a highly likely route], it could come from a neighbor, it could come from structured music training; but they must have a relationship with the instrument, and we like them to have some relationship with their scales.
We do audition and interview each new student. It's not competitive – if the student meets the criteria – but what that audition does is it allows us to see what level the student is so we can place them in the right environment.
What are the camp registration fees?
JH: It's a sliding scale. A new student pays a $35 audition fee. Early registration for an existing student is $50, early registration for a new student is $75. After May 30 is late registration, so it goes up to $125. [Returning] students pay $100 a week, new students pay $110, and we have out-of-state and out-of-parish [Orleans Parish] rates. We have continued that practice because early on I mentioned the City of New Orleans sponsored this camp, so we had city dollars to support the program.
What's camp capacity?
JH: We can take 100 children.
What percentage of them come from New Orleans proper?
JH: 80% come from New Orleans, 10% come from out-of-parish, and we have another 10% that are out-of-state. In the past we've had one or two students that have come in and stayed on the college campus and we hire a chaperone to stay with that student as well as look after them in the evening. Our out-of-state students this year come in and stay with relatives, although we have one second generation student whose parents traveled to New Orleans and stayed in a hotel for 3 weeks while their child is in jazz camp.
Where do these out-of-state students come from?
JH: Virginia, California, Texas…
How do they find out about this camp?
JH: Through friends and relatives. The child from Virginia, this is his third year and he's a relative of the Jordans. The young man from California, his grandmother is a strong supporter of the music. We have some kids who are from across [Lake Ponchartrain], from Covington, LA and they're staying with their grandmother to go to camp – four brothers.
In addition to the culminating concert, ultimately how do you judge the kids' progress at the end of the 3 weeks?
JH: We judge it based on what he/she is able to do with their instrument, what they are able to hear and interpret, what their music performance is like – individually and as a unit in the large or small ensembles. Young people learn social skills in this camp; some of them know each other from the previous year, some are new. We talk about jazz being a mentoring agent, and it's the same with young people; they don't know each other but kids team up and they help each other. I see kids helping each other with music parts… This is a big college life for them, they eat in the [Loyola] dining room, they're having a ball because they have the same [food] choices as the college students.
How is this camp funded?
JH: Through grants, corporate donations, individual donations; we had a hard time identifying funders this year. One of our board members set up a Facebook page for us and we received donations as small as $10 and as large as $100 over the internet. We hosted a local fundraiser where we reached out to the local business community and local individuals to sponsor a child because the tuition is minimal and in no way pays for the services that are provided; we pay the university caterer so the children do not have to pay for their meals individually.
Has this been a good relationship with Loyola University?
JH: It's been a very good relationship. We are also involved with them through the Louis Armstrong Educational Foundation; Loyola hosts an annual music festival in March. That was another way for us to partner. When I asked Loyola how many local public schools were participating with them in this festival, they said 'none.' They had local parochial schools. We really can't blame the university if the schools are not participating in the festival, but what we saw was the decline and the lack of music education in the public schools meant that only one school in the city of New Orleans was capable and qualified to compete. That's a problem for me because that's not only the death of music education in New Orleans, its's the death of the cultural legacy that we have given to the world.
So I spoke to the university and to the Armstrong Foundation, that the way the Camp and the Armstrong Foundation could be involved [with the Loyola festival] is that we would create a program with the university to do outreach in support of local public schools to help them to qualify and to be trained to be able to put bands together to enable them to participate in this festival. We're doing the same thing with the First Line Charter School; they approached us about using our [Camp] curriculum to use in their music education. We felt the only way we could be of service is #1 the school would have to offer to hire a full-time music teacher; so one of our [camp] instructors, [bassist] Brian Quezerque [son of the late, legendary composer-arranger Wardell Quezerque, known as the "Creole Beethoven", who passed on to ancestry in September], will be a full-time music teacher at that program. We will oversee an afterschool program to support what the daytime teacher is doing with the students.
Edward "Kidd" Jordan, Artistic Director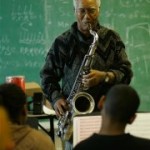 Several of New Orleans prominent music families intersect on the faculty and in the student body at Louis "Satchmo" Armstrong Summer Jazz Camp. In addition to Kidd Jordan, his sons Kent (flute) and Marlon (trumpet) are on camp faculty. I had an extensive conversation with Kent, which will post next time, and visited Kidd's classrooms. If you know Kidd Jordan you know that he is a no-nonsense character, one of those people about whom it is said they don't suffer fools easily. Despite what some might see as his gruff exterior, Kidd is a warm man of great humor and immense heart. As a tenor saxophonist he is New Orleans' leading proponent of free jazz, a virtual musical twin of his longtime fellow explorer, the late Chicago free tenorist Fred Anderson, a Vision Festival honoree, and a welcome presence on uncompromising European jazz festival stages. Kidd Jordan's boundary-less performances are a perennial highlight of the Jazz Tent at the New Orleans Jazz & Heritage Festival. He retired several years ago from directing the jazz program at Southern University's New Orleans campus (his late brother-in-law, the great clarinetist Alvin Batiste, did likewise at Southern's Baton Rouge campus), and has been artistic director of the Louis Armstrong Summer Jazz Camp from its inception.
When I encountered Kidd one morning at the camp he was hard at work drilling a group of youngsters on their scales and proper positioning of their horns, paying particular attention to a young man whose horn seemed to be getting the best of him but who seemed bound to persevere. Turns out this particular aspiring trumpeter is one of the legion of New Orleans aspirants who pick up their horns at a tender age and all too quickly evolve to being street musicians, playing parades and second lines or scuffling for tourist coins in the French Quarter. While appreciating the sheer want-to of such youngsters, highly trained and skilled musicians like Kidd Jordan and the other camp faculty members find such kids challenging when they come to camp simply because the kids think they know a lot more than they actually do. Jordan picks it up from here…

Kidd Jordan: When I put the horn in his mouth I knew he had the facility – that's not the problem – but I'm trying to get him to a point where if [his family] can't get him a trumpet we're gonna let him keep that one [pointing out a camp instrument]. But all he's thinking about right now is going out to the streets. He's been marching in parades… He's got the talent, I just hope to keep him blowing.
Its interesting that a man of your experience, let alone someone so closely identified with a rather challenging, uncompromising approach to playing this music such as you – and the camp's artistic director – are so dedicated to this group of absolute beginners.
KJ: These kids are beginners, barely knew their notes and things, but I've been on them from day 1. It's coming…
NEXT TIME: We speak with some of New Orleans finest musicians who comprise the Louis "Satchmo" Armstrong Summer Jazz Camp faculty.
web: www.louisarmstrongjazzcamp.com
email: jazzcamp@louisarmstrongjazzcamp.com