Last week we kicked off an ongoing series of dialogues with jazz musicians, in preparation for an upcoming presentation, relative to whether they read jazz journalism & criticism, and if so we asked them this simple question:
WHEN YOU READ MUSIC JOURNALISM OR CRITICISM WHAT QUALITIES ARE YOU LOOKING FOR IN THE WRITER AND THE WRITING?
So for the next several weeks we'll post the responses of one or more of the contributors to this dialogue on a weekly basis. This week's participants are saxophonist-flutist-composer-educator TK Blue, longtime music director for Randy Weston's African Rhythms, and bassist-composer-educator John Clayton, one of the great and vastly underrated large & small band leaders and bassists in today's music.
TK BLUE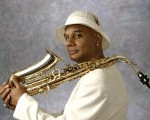 "I guess it amounts to [writers] doing your homework in whatever area you are writing about. For CD reviews, so often a critic will never read the liner notes to get a clearer understanding as to what the artist's intentions are for making a particular recording… or because of time they will only give the CD a cursory listening and then make their analysis based on what they feel should be heard rather than what the artist is trying to convey.
Or in an interview setting the questions asked suggest that they did not research the artist beforehand in order to bypass the trivial stuff and get right to the heart of the matter. I recently read a short interview with Esperanza Spalding in Jet [magazine] that was a joke. This person obviously knew nothing about her other than her recent Grammy award."
JOHN CLAYTON



"I look for someone who is qualified to write about the music. That seems obvious, but as you know, there seem to be more UNqualified writers than those who know about the music.
I look for someone who:
– knows what a 12-bar blues sounds like
– knows the history of this music
– is involved in the jazz community
– understands the traditional roles of each instrument in a jazz group
– reviews the music, not the audeince ("…and they received 3 standing ovations… obviously a crowd pleaser… patrons were dressed more formally than the band…")
– promotes the music through their writing
These are a few things.
It sounds as if I am referring as much about their personal devotion to the music vs. what I look for in their writing style. True, but I feel that one can sense the personal commitment when reading a critic's work.
Since music/art is subjective, I have to remind myself that, although positive is good, all critiques (which basically judge an artist's expression) must be read with the understanding that if you take one seriously, you have to take them all seriously. Although I appreciate any positive words written about my expression, I still have to keep in mind that not everyone will feel that way – which is fine. In fact, that's normal. If I happen to be around a lot of people who do not connect with my expression (a country-western reviewer/audience perhaps?), I can't allow their not being able to connect with what I do to be an honest reflection of my expression. If they enjoy it, great. If they don't, I am still going to move on."
Next Week: NEA Jazz Master Benny Golson goes long!