Some years ago the Jazz Journalists Association, as a tribute to friend and colleague the late Harlem jazz writer Clarence Atkins sponsored a group of aspiring African American music writers to attend a journalism conference in California.  I'm happy to say that for the most part they have continued to write particularly on jazz, and in fact two of them — Bridget Arnwine and Rahsaan Clark Morris — contributed to The Independent Ear's ongoing African American writers' series (continued with Karen Chilton in this current installment) "Ain't But a Few Of Us."  I caught up with Rahsaan at a book signing Randy Weston and I did for our book African Rhythms at Columbia College in Chicago earlier this month (also attended by another of the Clarence Atkins Fellows, jazz broadcaster Michelle Drayton).  
At the time Rahsaan was raving about a brilliant performance he had recently witnessed by NEA Jazz Master Yusef Lateef and his longtime partner, percussionist Adam Rudolph, October 22 in San Francisco.  Here's what Rahsaan subsequently wrote about that performance, which was particularly significant because it came only a couple of weeks after Lateef observed his milestone 90th birthday.  You gotta admit, blowing saxophones and flutes in a Yusefian manner in one's 9th decade is quite notable.
Getting to the Other Side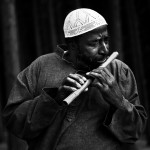 During one of the impromptu songs that ninety year old Yusef Lateef performed at Grace Cathedral in San Francisco on a Friday night in late October, he began to sing about "Crossing the river and getting to the other side," and "taking my brothers andd sisters with me."  Harkening back to spirituals in the confinees of one of America's great churches — this was where Duke Ellington first premiered his Sacred Music concert — lent an air of hopefulness to an already entertaining set.  With the aid of percussionist Adam Rudolph, Lateef, who performed mostly on tenor saxophone, musette and flute, used the spaciousness and the famous seven-second delay of the Cathedral to the best advantage I've heard at these so-called Sacred Space concerts over the years.
     With improvised music totally constructed from horn sounds, beats from conga and djembe, chants and vocals, tones and elongated notes that reverberated off the Cathedral's vaulted ceilings, this music was perfect for the place and the place ended up being perfect for the music.  One reason why this worked so well this time and maybe not so well for others in this place is because both of these musicians know how to play in — and with — space.  Listening to Adam Rudolph's measured hits on gong and his nearly silent patient tones on xylophone reminded me of his contributions to the quiet songs of Mandingo Griot Society, with Hamid Drake and Foday Musa Susso back in the '80s.
     Lateef was one of the first, if not the first, jazz musician to use Eastern instruments in his music.  So to hear this concert was to return to the mode of tunes like "Three Faces of Bilal" from his 1961 Prestige release Eastern Sounds, or "Chandra" from The Diverse Yusef Lateef; quiet, contemplative, nearly meditative music meant to soothe and heal.  Lateef and Rudolph used the space in between sounds to aid the composition, timing, and to let the reverberation fill in where they felt it would work best.  And then Yusef sang, his voice surprisingly resilient for his age.  Still wearing a kufi and traditional African garb, Lateef is still, to this day, true to his life's intentions and not just artistic intentions.  Then again, to the true artist, those intentions are one and the same. 
— Rahsaan Clark Morris 10/22/10