This year marks the 50th anniversary of NEA Jazz Master Randy Weston's opus "Uhuru Afrika." Originally recorded for the Roulette label in '59 and subsequently reissued several times as part of the Blue Note family, including most recently as part of Mosaic Records' Select series, "Uhuru Afrika" is a 4-part suite for 22-piece orchestra (conducted by Paul West), two vocalists and a narrator.  Weston wrote "Uhuru Afrika" in 1959 to celebrate the freedom from colonization of 17 African nations; Uhuru Afrika is Swahili for Freedom Africa.  The great poet and Weston friend Langston Hughes wrote the introductory poem — which was recited for the record date by a UN diplomat in English and Swahili — and NEA Jazz Master Melba Liston wrote the detailed arrangements for a jazz orchestra that included two bassists and a 6-piece percussion section that ranged from African percussion (played by Babatunde Olatunji) to drums from across the diaspora, including NEA Jazz Master Max Roach on marimba.
On Saturday, November 13 at Tribeca Performing Arts Center (at the Borough of Manhattan Community College), Weston triumphantly re-created "Uhuru Afrika" with an ensemble including two masters from the original recording session, trap drummer Charlie Persip and NEA Jazz Master hand drummer Candido, who at 91 nearly stole the show.  Preceding a beautiful reading of Langston Hughes freedom poem, the prelude was provided by the ancient African instruments the balaphone and the kora.
Here's a photo gallery of that historic evening from the learned eye of photographer Lawrence C. Shelley.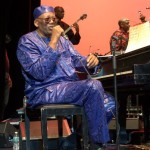 Randy Weston introducing the first movement of "Uhuru Afrika."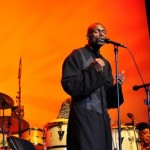 Narrator and banjo player Ayodele Ankhtawi Maakheru reciting Langston Hughes' freedom poem invocation.  There is no banjo part in the original score but Ayodele was so inspired that during the closing movement "Kucheza Blues" he grabbed his banjo — another ancient African instrument — and stoked the fire.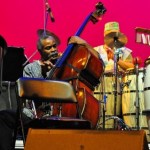 Kinetic energy source bassist Alex Blake.
Candido nearly stole the show with his hard hands.  The audience exploded in delight after the 91-year old's first solo.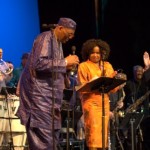 Randy with vocalist Jann Parker, whose reading of Langston Hughes' lyric "African Lady" was sublime.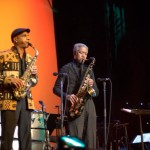 African Rhythms Quintet regulars TK Blue and Billy Harper blowing Weston's "African Sunrise."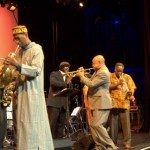 French Hornist Vincent Chancey and trumpeters Eddie Henderson and James Zollar blowing the grand finale "Kucheza Blues."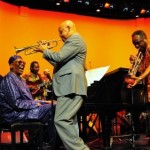 Special thanks to photographer Lawrence C. Shelley for the images
African Rhythms: the autobiography of Randy Weston (Composed by Randy Weston, Arranged by Willard Jenkins; Duke University Press) is available now at your favorite book emporium or online at Amazon.com and other reliable services.