One of the more fascinating aspects of ancient Chinese cultural history is the distinct African connection of the Shang Dynasty. Traversing the centuries to the 21st century, one musician who has consistently made that connection in the modern world, and who has engaged elements of ancient Chinese music culture in the way he views jazz music and the art of improvisation, is pianist-composer Jon Jang. Encountering Jon Jang is always stimulating; he's a deeply thoughtful man who also has an enormous thirst for viewing African American culture through the lens of his Chinese upbringing and his life in California, and vice versa. Always a man of deep conviction who has eagerly and successfully collaborated with jazz masters ranging from the ancestor Max Roach to his contemporary  James Newton, and who always seems to be juggling any number of intriguing projects, I sought Jon out with some questions recently.

What has so motivated you throughout your career to bridge elements of your Chinese cultural heritage with jazz music and the art of the improvisers?
When I was an undergraduate student at the Oberlin Conservatory of Music during the mid 70s, Professor Wendell Logan of the African American Music Department was my mentor.  [Editor's note: Dr. Wendell Logan, who founded and chaired the Oberlin jazz program, passed on to ancestry last June after battling cancer.]  Dr. Logan's African American music history course had a profound impact on me when he introduced our class to the works of Duke Ellington's "A Tone Parallel to Harlem" and William Grant Still's "Afro American Symphony."  These works valorize the struggles and contributions of African American people.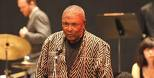 Dr. Wendell Logan
Morover, the course covered a broader ground than "jazz," a changing tradition that must always be traced back to West Africa and the auction blocks of slavery in the United States.  One of the few books we were required to read was Blues People by LeRoi Jones, now known as Amiri Baraka.  I began to gain an understanding about the changing music tradition and its connection to social history.
Dr. Logan's African American music history course inspired me to recover a history and music tradition that has been silent: Chinese America.  Since then, the trajectory of my musical and life journey has been to compose works to valorize the contributions of Chinese Americans.  Commissioned and performed by the Sacramento Philharmonic Orchestra and the Oakland East Bay Symphony, my work, "Chinese American Symphony," pays tribute to the Chinese laborers who built the first transcontinental railroad in the United States during the 19th century.  Not only is it "literally" inspired by William Grant Still's "Afro-American Symphony," there is an inherent working class sensibility in the title itself.
W.E.B. DuBois and Paul Robeson inspired me to search for Chinese "sorrow songs" or folk songs in which I recovered later in life.  I also began to learn about the changing music tradition of Chinese bittersweet melodies such as the "Flower Drum Song," a beggar's song from the Ming Dynasty, and the "Butterfly Lovers Song" from the Shaoxing Opera, the first all woman Chinese opera company during the 20s.  I "Americanized" these Chinese folk songs into new works of mine, becoming the musical blood of an American-born Chinese composer.
For example, if we examine my work "Variation on a Sorrow Song of Mengjiang Nu" or sometimes called "New Beginnings," the story ends with a woman killing herself in resistance to marrying an emperor who killed her husband.  The woman, Mengjiang Nu, leaps into the sea and transforms into a silver fish.  By linking it with African American spirituals such as "Wade in the Water" and "Deep River," water symbolized freedom.  I remember playing a recording of the traditional Chinese melody from Jiangsu Province for Max Roach and he became very moved by the feeling.
In my work, I added a bridge section based on Max Roach's "Lonesome Lover" because it not only worked musically but also in terms of the whole notion of freedom: "Take me back where I belong."  Max told me that he and Abbey Lincoln had completely different perspectives when they recorded "Lonesome Lover."  Max told me that he was making a political statement and said that Abbey interpreted it as a love song.  With me, it was clearer that "Lonesome Lover" artistically and politically complimented the [Roach] works "The Dream/It's Time" on the politically provocative Chattahoochi Red recording, in reference to the dead bodies of young African American men found near the Chattahoochi River in Atlanta, GA. 
From the unexpected passing of my father when I was two years old to being confused about the status of my surname as a descendent of a "paper son," which was an act of resisitance against the Chinese Exclusion Act, the trajectory of my whole life has been about discontinuity and recovery, which is very similar to the modes of regeneration, new beginnings and symbolic transformation found in many of the Chinese folk songs such as "Butterfly Lovers Song" or "Mengjiang Nu."
Are you familiar with the historic African presence in China during the Shang Dynasty and do you find that fairly unknown part of China's history to be ultimately inspiring to your work in any way?
Yes, I am quite familiar with this.  About twenty years ago during the early 90s, I first stumbled across the African presence in China in a book by W.E.B. DuBois called The World and Africa: An inquiry into the part which Africa has played in world history.  Seven years later when James Newton and I were collaborating on a work called "When Sorrow Turns to Joy – Songlines: The Spiritual Tributary of Paul Robeson and Mei Lanfang," James gave me a book by Cheikh Anta Diop called Great African Thinkers which also supported the African presence in China and included a photo of black African human statue figures in China!  In both DuBois and Diop's articles, these people were described by a Chinese source called Chou as "diminutive, black and oily skin."
Talk about your latest projects, including your collaborations with master pipa player Min Xiao Fen, who has previously collaborated with Randy Weston and Mor Thiam.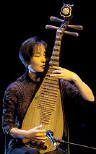 Min Xao Fen
The San Francisco Arts Commission awarded me a grant to compose "Angel Voices – Rhapsody from Angel Island Poetry," a work for poet and chamber jazz ensemble.  The work will feature my ensemble Unbound Chinatown and be scored for pipa (Chinese lute) performed by Min Xao Fen; clarinet/soprano saxophone/bass flute; piano; double bass and multiple percussion.  There will also be poems of "sorrow" and "defiance" performed by Genny Lim selected from Chinese, Japanese, and Russian Jewish immigrants who were detained on Angel Island during 1910-1940 in the San Francisco Bay Area.  SFJazz will present this work on Sunday, October 24 at 3pm at the San Francisco Conservatory of Music as part of the San Francisco Jazz Festival.  Collaborating in the presentation will be the Angel Island Immigration Station Foundation, which is commemorating the Centennial of the opening of the Immigration Station throughout 2010.
I  previously worked with these poems (which are translated in the landmark book Chinese Immigrants on Angel Island by Genny Lim, Him Mark Lai, and Judy Yung) in my works "Island: the Immigrant Suite No. 1" for the Jon Jang Octet featuring Min Xao Fen on pipa and "Island: the Immigrant Suite No. 2" for string quartet and a (pre-recorded) Cantonese Opera singer that was commissioned by the Kronos Quartet.  I was taken with the spirit of the poetry in which detainees on Angel Island waiting for processing by U.S. immigration authorities express both feelings of lament and defiance with regard to their treatment.  Within my efforts to create works that reflect on the history of Americans of Chinese descent, this sense of lament balanced with defiance is a crucial source of "creative tension" that informs my approach to compositional narrative.
The major departure in this new work will be my exploration of poetry from Japanese and Russian Jewish immigrants on Angel Island.  This calls for interpretation of the significance of Angel Island beyondd the experience of Chinese immigrants to recast the multicultural character of the experience on the island.
One of my goals is also to compose five symphonic works.  My second symphonic work, "Symphony No. 2: Echoes from the Grand Canyon," will be a 30-minute three movement work for orchestra and Native American flute.  The work will commemorate the collision of two commercial airplanes over the Grand Canyon on June 30, 1956.  All 128 passengers and crew aboard on United and TWA died, including my father.  This day transformed aviation history, which led to an overhaul of the nation's antiquated air traffic control system and the establishment of the Federal Aviation Administration by Congress.  For this new work, it is very important to note that both Hopi and Navajo tribes recognized that all these people had died on sacred grounds.  They both held 24-hour prayer vigils for the victims.
Similar to Olivier Messiaen's "Des Canyons Aux Etoiles," which was inspired by the canyons of Utah and Don Pullen's powerful works on his last recording, Sacred Common Ground, there will be a strong spiritual aspect to "Echoes from the Grand Canyon."  The collision of the two airplanes over the vast and stunning beauty of the Grand Canyon that left ashes of human remains on sacred grounds creates a powerful image.  It speaks to the universal truths of mortality, fragility of human life, a survival test of the unknown dangers behind the beauty of nature and spirituality.  I hope and pray God will help lead mee to another place with this new work.
You can catch up with Jon Jang and his deeply spiritual work, as well as his various projects and recordings (including his landmark Beijing Trio recording with Max Roach at www.jonjang.com.  In addition to his October 24, 2010 premier of the Angel Island work at the San Francisco Jazz Festival, Jon will be performing as part of the Asian American Music Festival 2010 (broadened from the former Asian American Jazz Festival) in Los Angeles on October 16 in solo piano and at the Japanese American National Museum (369 E. First Street).

 The Asian American Music Festival: October 15-17, 2010 at the Japanese American National Museum, 369 E. First Street in L.A.