There's a tendency among some to view the presentation of live jazz as purely an urban, major-market phenomenon. I've had the privilege of experiencing jazz in seemingly unlikely places since developing the first regional jazz service program, at Arts Midwest in the mid-80s. Since then one of the great pleasures of this work has been hearing the stories of those who have striven successfully to present jazz performances in places that to some are off the figurative beaten path.
Communicating with good people like Arnie Malina, first about his jazz exploits in Helena, Montana, then about his more recent work in Burlington, Vermont at the Flynn Center and their annual Discover Jazz Festival, one of this country's finest festivals; learning how Tom Guralnick developed Outpost Productions in Albuquerque, New Mexico; the work of Tim Jackson in Santa Cruz, California with the Kuumba Jazz Center; Ken Fischer's exceptional series in Ann Arbor, Michigan; the Art Center in Carborro, North Carolina; and countless otherwise unlikey places for jazz presentation, speak to why my glass is perpetually half-full when questions are raised as to the current state of jazz music.
I've been fortunate to have been part of funding efforts to support the presentation of jazz in smaller communities across this country, from Arts Midwest through the National Jazz Service Organization and our administration of the Lila Wallace-Reader's Digest National Jazz Network, to my present work with the National Endowment for the Arts Jazz Masters "Live" funding program. Among the organizations which have been supported by the latter is the Tennessee Valley Jazz Society in Huntsville, Alabama (TVJS). I recently sought out the TVJS executive director Howard Bankhead for the latest installment in our series of African Americans presenting jazz music.
What's the history of the TVJS?
Howard Bankhead: The Tennessee Valley Jazz Society was founded in 1981 by some local jazz enthusiasts as a social club that loved jazz. In 1986 good friend Tyrone (who has since moved to the Gambia in Africa) and I wanted to start a non-profit organization to promote jazz. Through Kenneth Gurley's (then a jazz producer at a local public radio station) radio program "Jazz Expression" we got introduced to local jazz activities and TVJS. From there we met TVJS member Jon Freeman and joined TVJS. Tyrone and I invested our human capital and cash and helped TVJS to survive, strive and become a successful non-profit arts presenting organization.
TVJS has a board of directors and executive director and over 180 members. TVJS operates and presents programs with funding from grants, membership dues, donations, sponsorships, and human capital.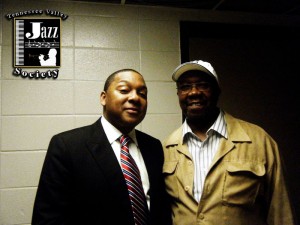 TVJS executive director Howard Bankhead with TVJS education supporter Wynton Marsalis
It is difficult to give a brief history on an organization that has been around for going on 30 years and have a unique story on how it fulfills its missions. Before my time, TVJS was more performance-oriented by presenting local bands and musicians for community events and private gatherings. After we helped build TVJS' performance/entertainment components, in 1998 I felt the need to expand the organization to the educational component targeting the youth. Since 1998 we have presented Jazz Education is Cool in the schools program to over 27,000 students, faculty and administrators.
Among the artists TVJS has presented are Roy Ayers, Jimmy Heath, Randy Weston, Freddy Cole, Marian McPartland, Fred Wesley, Dave Valentin, Richie Cole, Nnenna Freelon, Jerry Tachoir, Abstrace Jazz Band, Eric Essex, Devere Pride, Jaspects, Victor Goines and many others.
Annually TVJS presents three major projects and several smaller activities; the major projects include:
– Jazz History is American History Celebration (Feb.)
– Annual Jazz-N-June Festival: 8 days of jazz
– Jazz Education is Cool-in-the-Schools, offered
during the ninth month of the school year.
In 2011 we will celebrate 25 years of presenting Jazz History Celebration and the Jazz-N-June Festival.
So many folks seem clueless about anything happening in jazz beyond the major markets; why Huntsville, AL?
That's a good question; the answer is supernatural. Huntsville, AL is a growing conservative town in the (Red State) south and in order for me to exist and deal with the old southern mind-set, I decided to use my entrepreneurial skills to present and promote what I love. I was not willing to wait on someone else to provide for me, when I was able to provide for them. The music affected me so, that I was compelled to share my personal experiences with others. So myself and a few others have been dedicated to presenting and preserving one of America's true art forms.
Alabama has fertilized the world with jazz artists, including W.C. Handy, Sun Ra, Nat King Cole, Jothan Callins, Cleveland Eaton, and many others. I'm dedicated to the music, because I love what jazz has given me and I want to share that with others. As Dr. Martin Luther King Jr. said at his opening speech at the 1964 Berlin Jazz Festival, "Jazz speaks for live. The blues tell the story of life's difficulties, and if you think for a moment, you will realize that they take the hardest realities of life and put them into music, only to come out with some new hope or sense of triumph. This is triumphant music."
Jazz Education-in-the-Schools is the major endeavor I've grown to appreciate the most. TVJS is committed to exposing young minds to positive music in today's negative music culture. With the diversity of TVJS' membership, we've presented the "smooth jazz" flavor as well, but for the most part, when TVJS presents a project, local and regional mainstream jazz is on the menu.
Howard Bankhead at one of the TVJS jazz education sites
What venues does TVJS use for your presentations?
Most of our jazz education programs are presented in the elementary and middle schools of our community. Other education venues include Alabama A&M University; the University of Alabama in Huntsville; public libraries and community centers. Our concerts take place at art museums; civic centers; hotels; clubs; parks and other public locations. For years we have partnered with the Huntsville Housing Authority to entertain senior citizens in the Authority's retirement centers. In addition TVJS has contracted with private retirement communities to bring seniors the joy of music. Developing a jazz mobile concept is part of our long-term planning.
What other efforts has TVJS engaged in, beyond your public presentations?
We've engaged in youth golf and life skills development programs, and health awareness projects. In 1998 I proposed to that board that we expand our territory to expand our mission to offer education in other endeavors, such as sports (golf) and health. I felt that by offering the community other services to benefit the development of the youth and the general populace as a whole, TVJS could apply for additional funding beyond our jazz presentation grants, and increase our financial base.
Since then we've been on the Golf Channel twice, we've gotten golf scholarships for students, and we've impacted the lives of over 1,900 youth with life skills; we've introduced youth to alternative ways of living (health awareness), all the while continuing our core mission of being trustees for jazz in our community.
Would you say TVJS has broadened the audience for jazz in your community?
Through grants from the Alabama State Council on the Arts (ASCA), the National Endowment for the Arts, local financial support, and in-kind services from other partners (local media) and TVJS, we have presented jazz education to over 24,500 students, faculty and staff in the efforts at broadening the jazz audience. We must understand that the cultural war is waged on all fronts. Since 1998, TVJS has donated overe $300,000 in in-kind services to education.
Another part of TVJS' long-range goals is to propose to ASCA the presentation of a state-wide jazz festival. We recognize that jazz education in the schools can make school and learning fun for students. We can seamlessly educate a percentage of the populace by presenting TVJS initiatives, which in turn helps to broaden the audience for jazz and the arts.
Visit the Tennessee Valley Jazz Society-Huntsville online at www.tvjs.webs.com.