The 2011 class of National Endowment for the Arts Jazz Masters, the highest honor this country bestows on living jazz artists and advocates, is not without controversy. There's been much conversation about the unprecedented elevation of the entire Marsalis Family; and just the other day while doing some research at the Institute of Jazz Studies at Rutgers University's Newark campus, I overheard two musicians debating the merits of Johnny Mandel being named a NEA Jazz Master to represent the composer/arranger's art on this occasion. Their words were to the effect that Mandel's merits otherwise are without question, but as a jazz master(?). From my perspective Mandel's wizardry on NEA Jazz Master Shirley Horn's striking album Here's to Life, with strings, alone would bear this consideration; evidence: the title track and especially the heartbreaking string arrangement on "If You Love Me."
But the name from this year's class that took me back a bit, in a fit of warm nostalgia, was flutist Hubert Laws. In jazz there have been few absolutes, despite decades of all manner of popularity polls. Sure, there are a handful that standout; for example the greatest living tenor saxophonist is without question NEA Jazz Master Sonny Rollins; and the three pillars of jazz history remain Louis Armstrong, Duke Ellington, and Charlie Parker, the fourth being a tossup between NEA Jazz Master Miles Davis and John Coltrane.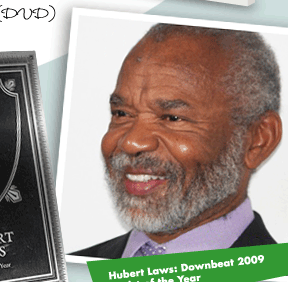 Another of the few certainties is that Hubert Laws is the greatest living flute specialist in jazz history. Notice I said specialist; certainly his peers on the instrument include such worthies as fellow NEA Jazz Masters Yusef Lateef, James Moody, and the late Eric Dolphy, (who unfortunately passed prior to the inception of the program in '82) — doublers all. The case for Laws is admittedly weakened by several choices of recorded material, including a soft underbelly of flyweight fluff from his CTI days. But it is precisely that segment of the Laws discography, bordered by a couple of fine earlier dates for the Atlantic label, that is the core of his recorded work to consider. Those CTI dates, which carry me back to my formative college years in the late 60s/early 70s, were also notable for ample displays of Hubert Laws' enormous classical chops. And there's where some may get stuck in their consideration of Laws jazz credentials.
There are some who dismiss Laws for the crystal clarity of his dexterity, or his rich and pristine tone on the instrument — 'lacks grit' some might declare. But for serious consideration of Hubert Laws considerable jazz bonafides, don't sleep on the following performances:
"Airegin" from In The Beginning (CTI)
"Equinox" from Wild Flower (Atlantic)
"Windows" from Laws Cause (Atlantic)
"Moment's Notice" from In The Beginning (CTI) (also available on a "Best Of" compilation on Columbia)