Continuing our investigation of folks who are endeavoring to present jazz in non-traditional ways and non-traditional venues (ala Search and Restore), our series of conversations with what has become a seemingly rare breed over the last 40 years — African Americans who present jazz on their stages — this installment is our chat with emerging young vocalist Chad Carter and his father Ted Carter, who are successfully carving out a Monday Night jazz series at Vicino's, an Italian restaurant in Silver Spring, MD.
Detail the history and development of Monday Night Jazz at Vicino's, and also your operation JazzKnights.
Ted Carter: JazzKnights is my son's creation and idea.
Chad Carter: When we first started Vicino's we were green as green could be on all fronts.  However we were blessed with creativity and the ability to do critical thinking to make our way through the art and business sides. The real reason Vicino's is a reality for the music was because I needed a place to work at my [vocal] craft.  I was not getting the kind of work I wanted to get.  While musicians were being gracious enough to allow me to sit in on their gigs to do a tune here and there, and since I was not in school for music, I needed to go to the school of life through doing more singing and paying dues.
Chad's debut was recorded live @ Vicino's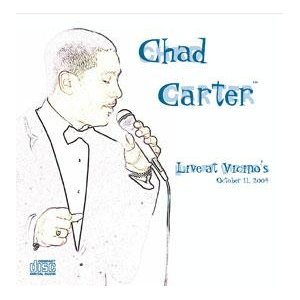 Chad Carter's odyssey has taken him through the Ronnie Wells and Ron Elliston jazz vocal workshop, gigs with the late DC drummer Ricky Loza, volunteer work on Wells and Elliston's former East Coast Jazz Festival (re-christened last winter as the Mid Atlantic Jazz Festival), and sitting in with all manner of DC's finest.  Graduate studies took him to Pittsburgh, where he became a regular at Pittsburgh Jazz Society jam sessions, and interacted with such Pittsburgh stallwarts as drummer Roger Humphries.  After graduate studies, in true DIY fashion, Chad began casting about for his own platform on the DC jazz scene.
Chad: I went through the process of canvassing the DC metropolitan area for potential venues that were virgin territory for presenting jazz.  When I first approached my Pops about Vicino's he said, "No, I don't think this would work too tough… it's in the basement… and I just don't see this…"  A few months later he re-thought Vicino's and we went back and spoke with [the proprietor].  We tried one show, he liked it and the rest is history.
Over time we have developed the "basement" into a nice little supper club setting, with jazz photos, and artwork all over the walls, up and down the stairwell, and even in the bathroom.  I really wanted to create a bonafide "jazz joint" and club.  To do that we had to have all professionals in there from the start.  Eventually we have been able to get emerging artists in the rotation for shows.  However, the only rookie on the show rotation in the early days was yours truly.  After all, I sought out a place for myself to develop and grow.
JazzKnights developed when I was in a web and multimedia class while in graduate school.  I wanted to come back to DC and create an online community for musicians in the DC metro area to sign up for jazz webpages off of my site.  So, years later, I'm using JazzKnights.com for the online community for Monday Night Jazz.  The name JazzKnights came from my desire to protect and honor jazz.  I like the idea of being a champion for something, giving honor to an honorable and treasured art form.
So why Monday Night Jazz, and why Vicino's?
Chad: Monday was a day that no one in the DC metro area was really exploiting as a viable evening for events.  Additionally, this happened to be the slowest night for Vicino's, which made everything we brought to the business a bonus.  By locking in Monday night, any new business we brought to an otherwise slow night meant we were instant value added to the already successful Vicino's business.
Ted: A1. A cooperative owner; B1. Slowest night at Vicino's; A2. We were able to "lock down" Monday Night for our shows at the exclusion of anyone else wanting to be there for any other reason.  We had Monday Nights exclusively.  B2. [Vicino's] location is close to Metro, close to downtown Silver Spring on a familiar street (Sligo Avenue); and [Vicino's is] 500 feet from Georgia Avenue, the main [traffic] artery running from midtown DC well into Silver Spring and all the way to Olney.
Chad: Also [Monday Nights] helped to keep us somewhat under the rader while we got ourselves together (i.e. learning how to program shows, learning the etiquette for dealing with musicians, learning sound equipment and stage setup and break-down, email lists, website promotion, reaching out to the local radio station [WPFW], etc.), and even learning where in the room to best place the stage.  We are still learning!
Eventually Monday became an extension of the weekend.  Often times when we think of the golden years of jazz music and the clubs it was played in, we think of those intimate settings in a smoky room with amazing talent on the bandstand capturing the listening audience.  Well, that's the charm Vicino's brings… minus the smoke.  Before the jazz, Vicino's was already a wonderfully quaint family friendly restaurant, serving the best Italian cuisine in Silver Spring.  The other thing that makes Jazz at Vicino's so special is the owner, John Eshun.  As John likes to say, "you do the music, and I'll stick to the spaghetti and meatballs!"
What kind of music menu do you endeavor to present at Vicino's?
Ted: Straight-ahead jazz, some blues, American songbook fare.  In addition, these presentations are offered by very young musicians (i.e. inexperienced players) to old, seasoned veterans like [tenor man] Buck Hill.
Chad: We look to present straight-ahead jazz, blues, and plenty of vocal fare.  I wanted to create a jazz vocalist-friendly venue.  Unlike instrumentalists, vocalists are afforded the lyric to tell a story that only words and music can [convey].  Someone once said, "if words were enough to express human emotion, there would be no need for music."  I contend that with the marriage of words and music, human emotion can at times reach its highest heights.
What do you see as the benefits of presenting jazz in a restaurant setting?
Ted: It provides an opportunity to satisfy several senses: visual, smell, taste, and sound; the appetizing smell, taste, sound, and visual offerings make it an experience to remember.  The overall atmosphere tends to be a relaxed one, and it can sometimes satisfy intellectual curiosity.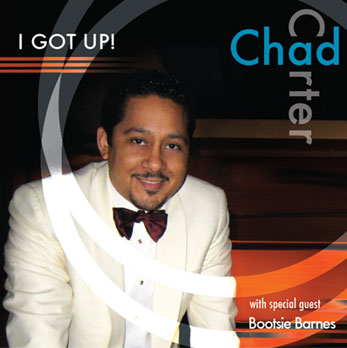 Chad's latest is a studio date featuring Philly tenor titan Bootsie Barnes. Â Keep up with Chad at www.chadcartersings.com; with Monday Night Jazz at Vicino's at www.jazzknights.com.
Chad: I openly and unapologetically say, from a very self serving standpoint, it has allowed me the opportunity to work at my craft outside of practicing.  Putting the practice to work in a real setting is the greatest learning experience of all, its called life, living in the moment.  They say there's no education like experience itself.  I was looking to get that education from experience and that's what Vicino's represented to me.  Presenting jazz in the restaurant setting has a benefit through the additional shared experience of people breaking bread together and enjoying an unspoken connection through the universal language of jazz music.
What have been some of your most successful presentations at Vicino's?
Ted: Performances by [tenor saxophonist] Bootsie Barnes, [pianist] Danny Mixon, and [vocalist] Barbara Morrison.  [Some of our most successful presentations have been] whenever we have hard driving, creative musicians that like and respect their audiences as well as their music.
Chad: Some of our most successful presentations have been by artists who take a proactive role in promoting themselves, the supporting venue, and the music.  Many times one would expect the less seasoned and lesser known artist to take the more proactive role, but we have found that often times it's the artist who already has some name recognition that go the extra mile in making phone calls, beating the bushes and the pavement to get people out to hear the music.
Are you looking to expand at any time, and what do you have coming up that you can share with the readers?
Ted: We are experimenting with Friday night jazz and blues on selected weeks.  We contemplated having a workshop series which would in some instances include music performances.  There will also be a continued attempt to integrate high school students and young people in general in our jazz and blues workshop series.
Chad: We are always "noodling" through different ideas.  We continuously try to think of creative ways to bring more people to the music via new twists on tried and true formats.  Going against the norm when possible is one of the things that helps us to standout as a unique experience, although taking these risks can be politically risky at times.