COMING IN OCTOBER on Duke University Press: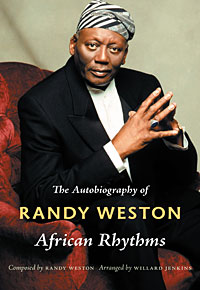 An as-told-to autobiography Composed by Randy Weston; Arranged by Willard Jenkins
"Randy Weston is a magical, spiritual, ebullient, and generous soul who just happens to be one of the most original composers and pianists of the last sixty years. African Rhythms is his fascinating story in his own voice — a story that starts in Brooklyn and moves through the Berkshires, Africa, and Europe before returning to Brooklyn. A wonderful read."
— Michael Cuscuna, jazz producer & writer
"African Rhythms is unlike anything I've ever read. Randy Weston — pianist, composer, bandleader, activist, ambassador, visionary, griot — takes the reader on a most spectacular spiritual journey from Brooklyn to Africa, around the world and back again. He tells a story of this great music that has never been told in print: tracing its African roots and branches, acknowledging the ancestors who helped bring him to the music and draw the music from his soul, singing praise songs for those artistic and intellectual giants whose paths he crossed, from Langston Hughes to Melba Liston, Dizzy to Monk, Marshall Stearns to Cheikh Anta Diop. And in the process, Mr. Weston bares his soul, revealing a man overflowing with ancient wisdom, humility, respect for history, and a capacity for creating some of the most astoundingly beautiful music the modern world has ever experienced."
— Robin D.G. Kelley, author of Thelonious Monk: The Life and Times of an American Original