Following on the heels of our recently concluded series Ain't But a Few, conversations with African American jazz and music writers, we begin a series of conversations with African American and other black folks who have presented jazz music on their stages. Historically, as my current research project on jazz venues in Brooklyn courtesy of the Weeksville Heritage Society clearly indicates, as well as anecdotal evidence from Lost Jazz Shrines across the country, there have been many examples of African Americans operating jazz venues… but not so much here in the 21st century.
Our series begins with Twins Jazz, one of Washington, DC's most vibrant jazz clubs, located on bustling, re-born U Street N.W., upstairs at 1344 U. After years of presenting all manner of jazz artists — from emerging talents to NEA Jazz Masters — Twins Jazz has embarked on the development of a not-for-profit foundation as a means of further spreading its tentacles into broader service to the art form and sustaining the audience for jazz.

Twins Jazz was developed by the twin Ethiopian sisters Kelly and Maize Tesfaye ("Jazz found us," says Kelly). Kelly's daughter, Love-Leigh Beasley, is spearheading the Twins Jazz foundation, and we turned to her for some history and update on Twins Jazz. [Full disclosure: Willard Jenkins serves on the board of directors of the Twins Jazz Foundation.]
What is the history of Twins Jazz?
For over twenty-three years, Twins Jazz Club and [sister venue] Twins Lounge have worked to conceptualize and develop a friendly environment wherein jazz lovers can congregate in geniality and ambiance, sharing our love and celebration of jazz. Twins Lounge, Twins Jazz uptown sister club located at 5516 Colorado Avenue N.W., opened as an Ethiopian restaurant in 1986 in a 50-seat space that previously featured jazz and blues music. Several musicians would continue to patronize the Lounge and insisted upon the continuation of showcasing live jazz performances. By 1987, Twins Lounge opened their stage nightly to live jazz performers.
Twins Lounge closed in 1999 due to building condemnation, and re-opened as Twins Jazz along the famous U Street Corridor, also known as Black Broadway back in the day. Twins Jazz perpetuates and cultivates "authentic" straight-ahead traditional jazz, and features a combination of Ethiopian, American, and Caribbean cuisine.
Twins Jazz strives to not only be a jazz venue, but a social and economic force in the local and regional community via our newly formed Twins Jazz Foundation. We not only feature popular staple jazz artists, but also offer opportunities for young, aspiring musical talents attending Duke Ellington School of the Arts, Georgetown University, Howard University, Catholic University, American University, University of Maryland, and George Washington University. Music students are encouraged to participate in our weekly jam sessions to learn their craft from more experienced musicians. We aim to bring greater appreciation and understanding to jazz from traditional to contemporary, via festivals, forums and workshops.

Kelly & Maize Tesfaye, the "Twins" in Twins Jazz
How did your mom and aunt come to develop Twins Jazz?
The development of the Twins Jazz brand was certainly not an overnight discovery. Twins has evolved from a live music "mom & pop" shop to "Washington's Top Jazz CLub" through the hard-work and dedication of our staff, and respected counsel from jazz industry professionals. Over the years we have worked to establish a solid, unmistakable identity by working to remain current in jazz as well as researching the ever-evolving trends of the social entertainment consumer. We are continuously working to gain a market presence via web and social portals, newspapers, radio, and other media outlets, and we certainly have learned over the years that a loyal patron goes a long way. We thrive on creating an environment that is actually friendly and meaningful, so that our patrons and artists continue to comee back and support our establishment, as well as the music we love.
What have been some of the highlights of Twins' history?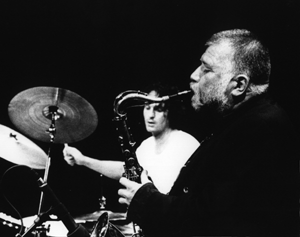 The restless iconoclast Peter Brotzmann has touched down at Twins Jazz with his Die Like a Dog Quartet
The original Twins Lounge, Twins ll (our temporary location on Moore St. NE), and the current club Twins Jazz, have been host to many performances that have since become regarded as legendary milestones in DC jazz lore. Twins has also showcased a great variety of younger talent and acts that have later gone on to national (if not international) fame. And Twins is still the local venue of choice for many established jazz greats who make their homes in the DC metro area. The Twins venues featured some of the last DC appearances of many of the great artists who have passed on, including Shirley Horn, Keter Betts, James Williams, John Hicks, Malachi Thompson, Kenny Kirkland, Walter Bishop Jr., David "Fathead" Newman, Cecil Payne, and Ronnie Wells.
Some landmark events fondly remembered by our regulars include the Twins-sponsored "Piano Summit" at the University of the District of Columbia, the 2001 grand openinig of Twins Jazz at our current location featuring Barry Harris and Charles Davis, acclaimed poet Amiri Baraka reading his always-provocative poetry written for jazz accompaniment by groups led by (trombonist) Reginald Cyntje, and (saxophonist) Rene McLean; many appearances by the versatile Hamiet Bluiett — always bringing different groups and very different musical concepts — active veterans Gary Bartz and Larry Willis re-united for two sellout evenings; the late Shirley Horn sitting in with the late James Williams' band ICU; rare DC appearances by such international acts as Peter Brotzmann's "Die Like a Dog" quartet; the Jean Michel Pilc Trio, and the Moutin Reunion; the 2007 NY-DC exchange series of new music organized by Reggie Workman (culminating in a great performance by the Workman-Hal Galper-Rashied Ali trio); David Murray offering (in addition to his well-known instrumental talents) a unique vocal twist on "When the Saints Go Marching In"; and our festive New Years Eve celebrations for jazz purists — featuring the likes of Larry Willis, Bruce Williams, Miles Griffith, and the late Cecil Payne.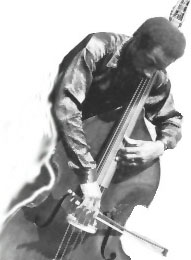 Reggie Workman's New York-to-DC connection series was a Twins Jazz highlight
Twins is also proud to have hosted performances that helped launch the careers of young artists once based (or schooled) in the DC ara, who have gone on to success, such as pianists George Colligan, Benito Gonzalez, and Allyn Johnson; saxophonists Antonio Parker, Tim Warfield, and Kelly Shepherd; drummer Aaron Walker; and bassist Kris Funn and Corcoran Holt.
Talk about your plans for the Twins Jazz Foundation.
The Twins Jazz Foundation was formed in an effort at stimulating a renewed, living relationship with America's rich jazz heritage for younger audiences today, at the same time providing vehicles for students and less-established musicians to extend their mastery of the forms and reach newer audiences. The Twins Jazz Foundation aims to preserve and promote jazz, to provide education funding assistance to deserving students, and to create opportunities for students and young aspiring musicians to play and perform. We strive to bring greater appreciation and understanding of jazz from traditional to contemporary, via festivals, concerts, forums, workshops, and jam sessions.
The key activities of the Foundation are:
– Annual Jazz "Mini-Tour" series
– Annual Town Hall Event
– Annual Jazz Achievement Awards Gala
Twins Jazz has launched a new and improved website: www.TwinsJazz.com.
Twins Jazz Foundation activities are underway. Please visit www.TwinsJazz.org to remain current on upcoming events.