Jackie McLean
At the recent and successful launch of the Mid Atlantic Jazz Festival (check Facebook for the Jazz Video Guy Bret Primack's clips from the festival), successor to the mid-winter DC classic East Coast Jazz Festival, the event was capped off by a joyous Saturday night tribute to Charlie Parker. "Word on Bird" (title liberally lifted from friend and WPFW colleague Rusty Hassan's weekly Parker segment) brought together altoists Bobby Watson, Bruce Williams, and Fred Foss for some friendly jousting and head-cutting in the name of Bird. Foss, a DC regular who speaks reverently of the assists and inspiration he got from NEA Jazz Master Jackie McLean and his son Rene McLean, brought doses of the J-Mac attack to his various turns at bat.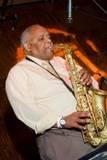 Fred Foss
Earlier that day during his masterclass drummer Lewis Nash cracked up his audience with his reminiscence of Jackie McLean. Seems Nash was on a record date with Jackie Mac when some none-too-wise producer stopped the proceedings purportedly to lecture McLean on tuning up! To which Jackie's pointed retort was, "…I've been playing sharp all my life, why stop now?"
Fred Foss's forays and Lewis Nash's reminiscences kinda put me in a Jackie Mac state of mind. I fondly recalled one of my interview opportunities with McLean, back in '89 at the Umbria Jazz Festival. Jackie and his elegant wife Dolly were on that beautiful scene for several brilliant performances at one of Umbria's Etruscan-era club spaces, in the rich company of Cedar Walton, Billy Higgins, and David Williams. When I arrived at Jackie's hotel room for our interview I couldn't help noticing the classic Italian ornate decor. So Jackie gave me a short tour of his frescoed room, pointing out several bullet holes in the ceiling. Seems this had been Mussolini's room during an aborted assassination attempt!
After the Mid Atlantic festival, in a J-Mac state of mind, I asked master drummer and Julliard educator Carl Allen about the legacy of Jackie McLean.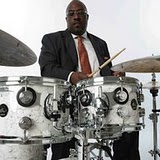 Talk about your experience with Jackie McLean.
I played with and recorded with Jackie McLean for about 5 years. It was one of the greatest life experiences that I have had to date. He and I had a lot in common outside of music that was very interesting to me to discover, like wallets, particularly those from Japan, and stationary. We actually both had the same wallet at one time that you could only buy in Japan.
What was Jackie McLean's lasting influence on your playing and your music career, and what are some of the lessons you learned from him?
I have always said that playing with Jackie for me was very much like playing with Freddie Hubbard in that they were both very much into playing with the drummer. Jackie was always listening to what was happening around him. On and off the bandstand, he taught me to stay current but connect it with the past. He loved a lot of different styles of music, yet he always talked about Charlie Parker. I learned a lot about rhythm from Jackie, how to use it outside of just keeping time. He talked about African rhythms as much as he talked about swing. Jackie was also an astute business man who taught me about creating options for yourself. I have always treasured that lesson. One of the greatest lessons that he taught me was about respecting order. Manage your expectations based on what you have accomplished and your abilities. He loved his family and we spoke about that often. Jackie was a great teacher. There are lessons that I will hold onto for the rest of my life.