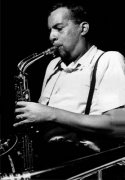 The inimitable Jackie McLean
Shortly after posting the original Thinkin' About Jackie (McLean) (please scroll down) remembrance from drummer Carl Allen, the National Jazz Museum in Harlem presented another of its ongoing Jazz for Curious Listeners programs at its Harlem Visitor's Center, with a remembrance of the rich legacy of the great NEA Jazz Master Art Blakey. The conversation was moderated by bassist, and museum co-director Christian McBride and featured two late-period Jazz Messengers, saxophonist Javon Jackson and trumpeter Brian Lynch. During their lively exchange Jackson waxed rhapsodic about how he was mentored by Messengers' alum Jackie Mac, which prompted another remembrance of Dr. Jackal; that was followed soon after by DC-based saxophonist Fred Foss' recalling the influence of McLean on his playing and his career in music.
How did Jackie McLean become a mentor to you as a young musician?
Javon Jackson: Meeting Jackie during my time with Art Blakey. Jackie was always encouraging and supportive of young musicians. He helped me with advice and was always available by phone for answers to questions I had regarding the business of music. For example, he would speak to me of the constant study necessary regarding the jazz greats that have come before us.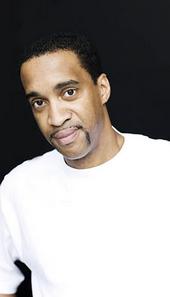 Tenor man Javon Jackson, Thinkin' About Jackie
What was some of the lasting wisdom he laid on you?
He also spoke about the dedication to the music and always striving to become a better musician as well as having a band and playing original music. Also, having the respect for the tradition of this rich American art form and for the artists that established it.
What would you say is the lasting legacy of Jackie McLean?
In part, Jackie's legacy is all of the incredible recordings and performances he was a part of, and the Artists Collective in Hartford, CT that he and his wonderful wife Dolly established from the ground up through tireless fund-raising efforts. Lastly, the jazz program at the Hartt School of Music he established in Hartford some 35 years ago.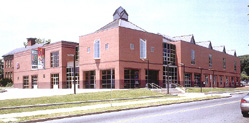 Exterior view of the house that Jackie & Dolly McLean built: The Artists Collective in Hartford, CT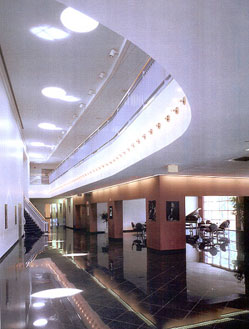 Interior view of The Artists Collective, Hartford's cultural jewel
Fred Foss: J Mac was one of the most extraordinary people I have ever met. He was extremely kind to me. [Jackie & Dolly's son] Rene [McLean] introduced me to him and he and Dolly took me in, and made me a part of their family. He loved to laugh and he was a great storyteller. My father and his stepfather were in the same class in the 20s in Harlem, so I always felt somehow that we were destined to meet. J Mac loved to teach, and he was a natural teacher. He never talked to me about the technicalities of playing the saxophone, just hanging with him was a lesson. He loved to fish, and we went fishing in Martha's Vinyard. He loved to dress and we went window shopping in Nice. But most of all he loved to play music. I saw him play with [drummer] Michael Carvin at Town Hall once and it was so powerful I almost ran out of the hall. The thing I most admired about him was his modesty. Unlike so many others, hee never took credit for being friends with Bird. He told me that Bird was a man when he was a boy. I don't think that he has gotten the recognition that he deserves [Amen to that!). All the hip trumpet players came through him. I think about Jackie McLean every day.
Fred Foss Thinkin' About Jackie McLean