The Jazz Session is an online jazz interview show focusing on in-depth interviews with jazz musicians at www.thejazzsession.com. Proprietor of The Jazz Session is broadcaster-poet Jason Crane. After participating in one of Jason's interview sessions, I wanted to know more about the whys & wherefores of The Jazz Session and asked a few questions.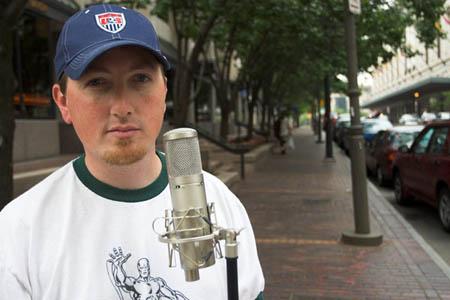 What's the origin and intent of The Jazz Session?
I've been involved in the jazz world as either a performer or broadcaster since 1994. I spent several years as a full-time saxophone player, but quickly found the perfect marriage of my performing and listening passions in the world of jazz radio. I was the station manager and afternoon drive host at Jazz90.1 (WGMC) in Rochester, NY from 2001-2004, and during that time I conducted hundreds of interviews. After leaving the station to become a stay-at-home dad, I briefly hosted a progressive talk show on an Air America affiliate in Rochester. Soon after (in February 2007) I decided to go it alone and launched the Jazz Session (www.thejazzsession.com). I started contacting musicians, labels and promotion people I'd known from my radio days, asking them to come on my completely untested show. To my great surprise and eternal gratitude they all said "yes."
Three years and 450,000 downloads later, The Jazz Session is going strong. I partnered with All About Jazz last year and that's led to increased exposure for the show. I also moved to Albany, NY, which puts me much closer to New York City and allows me to conduct more of my interviews in person, rather than on the phone. I now post new episodes of The Jazz Session each Monday and Thursday at www.thejazzsession.com.
My goal is to provide in-depth conversations with musicians, authors, producers, and others who are making and promoting creative improvised music.
Given the fact that you reached out to me as a result of perusing The Independent Ear — which led to a subsequent Jazz Session interview — would you characterize yourself as an avid jazz web site surfer? If so, how do you separate the wheat from the chaff since there is so much out there?
I'm definitely an avid surfer. I do the majority of my web surfing via Google Reader and the hundreds of RSS feeds I've bookmarked there. Most of my web reading falls into one of several categories: jazz, poetry, progressive politics, and science. As for separating the wheat from the chaff — I've grown to trust the instincts and judgement of quite a few writers in my areas of interest. I know that their content is solid and that the links they provide are also solid. Building trust in that way is crucial to success online. That applies to The Jazz Session too. I cover many different flavors of jazz, and I hope that my listeners trust me enough by this point to take the journey with me, even if they're unsure of the destination.
Now that there is so much more access to writings about jazz than the old days, when jazz enthusiasts awaited delivery of DownBeat, JazzTimes and assorted other publications in our mailboxes to learn the latest news, what's your overall sense of this expanded universe of jazz verbiage? Do you find it ultimately beneficial to the life of jazz music?
Yes! It's so exciting to be part of the online jazz world. Anyone can now have access to the best writing and reviewing, as well as direct communication with many of your favorite musicians. I've also made some great friends and become close to many of my colleagues thanks to the online world.
Catch The Jazz Session at www.thejazzsession.com. Also catch up with Jason Crane at www.jasoncrane.org.