As we approach the January 18 observance of MLK Day and all that the legacy of Dr. King means, including his brilliant remarks at the opening of the 1964 Berlin Jazz Festival (see below), I'm reminded of a very successful event last fall. In November the Maryland Humanities Council presented "Music of the Movement", subtitled "A conversation about the music of the Civil Rights era", at the spiffy new performing arts center on the Silver Spring campus of Montgomery College. It was largely a panel discussion featuring such distinguished speakers as Congressmean John Lewis, and the esteemed cultural historian, singer, author and founder of the historic a capella vocal ensemble Sweet Honey in The Rock Dr. Bernice Johnson Reagon. The presence of these two Civil Rights pioneers alone — Cong. Lewis, one of the true pillars of the Movement, and Dr. Reagon, a member of the original SNCC Freedom Singers — guaranteed a rewarding evening.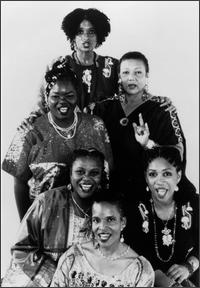 One of the distinguished Dr. Berneice Johnson Reagon's
(2nd row left) many triumphs: Sweet Honey in the Rock
They were joined in what — borrowing from Ellington was a beautiful evening of Reminiscing in Tempo — by the distinguished black music scholars Prof. Portia Maultsby, an ethnomusicologist at Indiana University, and Tricia Rose, author of The Hip Hop Wars.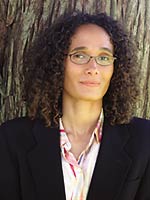 Dr. Tricia Rose author of the imporant
and influential book The Hip Hop Wars
The bulk of the evening was spent in warm reminiscence of the power of black music in the Movement, with an almost complete emphasis on R&B or black pop. Ms. Rose was a bit of a leftfielder on the panel because her specialty; the development of hip hop being more inspired by and enabled by the Civil Rights (and in case of some of the more potent of the genre, the civil wrongs)Movement and its music — including the fact that some of the advances fostered by the Movement went unrealized in some sectors of the black community. That aside, black pop and R&B artists and their music and the inspiration of black gospel music was center stage in this discussion. Included also was a potent extended riff from Prof. Maultsby on the inspiration and impact of George Clinton and his Mothership metaphors.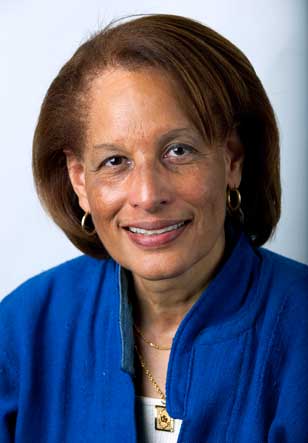 Ethnomusicologist Dr. Portia Maultsby
What's missing from this picture? Jazz music was given only cursory mention in passing, and only by Dr. Maultsby. All I could think of while missing that particular link in the chain of music that inspired and supported the Movement was such monumental efforts as Max Roach's "Freedom Now!", scores of other jazz suites, and hundreds of other jazz compositions dedicated to and inspired by elements of the Civil Rights Movement. I was reminded of my extensive conversations with Randy Weston in development of our book African Rhythms (coming in the fall from Duke University Press) and his vivid recollections of jazz artists tirelessly marching and answering the call of the Movement by performing in innumerable benefit concerts.
I was reminded also of the many instances of Thelonious Monk answering the Civil Rights Movement benefit concert call as detailed in Robin Kelley's brilliant new book Thelonious Monk: The Life and Times of An American Original (Free Press). Take this passage from p. 293: "…Monk did make it to another, more urgent event in the name of social justice. One Sunday afternoon, August 7, the New York chapter of the Congress of Racial Equality (CORE) organized "Jazz Sits In," a fundraiser in support of the Southern student movement. Besides Monk's quintet, CORE recruited [emphasis mine] the Clark Terry quintet, singer Bill Henderson, and Jimmy Giuffre's group."
Turning to p. 329: "Monk didn't work at all in January, and his next gig was gratis. On Friday, February 1, he headed over to Carnegie Hall to participate in "A Salute to Southern Students," a huge benefit concert for the Student Non-Violent Coordinating Committee (SNCC). The New York-based Friends of SNCC sponsored the concert to commemorate the third anniversary of the sit-in movement and to raise money for SNCC's ongoing work in Mississippi, southwest Georgia, Alabama, Arkansas, and South Carolina."
Those and at least a dozen other of Kelley's citations, most with prominent mention of many other jazz artists besides Monk coming to the aid of various Movement causes, offer vivid testimony of how tirelessly these jazz musicians contributed to the Civil Rights Movement. So why the glaring omission from your music of the movement equation folks? Make no mistake, my citation of this omission is but a mild spank on the panelists collective wrists in what was otherwise a superb, informative and exceedingly warm presentation before a jam-packed and deeply appreciative house. But I do feel the need to be a figurative spook who sat by the door on this one.
I'll leave you with the eloquence of Dr. King himself, in a speech entitled "On the Importance of Jazz" given as his opening address to the 1964 Berlin Jazz Festival:
"God has wrought many things out of oppression. He has endowed his creatures with the capacity to create — and from this capacity has flowed the sweet songs of sorrow and joy that have allowed man to cope with his environment and many different situations.
Jazz speaks for life. The Blues tell the story of life's difficulties, and if you think for a moment, you will realize that they take the hardest realities of life and put them into music, only to come out with some new hope or sense of triumph.
This is triumphant music.
Modern jazz has continued in this tradition, singing the songs of a more complicated urban existence. When life itself offers no order and meaning, the jazz musician creates an order and meaning from the sounds of the earth which flow through his instrument.
It is no wonder that so much of the search for identity among American Negroes was championed by Jazz musicians. Long before the modern essayists and scholars wrote of racial identity as a problem for a multiracial world, musicians were returning to their roots to affirm that which was stirring within their souls.
Much of the power of our Freedom Movement in the United States has come from this music. It has strengthened us with its sweet rhythms when courage began to fail. It has calmed us with its rich harmonies when spirits were down.
And now, Jazz is exported to the world. For in the particular struggle of the Negro in America there is something akin to the universal struggle of modern man. Everybody has the Blues. Everybody longs for meaning. Everybody needs to love and be loved. Everybody needs to clap hands and be happy. Everybody longs for faith.
– Dr. Martin Luther King, Jr., August 23, 1964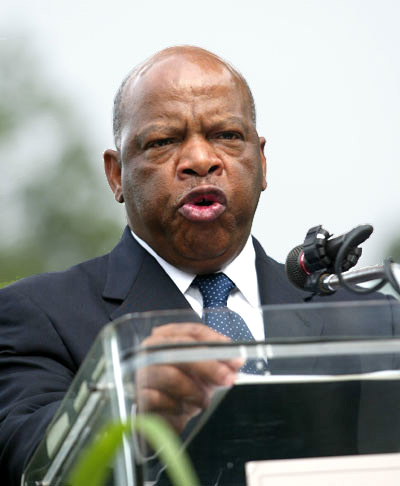 Let's gently pull Cong. John Lewis' coat to these eloquent words from his friend and mentor Dr. Martin Luther King, Jr.