New York-based writer Ron Scott, past contributor to our ongoing dialogue with African American music journalists Ain't But a Few of Us, weighs in here with his take on the recently-released compilation of Amiri Baraka writings.

Digging: The Afro-American Soul of American Classical Music
by Amiri Baraka
A Review
by Ron Scott
The online encyclopedia Wikipedia describes Amiri Baraka (formerly known as LeRoi Jones) as "a controversial American writer of poetry, drama, essays, and music criticism."
The word "controversial" is used so often to describe Baraka and his work one would think his name is "controversial" as opposed to Baraka. He wears the adjective like a great fitting expensive suit. There aren't many in this homogenized society that can be called controversial but in the past there were quite a few, including Malcolm X, James Baldwin, Rev. Adam Clayton Powell, Jr., Paul Robeson, Dr. Martin Luther King, Jr., Billie Holiday, Miles Davis, and Thelonious Monk.
The question: is it controversy or just a matter of human beings standing up and speaking the truth even though it's not the popular route, whether it is political or musical? These two issues were sprouted from the seeds of a historic/economic culture that finds politics at the heart of any issue.
Despite "controversy" (sometimes a code word for 'beware, that person is saying some crazy stuff or you can't really trust them'), Baraka is a distinguished author and playwright; his 1964 play "Dutchman" won an Obie Award. As a jazz writer, his 1963 Blues People: Negro Music in White America — remains one of the most influential books of jazz criticism, as well as his second book Black Music, which included a collection of his previously-published articles from his Apple Cores columns for Down Beat magazine (1968).
Baraka noted, "These essays are just those I collected in the last few years (I even left a few significant ones out.) But one thing I've got is books needing to be published." In the meantime readers can dig Digging, Baraka's greatest written contributions to the world of jazz and the black Diaspora. Like the book Lies My Teacher Told Me/Everything Your American History Textbook Got Wrong by James W. Loewen, Baraka dispels myths as it relates to American culture and improvised music in the here and now.
Digging is more than collected jazz works; it is divided into three parts: Essays, Great Musicians, and Notes, Reviews and Observations. It reflects Baraka's soul thoughts on the music and how it relates to its sole creators, the musicians. He discusses the historical seeds of jazz from its long, brutal travel in the dungeon of slavery to the shores of America, to the present, and how the music plays a pivotal role in society, from a social, cultural, political, and psychological perspective.
He discusses the icons: Duke Ellington, Thelonious Monk, Sarah Vaughan, Art Tatum, John Coltrane, Max Roach, Abbey Lincoln, Miles Davis, David Murray, Stevie Wonder, and Jackie McLean among others; and great players who never reached the media's shining radar screen. He expresses his feelings on how their music affected him and the world. In his "Low Coup" (the Afro-American syncretic form of the Japanese Haiku), Baraka writews "In the funk world if Elvis Presley is King, who is James Brown… God?"
Baraka's in-depth interviews (as critic and friend) allowed artists to speak from the heart about the music and its culture; and his views on the young musicians who will take this great music into new zones. Baraka's words have a rhythmic, lyrical flow, swinging hard like Miles Davis' trumpet on his album Jack Johnson. Baraka's Digging journey is as deep as Langston Hughes' great poem "The Negro Speaks of Rivers" sailing from the beat of the African drum, blues, ragtime, jazz, bebop, hard bop, cool to traditional; from the outside, inside out, and back again. One of his bullets for thought state the following, "Afro-American music is internationally celebrated, it employs millions of people worldwide, certainly it could support its creators!"
Digging is an insightful book from a black perspective, the keen eye and critical ears of Amiri Baraka. He is that black voice, that revolutionary messenger that is missing in today's daily journalistic discourse of black music, American Classical music, or jazz.
Ralph Ellison wrote in his Jazz Writings/Living With Music (edited by Dr. Robert G. O'Meally), "Painful experiences go into the forging of a true singer of the blues." Baraka wrote a similar statement in Digging when he suggested, "You would have to believe Tawana Brawley if you heard Billie Holiday sing "Strange Fruit."
In Bill Cosby's interview Baraka comments "Except for Bill's North Philly exceptionalism, his memories of Bopping to the hippest of the new sounds animate my own recall of that period. We Bopped in Newark (before Hollywood made it about teenage suburban gangs) to Bird and Diz, Monk and Miles."
Baraka paints a complete portrait of Nina Simone as an intelligent, caring individual and friend, who like most people often do, got caught up in life's obstructions. This essay sways from her widely publicized misadventures with American promoters and club owners that noted how difficult she was to deal with. "The fact that many times she was in the right and was trying to do what most of us would do, defend ourselves, seldom got through," writes Baraka.
Baraka describes Duke Ellington's great body of work, African American and American, by implementing Dr. W.E.B. DuBois' theory of the "twoness" of the Afro-American people. "The double consciousness which is the configuration of Afro-American social, psychological, and cultural sensibility. Are we black or Americans? The fact is we are both (this is our double-edged sword) but that "twoness" is the basis of schizophrenia only if we cannot realize both aspects of our Western experience," Baraka writes, "To be American, we must be shaped by three cultures: African, Native American, and European."
Music is Amiri Baraka's soulful revolution; poetry his improvised workds. Check out his stride just like an old bopper in the hipper now. Shhh! The revolutionary wordsmith has opened Digging: The Afro-American Soul of American Classical Music. There are lessons to be learned, music to be explored, conflicts to be examined, and musical warriors praised for carrying the torch of their African ancestors from slavery to NOW.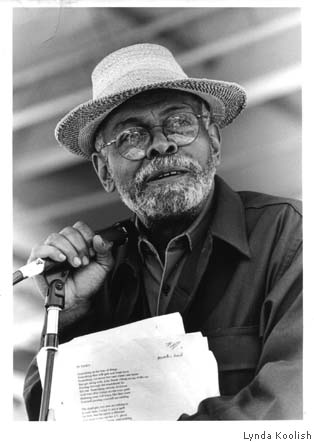 Author-Poet-Activist Amiri Baraka