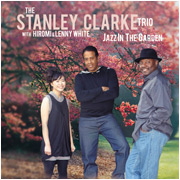 The Stanley Clarke Trio performance last evening at the Barns of Wolf Trap was stellar for several reasons, but mainly for true brilliance at the piano. Back to the Barns for a moment; this is absolutely one of the finest small concert venues in the DC metro area; a friend who was at this gig likened it to hearing a concert in one's living room, it's that intimate and agreeable on all levels. So an opportunity to experience Stanley's acoustic trio, with his longtime partner and drumming brother Lenny White, and Hiromi on piano at the Barns was irrisistable. The problem with the Barns has been that such opportunities to experience the art of the improvisors have been so few and far between in recent seasons that I'd forgotten how great the place is for concerts!
All that aside, the complete revelation of the evening was Hiromi! Stanley and Lenny I've been hearing together since first sighting them on the bandstand with Joe Henderson back in the day; up through the entire Return to Forever odyssey, and assorted sidebars — including interviewing them (Chick Corea, Al DiMeola, and Bill Connors as well) for a couple of 'wherefore art RTF' update pieces in recent years for DB, spending some road time with Stanley as a writer for a series of Black Music Month programs we produced for BET as "On the Road with Stanley Clarke". So Clarke and White's skills are deeply ingrained for me. Their current trio record (with the Japanese wonder) for HeadsUp whet an appetite further slaked by having just seen Stanley and Lenny in acoustic trio with Corea closing out last month's Monterey Jazz Festival in sizzling form. But again, last evening's trio performance for these ears was mainly about finally "getting" Hiromi.
Oh sure, I've seen the diminutive keyboardist more than once, most recently at one of Jim Byers' Rosslyn Jazz Festivals. Sorry but I've just not been overly impressed by her records or her band performances, which have been immersed in her original material and performed alongside musicians of her choosing. And therein lies the rub — as sometimes happens, it took an obviously skilled musician to step outside her own comfort zone into the challenge of master musicians her senior for her prodigious talent to thoroughly blossom. And I must admit that what leaves me short on both her records and her live band performances has been her choice of band associates, which upon reflection was akin to LeBron James hooping it up with the local high school squad; the difference in skill level is that pronounced when Hiromi performs with her own band. Additionally her insistence on performing almost exclusively on electric keyboards with her own band left a chill.
In the spirit of that great film line, "…you had me at hello", Hiromi sold the goods straight out of the box with the opening blues piece. It was immediately clear that, though Stanley and Lenny are vastly more experienced, Hiromi was clearly up to the challenge of their mastery! Not only is hers a skill that encompasses all 88 keys, she is developing a beautiful left hand and her dexterity is outrageous. Her sense of inventiveness is in league with an ebullient energy and a puckish wit that is quite rare. There is an absolute joy and abandon she brings to the keyboard that is deeply infectious. When Clarke introduced her a couple of pieces into the set a woman behind me joyously shouted out "Girl Power"… indeed!
Sometimes when young artists are so immediately impressive the moment the band strikes, one awaits an energy drain, a sense that they shot their wad from the jump and will coast the rest of the set. Such was not the case with Hiromi, who built and built her lines and intuitive qualities throughout the evening, in explosive balance with Clarke and White, who often appeared as if blissfully along for the ride with this youngster. She held up beautifully through a set highlighted by the ancient Japanese piece "Sakura Sakura", Clarke's "Paradigm Shift", standards like "If I Were a Bell", which Hiromi front-loaded with wit, and Clarke's loving return to he and Lenny's days with Joe Henderson courtesy of the sax master's lovely evergreen "Black Narcissus."
After wondering if I was missing the boat on Hiromi, count me as onboard!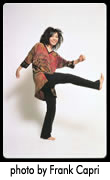 This photo captures the joy Hiromi brings to the keyboard