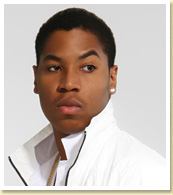 Trumpeter Christian Scott: Impressive!
Our editorial last time listed a few things artists should do to tighten up their end of the audience development equation. That editorial was written purely in the spirit of things we must ALL do to ensure a more robust jazz audience for the future; and in this case I'm speaking of the responsibilities of those who play the music, those who set the stage and present the music, those who record the music, those who educate future musicians — and in this case also most importantly, those jazz educators who teach "lay" people who attend jazz appreciation and jazz history courses sans any tangible desire to play the music — those who represent jazz artists, as well as those of us who consider ourselves fans or enthusiasts, who must subesequently go forth with greater zeal preaching the gospel of jazz to our family, friends, peers and colleagues.
But our editorial dealt specifically with musicians' responsibilities in this equation; and at least one reader took issue, which resulted in a productive email exchange. Subsequently I had the pleasure of seeing a young artist live a few days ago, someone who has been somewhat highly touted as a fast-rising talent but someone whose records haven't truly "slayed" me, as one of my radio colleagues likes to say. I'm speaking of trumpeter Christian Scott, and this wasn't exactly my first sighting. I'd seen — and been impressed by his promise — Christian since he was a green youngster, performing with his uncle saxophonist Donald Harrison onstage at the New Orleans Jazz & Heritage Festival several times years ago.
Since then Christian has matriculated at Berklee, is rapidly maturing as a trumpet player, bandleader, and composer, as he plys and massages what he characterizes as a musical concept incorporating elements of indie rock, hip hop, and jazz all rolled up into Christian Scott music. His Concord records have evidenced a young artist in deep evolution but I can't say they've exactly reached out and grabbed me yet. So it was with a mildly skeptical sense of anticipation; not that I expected the worst or to be bored or disappointed, but one never knows the translation of artistry from disc to stage.
Performing a program entirely consisting of originals — save for his personal jazz propers proving ground "Eye of the Hurricane" (and that's precisely how he introduced the Herbie Hancock burner which they subsequently took at supersonic tempo: as a means of expressing the band's jazz bonafides) — Scott and his quintet (which includes guitar instead of a second horn) were full of youthful fire & vinegar, obviously in great enjoyment of each other's playing, finely communicative & complimentary in their high energy mode.
Where Scott's performance intersected with that audience development editorial on artist responsibility was in Christian's staging and mannerisms. In the introduction of his fellow musicians he wove brief, engaging, funny and at points clearly fabricated (which he kiddingly admitted) stories about each band member that had the audience hanging on every word and chuckling along. With each of his pieces he gave an introductory explanation that further engaged the audience and in some small ways gave them a brief glimpse into his ways & means; in effect demystifying a program of original material that was knotty and complex and might have otherwise flummoxed the audience.
What resulted was an enthusiastic response from an obviously juiced and energized Kennedy Center Jazz Club audience that flocked to his merch table post-set to scoop up his records, and encouraged an autograph line which he patiently and cheerfully accommodated. On his merch table, even if audience members declined a CD purchase, Scott's rep pressed business cards with Christian's photo, web site, Twitter, MySpace, and Facebook links, mini-snapshots of his initial Concord releases, and a "New Album Coming Soon!" graphic in every palm. And in light of another aspect of that artist-responsibility-for-audience development editorial is the fact that Christian Scott is also clearly… shall we say, a fashion forward young artist.
Here was a young artist displaying a healthy measure of the trumpet player's usual ego and hubris in his playing, but once the horn was removed from his lips he was happy to thoroughly engage his audience. Later, on the Kennedy Center shuttle bus to the Metro I spied an audience member enthusiastically telling someone from another show about seeing Christian Scott, displaying that business card of someone she obviously did not know prior to seeing him at the KC Club. That's what I'm talkin' about!!!