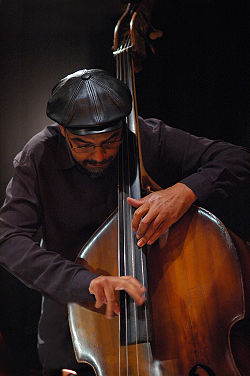 Jamaican-British bassist Gary Crosby, a guiding artistic force behind Dune Records
"…the current jazz media stance has helped develop a pretentious need to be new and cutting edge and often the roots of this music are being ignored."
— Gary Crosby
Some months back at the beginning of this Independent Ear odyssey we ran a profile of Janine Irons, the business force behind the smail but significant British jazz record label Dune Records. Despite its relative youth and welterweight size, Dune Records has managed to provide a nice catalogue that chronicles an impressive slice of young British jazz musicians. Each release has been distinctive, borderline groundbreaking in some instances. Examples of the latter include saxophonist Denys Baptiste's essential Let Freedom Ring, with its striking use of original compositions based on freedom & liberation struggles, at times engaging powerful spoken word. Saxophonist Soweto Kinch's efforts have displayed his gritty urban storytelling spiced with what may be a jazzman's most successful efforts at rapping. And the Jazz Jamaica All-Stars big band is the truest effort in memory at bringing the jazz big band tradition to island riddims. Add New Orleans transplant trumpeter Abram Wilson to the mix and though the Dune roster is lean and tight, there is indeed a good measure of diversity in its offerings.
Janine Irons on the business side of Dune Records laid out a nice DIY roadmap. This time we turned our focus to the artistic side of Dune. And to do that we called upon Janine's partner, bassist Gary Crosby. Born in London of Jamaican parents, after an initial joust with the trumpet Gary Crosby studied the bass with the noted UK bassist Peter Ind as a teen. He went on to be one of the original members of the Jazz Warriors, which included saxophonist-composer-bandleader Courtney Pine, who our own John Murph has likened to a Marsalis-like figure for young British jazz musicians, a true beacon. In 2009 Queen Elizabeth awarded Gary Crosby the Order of the British Supreme. In between he has not only played with the cream of British jazz, he has also worked with his uncle the famed Jamaican jazz guitarist Ernest Ranglin, as well as Art Farmer, Gary Bartz, Jimmy Witherspoon, Sonny Fortune, Stanley Turrentine, Jon Hendricks, Art Blakey, Larry Coryell, Carmen Lundy, and Vanessa Rubin among an impressive roster of artists Crosby has worked with on their British jaunts. Gary Crosby proved to be willing and informative.
How did you come to play this music we call jazz? What's your background in the music and how's a fine gentleman with Jamaican roots gravitate towards this music?
Hearing Ella Fitzgerald on a TV program in 1971 (Jazz 625). She and her band were playing a soul/jazz blues which reminded me of a reggae bass line, so I searched my dad and uncle's record collections to find that vibe again. I found that connection with Basie, Louis Armstrong, and Gene Ammons among others. I began to find tracks on these albums that I could relate to with the music I was digging at the time, and my political interests at that time, the jazz of the early to late 60s. Coltrane's Africa Brass, Max Roach's Drums Unlimited, Randy Weston's African Cookbook (the first jazz albums I got). These, along with albums by Fela Ransom, Bob Marley, Cedric Brooks and the Mystic Revelation of Rastafari, and the Music of Studio One, were soundtracks in my mind to the struggles of the oppressed.
Also, I knew my uncle, Ernest Ranglin, played jazz guitar at Ronnie Scotts. At poker and drinking sessions at my parents house I would hear big man dem a talk about Eric Deans and Sonny Bradshaw, real music not dis dyam boof baff music. I was once asked about my trumpet playing and would I be joining Jamaican jazz musicians Joe Harriott, Shake Keane, and 'dem guys down 100 Club in Soho'. Who me? Wine, women, song… boy did I practice that night! These experiences were the beginnings of my jazz interests, but playing the trumpet soon stopped after the youth club which I went to stopped the lessons; I still fooled around various instruments, but it was when I took bass lessons with the great Peter Ind, who played with Lennie Tristano, that I really felt I wanted to be a jazz musician, but boy what a struggle it has been, there was no frame work to support a working class black youth with a chip on his shoulder. I just did not know where to start, but the greatness of this music is that no matter what level you are at, there's always a way in; workshops, small local gigs, or free concerts at a youth centre. Or you ask an older musician how and some one will come to your rescue and point you in a direction that leads to someone or somewhere where you can learn a bit more.
Talk about the development of the British creative music scene as you were evolving as a musician.
When I first started, I played mainly in wine bars, small jazz clubs, some pubs, and a few private functions. But after my association with the famous Jazz Warriors Group (Courtney Pine, Steve Williamson, etc.) I started to play more large concert halls and dedicated jazz clubs. I feel the standard of musicianship today is higher due to the abundance of college music courses, but is possibly lacking the musicality of when I first started out. There's also more public funding for musicians/composers, which I feel has raised the standard, giving [musicians] more time to refine their art forms. But I think it's important to keep the spontaneity and improvisation that a live performance gives.
How would you characterize the jazz "scene" in the UK here in the 21st century?
The UK is possibly one of the most culturally diverse scenes outside of America. However, the current jazz media stance has helped develop a pretentious need to be new and cutting edge and often the roots of this music are being ignored. That, along with artistic self-importance has lead to a narrowing of what could possibly be a more diverse audience.
We featured a conversation with Janine Irons on the subject of Dune Records in past months, but please tell us from a musician's perspectie what kinds of decisions and work have gone into developing the label.
After a couple of years of rethinking/planning we are back in the struggle of helping creative Dune artists document their works, and our next three albums are possibly our most mature sounding works so far.
[At the time this was posted Abram Wilson's latest Life Paintings had just been released on Dune.]

Abram Wilson
Talk about your ongoing Tomorrow's Warriors projects supporting young musicians.
Tomorrow's Warriors continues to develop young jazz musicians and now has more reach than it had in the past. The introduction of the Tomorrow's Warriors Orchestra and its satellite smaller ensembles allows us to aid the development of those with little or no support. We host regular jam sessions and open days at the Spice of Life and have recently been given a residency at Southbank Centre. That, along with opportunities for younger musicians to perform/record with the more established artists on the Dune roster provides them with experience and goals for the future.
Will there be new incarnations of the Jazz Jamaica All-Stars?
Yes, in 2012 the Olympics come to London which is also fifty years of Jamaica which would give us a context, so yes we have great plans for that band.
What kinds of opportunities are there for creative musicians like you to tour outside the UK?
All over Europe there are public-funded art centres and concert halls. The British Council helps artists from the UK to tour outside of the country and Jazz Jamaica have a strong European following.
What current or future projects are you most excited about?
Tomorrow's Warriors Jazz Orchestra (TWJO), Denys Baptiste's new project, Rhythmica (former Tomorrow's Warriors), and Abram Wilson's new quartet all have stepped up to the challenge of helping keep this great art form alive in our community.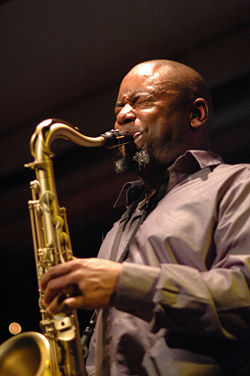 Denys Baptiste's Let Freedom Ring, an essential Dune release…
Besides South Africa, the UK is one place where we've seen the development of jazz or creative musicians of African descent. Is that development ongoing and should we expect more "Afro-Peans" coming out of the UK?
Yes, at our weekly sessions we are seeing more Africans: Zem Audu, Peter Edwards, Eddy Hick, Nathaniel Facey, Miles James, and next year I could add some new names. Something is happening in the West African/Nigerian community here; the middle class and aspiring Africans are giving their kids classical music lessons who then discover jazz, but lack of work has forced some to live elsewhere — Europe, America, and some will go back to Africa. It will be interesting to see where this leads 10-15 years from now.
Talk about your recent honoraria from the Queen.
I took this award [the Order of the British Empire] for the Tomorrow's Warriors project, and the publicity. This award has helped the awareness of what we do and want to achieve. Also, my parents are proud that their son is now an Officer of the British Empire. It took a little change of my values to accept it. I had to put aside my own vision of myself at the services of Dune and Tomorrow's Warriors.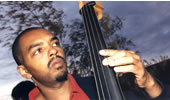 Gary Crosby, in service to the music.