On September 17 an editorial appeared in The Independent Ear on the subject of the musician's responsibility in the overall jazz audience development equation. That piece was followed by an October 7 posting on a Christian Scott sighting at the Kennedy Center Jazz Club. One part of that sense of the artist's responsibility to his/her audience dealt with the need for artists to be more meticulous and caring about their onstage appearance. Now it seems that line of reasoning has begun to develop some conversational momentum on its own.
Don't sleep on saxophonist Greg Osby's take at www.indabamusic.com/studioaccess/gregosby/blog/6199-jazz-bums. In his very reasoned — and in usual Osby fashion — quite forthright assessment of the state of musicians' onstage dress these days, he adds this telling quote from a conversation he once had with the grandmaster Dizzy Gillespie back in the day, when Diz's cogent assessment was "…They SEE you before they HEAR you…"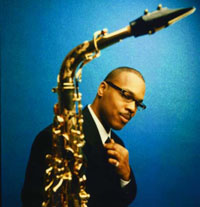 Greg Osby, whose new Inner Circle record label was profiled some months back in The Independent Ear
Here's an example of the points Osby makes in his post: "I would further contend that this slacker mode of dress has contributed to the devaluation of the music in terms of visual presentation and a steadily increasing lack of respect for an art form whose very participants sometimes don't appear to have much respect for anything other than subjecting their audience to 10 chorus length solos and songs that last 30 minutes each — AND looking like derelicts while doing it!" Amen to that!
Trumpeter Sean Jones, who as recording artist (Mack Avenue), bandleader, lead trumpet in the Lincoln Center Jazz Orchestra, educator (Duquesne University), and more recently as artistic director of the Cleveland Jazz Orchestra clearly has his finger on the pulse from several perspectives, began a recent Facebook dialogue on the subject thusly: "Last night, I had a brief conversation with some folks and they were discussing musicians' appearances on stage. They felt as if musicians were disrespecting the music as well as their audience by not presenting themselves with class. Some went as far as to say that musicians should be in "semi-formal" attire at the minimum when performing. I've gone back and forth on the subject and the older I get, the more I care about how I present myself in public. It also seems to be an unspoken part of the jazz tradition in that "cats were clean" back in the day."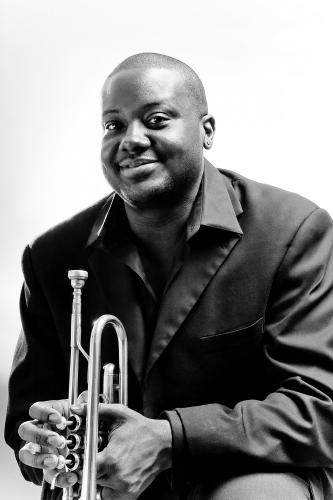 Sean Jones knows what time it is…
So what's your take on this issue? Comments below are welcome & encouraged…