Our ongoing series of conversations with black jazz writers continues with one who doubles as an active musician-bandleader, Greg Tate, leader of the burning, probing, inquisitive, boundary-free ensemble known as Burnt Sugar. Greg has contributed to a variety of publications, becoming most widely-read from his days as a frequent commentator for the Village Voice, where he was a staff writer from 1987-2003. A steadfast chronicler of many forms of black music, Greg Tate is a journalist-provocateur.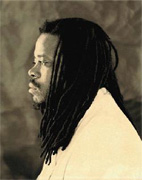 Writer-musician-producer-conceptualist Greg Tate
What motivated you to write about serious music?
Reading Amiri Baraka's book Black Music and Rolling Stone magazine when I was about 14 made me want to become a vinyl collector and a music journalist.
When you started on this writing quest were you aware of the dearth of African Americans writing about serious music?
I was very aware of it because in my teens I came to know who all the Black journalists who had ever written for Downbeat were — Baraka, A.B. Spellman, Bill Quinn, W.A. Brower. Being a DC native I know about The Washington Post's Hollie West, and I knew Phyl Garland had done some things at Ebony. But even on the R&B/hiphop side outside of the Black Press there are few Black music writers being published. To this day I think Rolling Stone hasn't published more than 5 Black writers in its history — Nelson George, myself, Cheo Coker, Toure, Kris Ex. The NYT has never had a regular Black jazz writer.
Why do you suppose that's still such a glaring disparity — where you have a significant number of black musicians making serious music, but so few black jazz media commentators?
Because by and large, music editors aren't interested in diversifying their rosters. Hiphop music, when it was younger and fresher, marked the first time in African American history where the majority of writers covering it for the Voice, The Source, and VIBE were Black. The ratio there flipped once corporate interests took control over the creative aspects of that music — so that now at many major hiphop publications the writers are non-Black.
The cultural ignorance of non-Blacks about Black culture and hiphop created openings and opportunities for Black writers at the birth of hiphop when the fanbase was largely Black. Once that changed and the music became more predictable and redundant, the most talented, most thoughtful Black hiphop writers became less interested in writing about it. Of course with jazz the problem is that so few educated African Americans even support it — preferring black pop over jazz — somewhat analagously to Ivy League-educated Euro-Americans who would consider themselves stupid for not knowing what Richard Serra or Gerhard Richter are up to, but yet feel no shame in not keeping up with the symphonic tradition.
Do you think that disparity or dearth of African American writers contributes to how the music is covered?
To some extent, though I think that about all aspects of the news! But the real problem with jazz is that it's no longer a form of expression where what Black musicians do or don't do matters to most Black Americans. Jazz has more meaning for Black Americans as a history lesson than as a living, breathing cultural experience. It's not on Black radio or TV programs, or in Black schools, neighborhoods or churches, so it's pretty irrelevant as far as the modern Black experience goes. The question is how much longer will contemporary jazz even be considered a 'Black' art form in America. The notion of Black Jazz actually has more weight in London now than in all 50 states of the Union.
Since you've been writing about serious music, have you ever found yourself questioning why some musicians may be elevated over others and is it your sense that has anything to do with the lack of cultural diversity among writers covering this music?
Not really — the lack of cultural diversity is an editorial politics problem. And I'd need you to be more specific about the 'elevation of some over others' issue — like who do you mean — and to what effect? Because Wynton and the JALC guys make all the real money in American jazz — I don't know any jazz musicians of any color not in that band will ever make what those cats make, not even if they had 3 lifetimes.
[Editor's note: Lest we forget… Sonny Rollins, Ornette Coleman, Keith Jarrett, Herbie Hancock, Wayne Shorter, Branford Marsalis… and that's not taking into account certain singers, like Diana Krall whose fee is in the relative stratosphere for someone performing acoustically who is jazz-identified… are examples of uncompromising jazz musicians making relatively good money — take it from someone who books and presents jazz concerts & festivals.]
What's your sense of the indifference of so many African American-oriented publications towards serious music, despite the fact that so many African American artists continue to create serious music?
Jazz might as well be dead as far as the majority of Black Americans at every class level are concerned. If Culture is defined as what people do, then we can say that in significant numbers Black people don't do jazz anymore.
How would you react to the contention that the way and tone of how serious music is covered has something to do with who is writing about it?
Not to be vague, but I'd say this to be true of writing about anything. If you're asking whether a black or a white writer is covering the music I'd say look to the individual before the ethnicity.
In your experience writing about serious music what have been some of your most rewarding encounters?
My interviews with Miles Davis, Ornette Coleman, Wayne Shorter, Marion Brown, Henry Threadgill, Dexter Gordon, and Betty Carter. Pulling together a tribute page to Lester Bowie after he passed that involved many of his generational cronies, like Don Moye, Oliver Lake, Henry Threadgill, and Butch Morris, respected elders such as Max Roach, as well as [Lester's] wife Deborah, and his good friend Thulani Davis.
What obstacles have you run up against — besides difficult editors and indifferent publications — in your efforts at covering serious music?
None worth speaking of. Been pretty blessed since I spent most of my music writing career at a publication that for years had two of America's best jazz journalists on staff — i.e. [Stanley] Crouch and [Gary] Giddins — the good olde school version of the Village Voice.
If you were pressed to list several musicians who may be somewhat bubbling under the surface or just about to break through as far as wider spread public consciousness, who might they be and why?
Arne Henriksen, Taylor Ho Bynum, Matana Roberts [editor's note: look for a forthcoming I.E. contribution from her] — all adventurous players and major free-thinking conceptualists with their own distinct sounds and ideas. Even though he's in his 80s, Bill Dixon, a man who many jazz people are still mystified by — is certainly the most influential voice on trumpet since Miles.
What have been the most intriguing new records you've heard this year so far?
Arne Henriksen's Cartography
VIjay Iyer's Historicity
ECM's reissues of Bennie Maupin's The Jewel in the Lotus; Marion Brown's Afternoon of a Georgia Faun; Dewey Redman's The Struggle Continues


The latest from Greg Tate's blistering ensemble Burnt Sugar