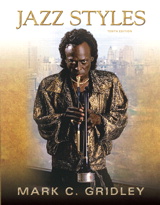 Prentice Hall has released the 10th edition of Jazz Styles
Jazz Styles has long been one of the most concise, comprehensive and useful jazz text books. Although the characterization here is of Jazz Styles as a textbook, it should certainly not be taken as some weighty, dry, academic tome to only be encountered by those to whom it has been assigned reading for some jazz course or other. Jazz Styles is a very useful book for anyone wishing to explores the whys & wherefores of jazz, from both historical and stylistic perspectives.
True confession: I've employed the book very effectively for university jazz courses I've taught and referred it frequently to those I encounter who simply want to get a better grip on how jazz is made. The author of Jazz Styles is Mark C. Gridley, a professor at Heidelberg College in Tiffin, OH who is also an accomplished flutist. The 10th edition of Jazz Styles, which as with each subsequent edition since the first, has been suitably updated to reflect where jazz is at in 2009, The book is accompanied by a comprehensive demo CD as well as the 6th edition of Mark's companion book Concise Guide to Jazz, a particularly essential resource for teachers.
The 6th edition Concise Guide to Jazz
I've been fortunate to have known Cleveland's own Mark Gridley for years so on the release of these new editions I reached out to him for his take on how Jazz Styles has endured through ten editions.
What have been your standard tweaks in subsequent editions through the years?
Certain processes have to be a part of each revision. For instance, once we whet your appetite to hear a jazz giant we want to make sure you can actually get his best recordings. The status of reissues is changing all the time, so Bill Anderson, my discographer of many years, verifies that all of the references to recordings are as current as possible; and there are over 500 footnotes to do this.
I am sad to say that many of the giants of jazz history are passing away, so part of my mission is to make sure the reader is aware of their passing by updating the book with accurate death dates. Then I have the unhappy task of putting the paragraphs about them in the past tense. I also spend a few months tweaking the phrasing of selected passages.
A pleasure for the researcher and jazz fan in me is always the process of adding names of new musicians who reflect the influence of the profiled figures, in order to put the new names in perspective and document the reach of the profiled figures.
Finally, I am also continually on the lookout for new or better photos of musicians.
What have been the major additions to the book, not just standard tweaks, over the years?
Little by little, over the past 9 editions, I've added more about the origination of the earliest jazz in New Orleans and the development of new styles elsewhere; these have included jazz-rock fusion, acid jazz, Klezmer jazz, Latin jazz, new age, and smooth jazz. But most of all, adding recordings and listening guides have been the major additions with each successive edition. For example, the first two editions didn't come with recordings, so the serious student had to search for vinyl. Remember, the first edition was published in 1978. It did have listening guides, however, for selections on the Kind of Blue album by Miles Davis and a few classic Duke Ellington recordings, such as the 1940 "Cottontail" and "Take the 'A' Train."
The third edition in 1988 introduced an audiocassette that had 177 narrated demonstrations of instrument sounds and methods that musicians use to make jazz. We called it the Jazz Styles Demonstration Cassette, and it eventually came out in CD format. The fourth edition, which came out in 1991, added a 90-minute audiocassette of historic recordings along with minute-by-minute, solo-by-solo listening guides for most of its contents. We called it the Jazz Classics Cassette.
Successive editions have gone from cassette formats to CDs, from one CD of historic recordings to two CDs, to the new 10th edition which adds a third CD containing examples of styles ranging from hard bop to Latin jazz, jazz-rock fusion to Klezmer jazz, and ECM style to neoclassic jazz. The 10th edition also includes 17 new listening guides, and we now have a DVD format for the Demonstration CD and another DVD that samples historic jazz films. Who knows what technology may bring in the future?
Throughout the years I've been fortunate to have input from musicians, jazz historians, educators, and musicologists. I've also been able to test my materials on students to make sure that what I'm trying to convey is as clear as possible. I take all of their contributions into consideration each time I revise the book. For example, analyzing the recordings to prepare 17 additional listening guides for the 10th edition required about a year of steady work with the aid of 11 consultants. These helpers included musicians from my own bands, musicologists who specialized in the period or performer in question, and other jazz history instructors. In some cases, I received assistance from the same musicians who played on the recordings that I was analyzing. In a few very lucky cases I managed to obtain scores from the composers themselves. After preliminary drafts were completed, I tested my new listening guides on non-musician students. Then after crafting rewrites based on the reactions of the students, I submitted later drafts to eagle-eyed friends for two or three more rounds of copy edits and proof-readings. Such proof-reading often led to more rewrites and further testing on students.
What is it about Jazz Styles that has made it such an enduring and valuable teaching tool?
Musicians, editors, instructors, and students have told me that the book is scholarly and user-friendly at the same time. It seems to appeal to readers on every level from the complete novice to the jazz expert. And although it's marketed as a textbook, any individual who is interested in learning about jazz can use it without enrolling in a formal course. When combined with the CDs, it can provide a self-paced introduction to jazz.
Teachers don't want to be confined to teaching the material in one pre-determined way. The omnibus format of the book is so flexible that a course can be designed around it in any number of different ways. I've received a lot of feedback indicating that people who are knowledgeable about jazz agree with my choice of musical selections for the listening guides and CDs. This means that regardless of whether you're enrolled in a class or studying on your own, you have everything you need to get started without running around searching for classic recordings.
Many readers have said the writing "is so clear". For example, in a course that requires Jazz Styles at Berklee College of Music one student told me that his instructor held the book up and told his class "I wish I was as organized as this guy is." A number of readers have told me that they like how I put the giants in perspective by tallying the musical reasons they are important and documenting their influence by the "bloodlines." Readers have said they like that I point out how each innovator has drawn from previous giants, and, as paraphrased here from Herbie Hancock's Grammy acceptance speech, how "we stand on the shoulders of those who came before us."
Additionally, instead of focusing just on the soloists, my work is exceptional in directing listeners' attention to the accompanying sounds in jazz, such as piano comping, bass lines, drumming figures and how they differ depending on whose hands they are in. The goal of Jazz Styles is to develop a knowledgeable and appreciative listener.
For many this music we call jazz remains a bit of a mystery. How have you gone about "demystifying" jazz through the various volumes of Jazz Styles?
Without insulting the reader's intelligence, I start with the basics. For example, I've got photographs of the various instruments and recorded examples of how each one sounds. I take the time to explain how to count, keep track of measures, and follow the form of a tune. Next, I provide an explanation and recorded examples for the roles of the different instruments in a group. For those who want more technical information, it's in the appendix of the book.
The listening guides throughout the book offer moment-by-moment accounts of what is happening in the music, how the players are responding to the form of the underlying composition and the unwritten rules of interactive performance. My emphasis is always on listening to music. One reviewer wrote that he was impressed that I urged readers initially to listen to the same piece five different times, each time paying attention to a different aspect. I believe that the only way to become a skilled listener is to practice listening!
I strongly believe that the music is what's important, which is why I don't speculate about sociopolitical origins for the styles or gossip about the private lives of its creators.
What would be your recommendation for the most useful means of engaging this book to educate people who know nothing about jazz music?
First listen to the Demonstration CD's 157 narrated examples of instrument sounds and the basic elements for making jazz. Then coordinate that with studying Chapter 3: Appreciating Jazz Improvisation. Listen to the historic recordings on the Jazz Classics CDs while following the book's listening guides. Listen to each one lots of times and give it a chance to "soak in." Practice paying attention to the basic elements of jazz whenever you are listening to jazz recordings and live performances. Don't get discouraged if you don't "get it" right away. Fine music is an acquired taste, just like fine wine. The more you listen, the more you understand, and the more you enjoy.
What do you foresee for an 11th edition of Jazz Styles?
Jazz is a continuously evolving art form. Therefore, I am constantly on the lookout for new directions. And occasionally a historic recording or document will come to light — like the Coltrane-Monk Carnegie Hall concert from 1957 that was "found" in 2005 — giving me something new from the past to share with my readers. Jazz Styles will always be a work in progress.