Friend, colleague and veteran journalist-commentator Howard Mandel has launched a very clever and useful campaign in response to the dire jazz audience reportage that has been flying out here recently in response to the recently-released — and deeply flawed — National Endowment for the Arts audience survey, and subsequent teeth-gnashing of Ted Gioia in www.jazz.com and Terry Teachout in the Wall Street Journal. Like many of us — including Nate Chinen in his follow-up piece in the New York Times, Howard is skeptical, feeling the survey was flawed in overlooking what he characterizes as "…a significant segment of the vital audience for live jazz today…"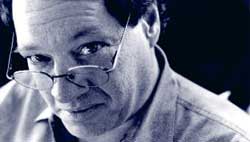 The intrepid Howard Mandel: on the case for a truer picture of the jazz audience
In response he is advocating for the following social networking experiment which The Independent Ear wholeheartedly endorses; Howard writes…
A campaign has been launched on Twitter to prove there IS a large, vigorous audience for live jazz. It's not a promotional effort for upcoming events, but rather a shout-out about what music jazz people have just heard, WHO and WHERE with the hashtag #jazzlives (all within Twitter's 140 character limit). This is somewhat in response to the NEA's 2008 data about diminishing and aging audience at live jazz events (and all other arts events), which I believe undercounted a significant segment of the populace, probably including those who use social networking media to stay in touch and energize each other around their entertainment preferences. It's also an experiment about the use of Twitter for jazz, whether such a campaign can go viral, maybe move to other social networking platforms, and whatever else may result.
So, if you Tweet (and Twitter accounts are free), please send a message that jazz lives! Tell the world WHO you heard, WHERE [you heard them], and include #jazzlives in the message. We ought to be able to work up a new metric (though it won't be a certifiable statistic) demonstrating the energy and breadth of jazz listeners, especially in the US over the weeks starting with the Charlie Parker Fest in NYC this weekend, including Labor Day weekend's jazz fests at Tanglewood, in Detroit, Chicago, LA (both the Angel City and Sweet & Hot Music Fest), Philly (Tony Williams Scholarship fest), Jazz Aspen Snowmass, Vail Jazz Party, Bumbershoot in Seattle, Getdown fest and campout, leading to the Monterey and BeanTown (Boston) fests. It's not ONLY about audiences at fests though — Tweet about jazz heard in stand-alone concerts, in clubs, in the streets and subways, anywhere jazz lives. Jazz heard in live-broadcast on the radio or online counts!
The hashtag, by the way, is essential — it's what enables us to see all the campaign's Tweets together, to count them up.
A widget has been created to show the Tweets scrolling as they come out in real time — you can see this widget on my website — www.HowardMandel.com, and I hope soon at www.Jazzhouse.org — you can also embed this widget on your own website — get the code from Darcy James Argue's Secret Society vkif, http://secretsociety.typepad.com/
If you aren't on Twitter, you can advance this effort by mentioning it in blog postings, on broadcasts, to friends, through email… I wonder if there are as many listeners who will Tweet they've heard live jazz in the next few weeks as there were people at Woodstock.
Write to tweetjazzlives@gmail.com for further info…