With the demise of the traditional record store as we know it, crate digging — a term from hip hop parlance denoting those dedicated souls who surf the stacks at used and rare record stores (treasured outlets like the Jazz Record Center in New York, the Jazz Record Mart in Chicago, or Joe's Record Paradise in Silver Spring, MD), rummage sales, thrift shops, used book stores, garage sales, etc. has become a bit of an adjunct art form. The kind of dauntless record mavens we're featuring in this column are generally not of a digital mind; these are collectors in search of rare or otherwise enticing vinyl recordings. Our first crate digger was pianist-composer Ethan Iverson of The Bad Plus. In this installment we hear from music journalist John Murph.
Back in the mid-1980s when CDs began their market domination, based on claims that have since been somewhat disproven of the durability and enhanced sonic universe offered by compact discs — not to mention the obvious advantage of their relative compactness — some hasty record collectors liquidated their vinyl collections in favor of this neat new format. I'm sure you know such misguided individuals. Considering that you may have been a happy beneficiary of such haste — likely through some local old-vinyl purveyor or other — was that folly or prescient move on their part?
Well, I wasn't so much of a beneficiary of music lovers liquidating their vinyl in favor of CDs as much as having family members who had huge amounts of vinyl but didn't archive it with the care that I did. As much as many of my family members loved LPs, a lot of them treated them like old Jet and Ebony magazines… there for the taking of anyone. They weren't alphabetized or encased in protective plastic sleeves or the sort.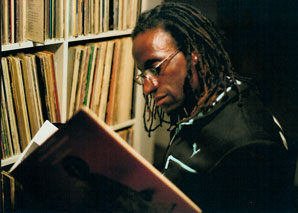 John Murph, dedicated Crate Digger
Whether [the act of those misguided individuals in liquidating their vinyl collections] was folly or prescient move all depends upon how that person viewed and valued music. To some, a huge record collection is an eye-sore, something that's taking up a lot of room. If they have no interest in the collection, whether from an artistic level or a monetary level, then how can you chalk it up as folly?
I must say though, that it really gets underneath my skin when I do see vinyl that's poorly cared for. I have to watch myself and realize that my passion for vinyl may not necessarily be their passion.
What is it about vinly recordings that continue to hold such fascination for you?
Well, I'm a romantic when it comes to music. I truly like the sound of Lps — the warmth and breadth that you sometimes don't get on CDs and most certainly [not] on MP3s. There are also some classics that just work better on vinyl than CDs. For instance, Marvin Gaye's What's Going On. Side one concludes with "Mercy Mercy Me (The Ecology)," a song that ends with this eerie operatic voice chorus. When you listen to that on vinyl, it becomes even more intense and stark because there's silence at the end and you have to go and flip over the Lp. On [compact] disc, the impact is lessened because it just goes on to the next song. Another good example is Sly & the Family Stone's There's a Riot Going On, on which the Lp version had listed the title-track on side one but with the time code 00:00. The dark irony of that is lost on disc. Kate Bush's Hounds of Love Lp is divided into two parts — something that could get lost on the disc version.
There's also the artwork (both the jacket and the record label itself) and the physicality of having to take care of it that I really appreciate. Casablanca Records had some of the best packaging in the 70s. Overton Lloyd's pop-up art for Parliament's Motor Booty Affair is still a high-water mark for Lp artwork design. And that was followed up with the elaborate Lp packaging of Gloryhallastoopid, which expanded the gatefold into a three-page comic book.
When I see someone with a handsomely displayed vinyl collection, I recognize that person's passion for music, one that developed over a long period of time. And you can also sense that person's search for some rare Lps and whatnot. I get really cynical when I see some of these overnight DJs with Apple laptops filled with MP3s, yet when you go to their homes, you see no vinyl or CDs. Where's the struggle for that rare groove? And sometimes when you talk with them they can't even tell you their favorite record stores or record label from a design standpoint (e.g. Sussex, Chisa, and Curtom)… Charlatans!
Now that MP3 is a reality — not to mention whatever formats the technocrats may cook up in the future — has vinyl receded even further in the rearview mirror, ala the 78 rpm format?
Industry experts cited a resurgence of vinyl in the past year, proving that there is a small niche market for vinyl. It's unlikely that it'll return to its pre-CD heyday, but vintage vinyl reissues continue to have marketability and an appeal that even CDs haven't attained.
As you go about merrily crate digging for old vinyl recordings (and you literally have to do some digging at one of Murph and my favorite vinyl outlets, Joe's Record Paradise in suburban DC, because a significant number of their vinyl recordings are contained in crates sitting on the floor)what kinds of things attract your attention?
Artwork and personnel are important to me. So is the quality of the music and to some degree the rarity. Crate-digging sometimes helps me connect the dots before they've been documented by journalists and book writers. Also, the condition of vinyl is important. If the cover is all moldy and the record is scratchy, most likely I won't buy it, regardless of its rarity or significance.
Bluebook and other record ratings systems, in terms of the "book" value of supposed rarities aside, what in your gaze truly constitutes a "rare" vinyl record find from a collector's perspective?
Hmmm… I'm not sure if I can really answer that. For me, its how many copies were originally issued; it it's reissed on CD, and if it's out-of-print. That said, just because something is out-of-print and hasn't been reissued doesn't necessarily warrant my attention. Some things are rare simply because they were bad.
Besides the rare items, when you hit the stacks do you generally have a "wish list" in mind or are you so intrepid that you simply delight in the process purely in hopes of uncovering some useful nugget or another?
If I know I'm going crate-digging, then I will bring a wish-list. Sometimes a wish will pop up and I won't be satisfied until I find it. One of my recent finds was the Voices of East Harlem's Lp Right to Be Free. Once I found that, I didn't even go into the other bins. I was good for that day.
Other times I just run across some flea market or some random store, and blindly comb through a stack. Sometimes I find something I'm interested in, sometimes I don't.
Talk about some of your recent vinyl "finds" and what it is about that/those record(s) that attracted your interest sufficently enough to cop a purchase?
Well, as I said earlier, I found Voices of East Harlem's Lp Right to Be Free. I love that period R&B. It's very Harvey Fuqua-esque in that huge ensemble of singers (ala New Birth) that combines funk, jazz, and gospel. A lot of my favorite DJs, such as Charlie Dark, DJ Spinna, and Joe Clausell refer to that album a lot. I'm not sure how rare it is, but last week I found a Lp copy of Steve Reich's Desert Music. It has this hypnotic electronica vibe to it that reminds me of some of the stuff coming out of Detroit (Moodyman, Carl Craig, and Theo Parrish) and Germany (Kraftwerk and Jazzanova). For some reason, some of it would work underneath that magnificent break in Michael Jackson's "Wanna Be Startin' Something." Another recent good find is In Harmony: A Sesame Street Record that came out in 1980. The music is incredible; it features Al Jarreau, George Benson, the Doobie Brothers, James Taylor, Carly Simon, and a few others.
What have been your favorite sources or retail outlets for vinyl record crate digging — whether that be stores, private collections, garage sales, record conventions, or some other sources?
For me living in Washington, DC I would say that Joe's Record Paradise in Rockville, MD [relocating soon to neighboring Silver Spring, MD] is my favorite place to crate dig. Not only does the store have an incredible selection, the staff is top-notch — knowledgeable and friendly. The store reminds me of an iconic barbershop, in which you can spend hours talking to various other customers and/or the staff about a range of topics. I also look at Dusty Groove (www.dustygroove.com) based in Chicago.
What would you recommend to those with an interest in seeking out old vinyl recordings?
Eat first. Go with other crate-diggers. Set a budget. And have fun…
Any further thoughts on the subject?
I love my vinyl!
John Murph is a regular contributor to Down Beat and JazzTimes magazines, and The Root (www.theroot.com).
P.S. The Independent Ear's latest treasured vinyl "find" is the vocal ensemble The Metronomes way-out-of-print Lp Something Big! (with excellent Melba Liston arrangements and an unusual Junior Mance-Les Spann-Henry Grimes-Grady Tate rhythm section) on the old Jazzland label. Discovered on a crate digging expedition to Joe's Record Paradise just last week!