Pianist-composer and humorist Bill Anschell (Google this guy and that's exactly the heading for his www.billanschell.com web site) recently posted perhaps his most comprehensively dark humor piece yet, at All About Jazz (www.allaboutjazz.com). (It should be noted here that Bill Sent The Independent Ear a copy of the piece at the approximate time AAJ published it, so I had a fall-down-laughing preview.) Titled "Careers in Jazz" the piece pokes fun at the various stages and characters who occupy this often circuitous jazz life, with a particularly wicked, no holds barred look at several tiers of the jazz musician's life — from wedding band and incidental music jobbers to the relative elite who make records and tours.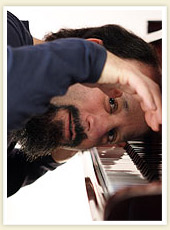 Bill Anschell: No doubt seeking the humorous chords in his keyboard
Bill's piece comes at a particularly fortuitous time as the jazz community reels from the dire "…oh jazz, 'po jazz, woe is jazz…" dissections of the recent and quite questionable National Endowmwent for the Arts audience survey, particularly those written by Terry Teachout in the Wall Street Journal and Ted Gioia in www.jazz.com; those sobering pieces were followed by Nate Chinen's quite reasonable what's all the fuss about? follow-up in the New York Times — which prompted drummer-percussionist-educator Bobby Sanabria waving the red flag in the Latin Jazz Group posts on Yahoo.
Perhaps certain folks' emotions were a bit raw in response to the dark findings of that NEA survey about the eroding audience for jazz, but curiously some folks missed the humor in Anschell's piece entirely, including at least one coward hiding behind a pseudonym. (Come on people, when you make a comment in response to a by-lined piece whose author makes no bones about his/her identity, at least have the courage of your supposed convictions by using your real name for God's sake!) I've known Bill for many years, dating back to his days as an arts adminstrator first at the Association for Performing Arts Presenters, then the National Endowment for the Arts, and finally at Southern Arts Federation where he produced an outstanding series of compilation recordings spotlighting under-publicised jazz artists in the southeast region. Some may not know it but Bill's also a damn fine pianist in his own right, winner of a Golden Ear Award for Acoustic Jazz Ensemble of the Year in the Northwest, where he makes his Seattle home base.
But more to the point Bill Anschell is a first-class humorist. You know how certain jazz musicians have cleverly diversified their audience reach (and subsequent presenter appeal) by making themselves available in myriad band contexts and projects? I'm almost certain Bill Anschell could comfortably add a stand-up comedy routine to his serious trio performances and broaden his reach, the guy's sense of humor is that impish. In the past he has entertained his friends and fans with his series of humor-based newsletters; more recently his pieces have appeared in AAJ. Bill and I "virtually" shook our heads in recent email exchanges about how certain respondents to his "Careers in Jazz" piece just didn't seem to get it. So I asked Bill for a short follow-up to "Careers in Jazz" for The Independent Ear. Here's what he wrote:
I was making fun of myself at least as much as I was pointing at anyone else. I pretty much always do. I've been several of these categories: Gig Whore (gotta take the high-paying gigs when they come along, and yes — the old cruise ship gig fits that profile too, though the money was lame), Career Professional (aka Arts Administrator), Educator (adjunct at Georgia State University), and Working Wife (we split the income burden about down the middle). At best I've peripherally approached being a Chosen One through my touring with Nnenna [Freelon], and with my trio, and some nice concerts and recording sessions I do [in Seattle] from time to time, but there's no way I qualify as being among the elite. The people who have objected to the piece seem to think I see myself as above the fray, and it couldn't be less true. Almost all my stories are drawn from my real life experiences.
The online posts ragging on my story are written in a woe-is-me tone that reminds me of the people that used to sabotage jazz conference sessions by going on endlessly about the indignities they face as jazz artists. I'm sure you know what I'm talking about. The biggest irony of all is that my story's premise is essentially that an uncaring world forces artists to take all these ridiculous career paths, and while I do make fun of the paths, it's not with the loathing toward the artists that they seem to want to ascribe to me. Jazz artists are my favorite group of people in the world.
From what I can tell, about 90% of the artists really enjoyed it (I've received more positive emails than I can keep track of), but the negative reaction from the other 10% blindsided me because I wasn't expecting there to be any. It just blows me away how people can be utterly unable to laugh at themselves. That may be a widespread issue in the jazz world: People are so serious about the music (good) that they get equally serious about themselves (bad).
— Bill Anschell August 25, 2009
You can read more of Bill's self-deprecating humor about himself and the jazz world at www.billanschell.com and look for his past contributions to All About Jazz as well at www.allaboutjazz.com.