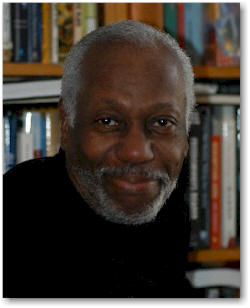 The latest installment in our ongoing series of virtual conversations with African American jazz writers features the venerable veteran journalist-critic-author, journalist-advocate and dedicated Harlemite Herb Boyd, a fellow midwesterner from Detroit. I first became acquainted with Herb via his writings on Detroit and the many great musicians who make that city one of the key points on the jazz history trail. Herb Boyd is an award-winning author and journalist who has published 17 books (including the biography of NEA Jazz Master Yusef Lateef) and countless articles for national magazines and newspapers. He co-edited the anthology Brotherman – The Odyssey of Black Men in America (One World/Ballantine, 1995) with Robert Allen, which won the American Book Award for nonfiction. In 1999, Herb Boyd won three first place awards from the New York Association of Black Journalists for his Amsterdam News articles.
Our dialogue began at our customary starting point — wondering aloud what had motivated Herb to write about serious music in the first place? Like several of the past participants in this dialogue Herb Boyd appears to a great measure to have arrived at writing about music in a purely organic way.
Willard, like much of my writing, writing about jazz was either by default or emerged organically out of my desire to report. As a young person, I attended events, including political rallies and concerts, and later I would be asked what happened. Sometimes my exuberance and storytelling was so vivid and passionate that I was compelled to document them, mainly as a diary entry. Those journal or diary entries evolved into stories I shared with friends who felt they were worthy of publishing. By the time I was in the U.S. Army and later college at Wayne State University the habit was full blown attempts at journalism, something I relished doing and something that came relatively easy. I loved writing and I loved jazz and in time the two blended almost imperceptibly, and before long I found myself writing about the concerts I attended, and like my other jottings, folks thought they were good enough to be submitted to various publications.
When you started on this quest were you aware of the dearth of African Americans writing about serious music?
I had no idea who was writing about it or why at the very start, and I'm still trying to understand this instinct and desire to report. Of course, after submerging myself in the world of jazz, it became apparent that not only was there a paucity of African American writers on the music, there were only a few devoted whites interested in writing about the music, at least writing in a way that appealed to my nationalistic tendencies. I recall the first Downbeat and Metronome magazines I bought as a teenager and only Lionel Hampton, Duke Ellington, and Billie Holiday were consistently covered. Otherwise, it was the white musicians on the cover and featured throughout in lead articles. If the subject were white, there was little likelihood that the writer would be black.
Why do you suppose that's still such a glaring disparity — where you have a significant number of black musicians making serious music but so few black media commentators?
There is a scarcity of black writers period, no matter what the topic or genre. You can count the number of blacks writing about business, world politics, economics, and science, whether in newspapers, magazines, or authoring books. I think if the overall pool of writers were larger there might be, proportionally, more writers covering issues and subjects across the board, and serious black music might be a beneficiary. Even so, finding a few more writers seriously concerned about our music's history and its current status could be more challenging than in other fields since there's no real demand for it few publications are interested in jazz or black music.
Do you think that disparity or dearth of African American writers contributes to how the music is covered?
Indeed. With a larger number of writers then the possibility of a wider distribution of interests should emerge, though again, there's no guarantee of this. For example, just because we have a number of Historically Black Colleges and Universities doesn't mean they will have an interest in jazz, and sadly very few have music programs with an emphasis on jazz.
Since you've been writing about serious music, have you ever found yourself questioning why some musicians may be elevated over others and is it your sense that has anything to do with the lack of cultural diversity among the writers covering this music?
That may be a critical issue and consequence. So much of the direction of music and culture in America is at the mercy of market forces. There are very few radio stations where you can hear so-called avant garde music, and this may be based on the station's orientation to mainstream jazz, which used to be, in another day and age, progressive or advanced. To this degree we can be thankful that some outlets have finally caught up, though far too much of the programming features David Sanborn, Kenny G, Diana Krall et. al.
What's your sense of the indifference of so many African American-oriented publications towards serious music, despite the fact that so many African American artists continue to create serious music?
If the Michigan Chronicle, the Chicago Defender, and the Pittsburgh Courier are representative of the African American press over the last generation or two, then jazz is virtually nonexistent, and I mean jazz of any style. The most we've been able to hope for is coverage of rhythm and blues, music reflective of Motown and the Philly Sound. And even this is so sporadic and usually only presented in association with a concert or an advertisement supplement.
How would you react to the contention that the way and tone of how serious music is covered has something to do with who is writing about it?
There may be a connection here, but the major concern is the extent to which the publication has an editorial stance that is sympathetic to the music. Currently at the Amsterdam News, as it has been for the last quarter of a century, we've had three regular columnists who deal with rap, classical and jazz, and this is quite unusual for a black publication. Even so, the jazz writer's column is limited in space and there is a tendency to key his coverage to engagements, and rarely to delve into pertinent issues about the music.
In your experience writing about serious music what have been some of your most rewarding encunters?
I began writing about jazz or serious music for the Southend student newspaper at Wayne State Univeristy and the Fifth Estate, an early alternative paper in Detroit. They gave me the opportunities that evolved into a long stint as a stringer or correspondent for DownBeat. After being away from the publication for several years, I returned as a correspondent in New York City, and depending on the editor, I've written features and several cover stories, mostly on ideas they proposed. One of the most rewarding features with DownBeat was a piece on Stanley Turrentine and Ray Brown, both of whom were from Pittsburgh. For Emerge magazine I did one of the last interviews with Dizzy Gillespie, along with Max Roach. These two assignments will always be precious moments with four giants of the music. Of course, working with Yusef Lateef on his autobiography stands as a memorable milestone as well.
What obstacled have you run up against — besides difficult editors and indifferent publicatins — in your efforts at covering serious music?
Getting musicians to cooperate and adjusting to their schedules is always a challenge.
If you were pressed to list several musicians who may be bubbling just under the surface of widerspread recognition or just about to break through who might they be and why?
Recently, during a Jazz Vespers event at Abyssinian Baptist Church, it was rewarding to hear a mixture of aspiring and established musicians. Most impressionable among the newcomers was alto saxophonist Brandon Primus. Not only does he possess powerful chops and a mastery of circular breathing to good effect, he is also a true student of the music's istory and knows how to present it with integrity and sensitivity. Also, at the same church, during a memorial service for Freddie Hubbard, a young ensemble of teenagers from the Philadelphia-Camden area demonstrated promising careers if they choose to devote themselves to it. They were tenor saxophonist Yesseh Furaha-Ali, pianist George Williams, trumpeter Manuel Jiminez, drummer Austin Marlowe, and bassist Jordan McBride, whose father James McBride is the noted writer and musician.
As we are well into the second half of 2009, what for you have been the most intriguing records released so far this year?
I was asked the same question during my annual Critics Poll for DownBeat and I submitted flutist Nicole Mitchell out of Chicago, bassist Esperanza Spaulding, and the veteran Sonny Rollins, particularly his recording "Doxy", as three musicians I've given considerable time to recently. I interviewed Jon Hendricks at the National Jazz Museum in Harlem recently and I'm now reviewing some of his current work, and also the recent releases from Hubert Laws, who I may collaborate with on a project in the near future.