Washington, DC's fabled U Street is once again one of the more dynamic corners of our nation's capitol. One big figurative tombstone for years after post-MLK assassination anger laid the area to relative waste, the entertainment heart of black Washington has arisen from the ashes with a steady vengeance over the last several years. An inevitable product of urban gentrification, U Street now attracts a rich multi-culti mix of nightlife denizens throughout the week with a variety of restaurants (from famed Ben's Chili Bowl to cloth napkin dining) dance clubs, bars, and just plain hangin' out. On weekends U Street becomes positively kinetic. And to be sure, jazz music is deep in the mix.
Summertime '09 in DC has been unseasonably pleasant, a welcome respite from the usual hot & sticky clime in this risen-from-a-swamp city. An exceedingly pleasant evening beckoned us to Twins Jazz (1344 U Street; for once a jazz club upstairs!) to celebrate the release of trumpeter Michael Thomas' new (separate) discs Live at Twins Jazz – VOl. 1 and Vol. II (Jazhead — one z — www.jazhead.com). Thomas is an unabashed hard bop school trumpet player straight out of the Lee Morgan/Freddie Hubbard mode who favors a briskly-blowing, Messengers-intense sound rich in the bedrock blues. Twins Jazz (www.twinsjazz.com) is one of those long, narrow rooms with a bar in the back, food & drink table service, and red walls festooned with jazz and other photographic subjects. Twin sisters Kelly and Maize Tesfaye, members of DC's thriving Ethiopian populace (reputedly second only to Addis in size), have persevered for years to build a solid jazz policy that provides a welcome stage to many of DC's finest and other vet and emerging players from around the region.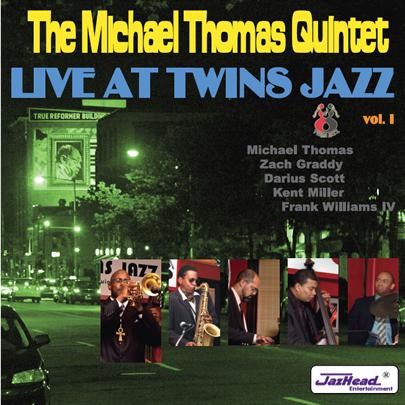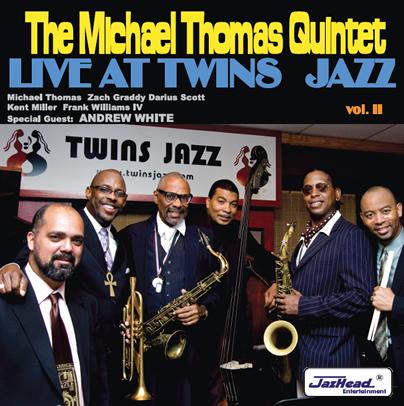 Michael Thomas Quintet boasts such ruffians as house-rockin' tenor man Zach Graddy, steady rollin' Kent Miller on bass, articulate swinger Darius Scott on piano, and the energizer Frank Williams IV on the tubs. As if those five weren't capable of enough fluid drive to drive Twins Jazz off its moorings, Thomas invited an additional heat source onto new disc Vol. II and into the house for this weekend — noted Coltrane scholar, and DC's wildly accomplished music raconteur Andrew White on tenor. We exited the joint thoroughly wrung-out.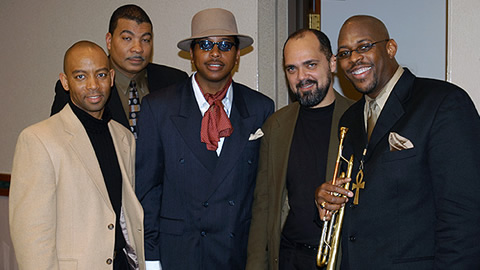 The Michael Thomas Quintet: L to R: Frank Thomas IV, Kent Miller, Zach Graddy, Darius Scott, leader Michael Thomas
Blissfully easing our way to the car we passed yet another tenor player in a U Street basement joint blowing pure joy. Meanwhile down the street Tim Warfield was settled in for a full weekend of tenor madness at The Bohemian Caverns www.bohemiancaverns.com), which has risen again much like U Street itself, as a prodigious 3-story entertainment zone unto itself. The lower-level Bohemian Caverns boasts a robust schedule of traveling players you might want to investigate over the next few weeks:
7/24-25 Charles McPherson
8/21 Ralph Peterson
8/28-29 Wallace Roney
9/11-12 Ron Carter
…And don't forget the U Street Jazz series, weekends at The Islander Caribbean Restaurant…