Part four in our ongoing series of conversations with black jazz writers is with our first colleague from below the Mason-Dixon Line — Ron Wynn. An arts columnist and critic for the Nashville City Paper, Ron was also a frequent contributor to what now appears to be the regrettably late JazzTimes Magazine. He contributes regularly to BookPage, emusic.com, American Songwriter, and Positively Green. For JT he wrote on a variety of subjects, including a penetrating piece on the issue of race in the music. Ron is also a fellow radio programmer, co-hosting the arts & politics talk show Freestyle since '02 at WFSK 88.1FM, the Fisk University Radio station.
What motivated you to write about serious music?
I was introduced to jazz through piano lessons as a youngster. There was also a police officer in Knoxville, TN who used to host a Sunday afternoon jazz show on the AM station that James Brown owned. I've forgotten his name but I remember that he was a big fan of Eddie Harris and Les McCann and was constantly playing things from their catalog as well as "Cold Duck Time" from Swiss Movement. Later, after reading Amiri Baraka's Blues People and A.B. Spellman's Black Music, plus Langston Hughes' essays, I was really interested in learning more about jazz and indeed all forms of music.
I really didn't realize for a long time just how little interest there was in jazz generally, and even less among African Americans my age, until I went to college. There, thanks to the five-college program in the UMass-Amherst area, I got a chance to take classes taught by Max Roach, Archie Shepp, and Ken McIntyre, plus also hear a ton of great concerts over that four-year period (1970-74).
These were reasonably attended by black students, but didn't attract many community residents. But when talking with friends, visiting and seeing what was in their collections, there weren't that many who had any jazz albums, nor much interest in the music. So I decided to try and see if I could generate any response and drum up some interest by writing about it. I've been trying to do that ever since and have encountered countless problems over the years in different media outlets.
When you started on this quest were you aware of the dearth of African Americans writing about serious music?
I was incredibly naive in the beginning. I remember walking into the Boston Phoenix office in 1978 and asking to see Joe C, aka Joe McEwen, the great soul music writer. They let me go upstairs and I looked around the newsroom and didn't see anything except white people, so I just assumed he wasn't in. I subsequently found out I'd been looking right at him for 15 minutes and didn't know it because he was a tall white guy. He turned out to be a great guy and is still a friend of mine, along with many other wonderful writers like Peter Guralnick and Chet Flippo, but the point is that I can count on both hands the number of black jazz writers I've met over the last 31 years, and sadly half of them are now either dead, retired, or inactive.
The late Phyl Garland was one of the first black writers I used to read all the time in what was then Stereo Review. I met former DownBeat writer Bill Cole while attending Amherst College. Ron Wellburn used to do what I guess you'd call now a fanzine called the Grackle. I also used to read Vernon Gibbs' columns and reviews on black pop in various magazines.
Almost all the new young African American writers, like Toure or Kelefa Sannea in the New Yorker, are into hip-hop or R&B. I love soul, blues and gospel as well, plus my son plays guitar in Public Enemy's backup band, but it does pain me that there seems to be so little interest in jazz or serious music among younger African Americans. It makes an enormous difference because there are many blacks of all ages who truly don't think there are any black jazz musicians around today under the age of 50, other than smooth jazz types.
Why do you suppose that's still such a glaring disparity — where you have a significant number of black musicians making serious music but so few black media commentators?
I think the lack of black media commentators reflects the general lack of diversity within the print media, something that's maybe worse today than it was when I started. Between the demise of print newspapers, the cutbacks in arts coverage everywhere, and the seeming lack of interest in the music, the dismal state of affairs regarding black jazz doesn't seem to be getting any better.
Do you thiink that disparity or dearth of African American writers contributes to how the music is covered?
Unquestionably, the disparity and lack of black writers has contributed to the situation. This doesn't mean that every white person covering jazz is some type of racist or insensitive, but that as a whole many publications and editors simply don't see this as that important an issue.
Since you've been writing about serious music, have you ever found yourself questioning why some musicians may be elevated over others and is it your sense that has anything to do with the lack of cultural diversity among the writers covering this music?
This is such a subjective thing, but in some cases I do wonder and in other areas I do think there's a cultural reason for it. I very much enjoy Medeski Martin and Wood, and The Bad Plus. But I have seen far more coverage for them than their records merit, particularly in the mainstream press.
But I must say that one other problem, at least on my end, concerns the inability to get copies of releases from small labels. I once did a cover story on David Murray at Bonnaroo and had to jump through hoops to justify it. I'd love to write more about those types of artists, but many times I don't get the records that I see reviewed in places like Cadence and other small publications, and I'd really love a chance to publicize those players.
What's your sense of the indifference of so many African American-oriented publications towards serious music, despite the fact that so many African American artists continue to create serious music?
My sense is that these publications (Ebony and Jet for example) are so strapped for advertising and so close to perishing that they just can't afford to take a shot at writing about and publicizing musicians whose work isn't getting played in their target markets and whose audiences for the most part haven't heard of and aren't supporting. That's a sad and ugly reality, but it seems to be the case, at least in places like Nashville.
How would you react to the contention that the way and tone of how serious music is covered has something to do with who is writing about it?
I don't think there's any question that this is an accurate contention, one that's applicable to any sort of arts and the type of coverage that it gets. I don't necessarily think that's good or bad, just the nature of the process; but the results can certainly be negative in terms of this issue.
But I would also add the impact of demographics (or as they now call it in the newspaper business, "analytics") has a ton to do with it as well. Far too much of what anyone who does arts coverage these days gets assigned is done on that basis, and the degree of interest by many magazines and newspapers in jazz dips even further when the research department trots out the demographic breakdowns and the coverage gets based on that.
In your experience writing about serious music what have been some of your most rewarding encounters?
The opportunity to interview David Murray, Sonny Rollins, Art Blakey, Max Roach, Ornette Coleman, and Wynton Marsalis and put these stories in newspapers and/or magazines that don't ordinarily cover this type of musician or music has been without a doubt the most rewarding thing that's happened to me over the years.
The chance to talk about this issue in JazzTimes and also in your publication is another thrill. I've been fortunate to do some other noteworthy things. These include the opportunity to have on my radio show in Connecticut in the 80s Gary Giddins, and both Charlie Lourie and Michael Cuscuna of Mosaic and Blue Note fame in the studio (sadly no tape exists of those shows).
I didn't get to write about it, but the chance to see Duke Ellington before he died, and premier concerts by The Art Ensemble of Chicago, Alice Coltrane with Pharoah Sanders, Herbie Hancock and his electric ensemble, the last great Charles Mingus group with George Adams and Don Pullen, and Sun Ra were also great opportunities; things that still influence me to this day. Plus meeting Sam Rivers as a college student had a major impact. He talked about the concept of black music being a river with all different types of streams, and was very interested in many idioms, even though he was considered an "avant-garde" jazz musician.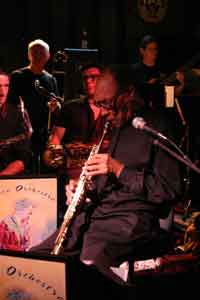 Encountering Sam Rivers (soprano sax) as a college student had a major impact on Ron Wynn
What obstacles have you run up against — besides difficult editors and indifferent publications — in your efforts at covering serious music?
Probably the inability to get regular servicing on non-major label jazz records has been the toughest obstacle I've faced since returning to the South fulltime in 1988. Except for the two years I worked in Michigan, I've been working in Memphis and Nashville, and the small labels just don't seem to feel there's anyone around these parts interested in writing about their music.
There was a time when I would do all types of buying (it was mail-order back then) but today, with the recession in full tilt and money tight all around, I just can't do that much buying anymore. It's too bad because every time I pick up a copy of Signal To Noise or The Wire I see all types of great records that I can't afford to buy.
If you were pressed to list several musicians who may be somewhat bubbling under the surface or just about to break through as far as wider spread public consciousness, who might they be and why?
I'm a huge fan of Ari Brown and almost everyone on the Delmark label. James Carter is a great musician, even though some of the Verve Records don't knock me out. Anything that David Murray releases is first-rate. Why he's not on a major label is a crime. Nicholas Payton is outstanding. Hyena is another small label that makes fine releases. There are many, many others but since I'm doing this at work, away from all my resource material, I'm trying to think of people and companies off the top of my head and probably not doing that great a job.
Therer are also a lot of outstanding African American female musicians besides vocalists. My inability to cite any other than Esperanza Spalding is due to the fact that I'm juggling a bunch of things as I write this.
As we're into the second half of 2009, what have for you been the most intriguing records released so far this year?
I would prefer to defer my answer on that one to some extent, because there are certainly some great records that have come out that I'm not recalling.
But one CD I heard last week by the ensemble Burnt Sugar is for me an example of what jazz has to do in the 21st century. These are improvising musicians able to operate in both the popular and experimental sphere. Writer/musician Greg Tate is fulfillng the "conduction" role that Butch Morris has previously done so well on past sessions. The roster of performers can vary from 4 to 40, and there's equal emphasis on solos and accompaniment, melody and harmony, with rhythmic variety and excellent musicianship. That's one of the best and most ambitious releases I've heard so far this year.

Burnt Sugar's "Making Love to the Dark Ages" is a worthy 2009 record pick for Ron Wynn
One thing that I hope happens in my lifetime is the establishment of a fulltime magazine (both print and online) devoted to jazz that's published, owned and operated by African Americans. That was once a dream of mine, but financial realities indicate that it won't be coming from me unless something drastic happens. Before he became a right-wing convert, Stanley Crouch used to do some great jazz columns in Players magazine. A magazine that could do full-service coverage, with reviews, interviews, features, etc., but with a focus and emphasis on the black community would be fantastic.
Editor's note: As far as 21st century black owned & operated jazz publications, seek out Pure Jazz (based in Brooklyn, NY and pubished by Joanne Cheatham: purejazzmagazine@aol.com) and African Jazz (based in South Africa and published by Sam Rampa: subscription@africanjazmag.com).
You can reach Ron Wynn either at Nashville City Paper or via his Linkedin page.