A residency in South Africa, following a similar stint in Brazil, has given Salim Washington some interesting perspectives on the music of those two culturally-rich nations.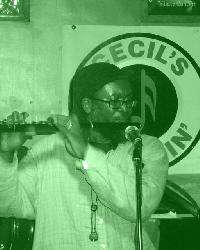 Salim Washington in performance
I had the pleasure of first meeting the Memphis-born, Detroit-raised saxophonist-flutist-composer-educator Salim Washington in the early 90s while collaborating with the New England Foundation for the Arts (NEFA) on the formation of the Lila Wallace-Reader's Digest National Jazz Network project. At that point Salim was a valued member of the Boston jazz community and someone my colleagues from NEFA made sure I met. Since then Salim has taken up residency in New York as a member of the jazz studies faculty at Columbia University, where the goal is not pedagogy but rather jazz music as a course of general study.
Last year Salim distributed several superb chronicles detailing his residency in Bahia in vivid detail of the sort one only gets from someone thoroughly aware and hip correspondent down on the ground. This year he's done the same from his even more extensive current residency in Durban, South Africa, the bustling city that is at the heart of that beautiful country's Kwa-Zulu Natal region. His portraits of South Africa have been so vivid that a more detailed conversation with The Independent Ear was in order.
Please talk about the nature of your recent residency in Brazil and your current residency in South Africa.
My residency in Brazil was simply a case of being called down to Bahia by the spirits. I went there basically with no agenda or any kind of affiliation with anyone there or here. I have been curious about Brazil in general and Bahia in particular for some time, most especially since my brief visit to Cuba in 2002. That trip found me unhappy about having to leave so soon, and as I spoke with my travel mates about the things that intrigued me so about the peoples and cultures of Cuba I was advised to make it a priority to visit Bahia. So, I went there simply to learn about the music and culture of Bahia. I also needed a break from New York to a certain extent.
My residency here in South Africa is very similar, in that I am here because of a long time curiosity and admiration for the music and peoples of this country. I first wanted to come to South Africa after the Soweto uprisings of 1976. I was just out of high school and was impressed with how the young people of South Africa had taken the lead in the freedom struggle. Shortly thereafter I heard a record of Chris McGregor & the Brotherhood of Breath and fell in love with the sounds of [trumpeter] Mongezi Feza, [alto saxophonist] Dudu Pukwana, [bassist] Johnny Dyani… More recently, I became quite curious about the sounds of [pianist-saxophonist] Bheki Mseleku and began to research South African jazz more thoroughly. I was awarded a Fullbright fellowship to spend time here teaching and researching jazz. So, this trip is more formal in some ways, and also it is funded, allowing me a greater degree of comfort and also the privilege of experiencing the trip along with my two daughters.
Although you have completed your residency in Brazil and your South Africa residency is ongoing, how would you compare & contrast the two countries and your experiences?
That is a question that we could spend quite some time on… Briefly, I would say that the two countries are vastly different. They are similar in important aspects as well, including a long-standing political, economic, and cultural reality of race-based discrimination and oppression. The racial and class divide between, say, the favelas of Rio and the beach properties of Ipanema are stark and heart-breaking, not to mention dangerous. While not based upon a legal system like South Africa's Apartheid or the United States' Jim Crow, racial stratification is nearly as complete as it is in those two countries. Another similarity is that much of the current landscape is determined by economic status moreso than race, but the racial history of both nations have left long legacies and determine much of the economic and social reality for many to this very day.
My stay in Brazil — mostly in Salvador, Bahia, but also briefly in Marahanao and also Rio de Janeiro was quite beautiful. It was a life-changing encounter. Highlights of my experience were finally learning what it means to have been raised in a Puritanical culture (the neo-Calvinist strains were very salient in my COGIC upbringing, for instance), the discovery of a culture that truly celebrated feminine beauty without making it prurient or pornographic, the discovery of the spirit of Yemanja, who reigns supreme in Bahia (I think, though officially its Obatala). It was enchanting to experience how thoroughly infused with music and tradition the everyday culture of Bahia is. The strength and the beauty of African cultural retentions through dress, custom, religion, music, dance, cuisine, etc. was quite impressive.
Rather than beauty, which is also [in South Africa] in abundance, I am struck by the cosmopolitan complexity and political energy of South Africa. I have thoroughly enjoyed my time this far in South Africa, but there are certain difficulties. For instance, there is the high crime rate. There is unbelievable poverty and sensational crime in Brazil as well, but in Bahia everyone lives and goes about their business together. As one Baina told me, 'we are all going in the ground together, so we might as well live together;' the poor and downtrodden still have a quality of life and a palpable happiness that is fantastic. [In South Africa] there is a culture of fear around crime, especially robbery and rape, and it has made everyday living more cautious. There is not a viable public transportation system, so here I have a car. That too has made my experiences different. This is an exciting country and I feel like I am learning so much about what it means to be in the modern world.
Have you found much common ground from a musical perspective between Brazil and SA?
That is also a difficult question. In Brazil people are widely knowledgeable about various kinds of music. They know their folkloric music, their popular music, their classics, and can dance to all of it. They know music from other countries. They are very hip that way. South Africans are also very savvy about different traditions in music. I don't think [South Africans] have as widespread emphasis on the folkloric traditions as they do in Bahia, however. And there is a stronger African American influence in South African culture.
I have long contended that South Africa has the deepest, broadest jazz history of any African nation. Would you agree with that contention?
I would definitely agree with your assessment. In fact, I would go further, and perhaps say [South Africa's] jazz history is deeper and broader than any nation, save the United States. It is ironic, for the three nations with the most interesting jazz outside the United States from my perspective are Cuba, Brazil, and South Africa. In the case of Cuba and Brazil, their interaction with the music is so strong that it has influenced the way we play our own music. To say, let's do this Afro-Cuban, or say let's play a bossa or a samba, all of these things have meaning to American jazz musicians. I think that South Africa's influence would be just as profound were it not for the isolation caused by Apartheid. I might even say one more thing about this, that the South African jazz tradition is more similar to the African American jazz tradition, perhaps because the music signifies in such similar ways for the two peoples. Also, there are striking similarities in the way African Americans and South Africans entered modernity (what with industrialization0, Christianity, slavery, proletarian exploitation, race-based segregation, etc.
Since you are also an educator what's your sense of the training available to musicians in Brazil and SA who have eventually become professionals?
The young South African musicians are extremely well-trained. I think there is more opportunity for black youngsters in particular for higher education than there is in Bahia. Black students in higher education in Brazil is virtually non-existant. With the end of Apartheid, blacks are now more frequently found in tertiary education, including pre-professional music programs. They are still operating at a disadvantage often because the township schools, where most blacks, Indians, and Coloureds come from, most often do not have formal music programs. So often you find that black music students are coming to their instruments late, and often are left to learn basically on their own. This might have inadvertently raised the level of creativity and certainly the degree to which they learn from records rather than from books. So ironically, a certain disadvantage in one way might have produced advantages in other ways. In Bahia the folk traditions are still vibrant and ongoing, so through samba schools and through caporeira groups, etc. many people will continue to become proficient in music. But the jazz musician per se, is probably at a disadvantage educationally in comparison to his/her counterpart in South Africa at this time.
How did the Brazil experience affect your own music? And how has South Africa affected your music so far, and how do you suspect that influence to evolve in your perspective as this current residency continues?
Brazil affected my whole life. Musically, it has taught me to be more tolerant and more beautiful. I think jazz culture can be quite macho at times. But machismo does not make sense in Bahia, and the music is not as "hard" in the masculine sense as in the United States or even in Cuba. So, I am learning to value beauty over strength, along with strength, if that makes sense. I have not had as much time to filter my experiences here in South Africa, but already I am examining the relationships between duple and triple meter somewhat differently due to my exposure to South African jazz musicians. I am sure there will be much more, as my learning here is constant!