Thad Jones-Mel Lewis Jazz Orchestra births a tradition
Being on the campus of the University of Missouri February 17 & 18 for a NEA Jazz Masters Live site-visit for a presentation of Jon Poses' exceptional We Always Swing series brought home just how special the Monday Night big band tradition is in New York. As their participation in the NEA Jazz Masters Live funding program which supports a select number of presenting organizations to engage NEA Jazz Masters in special programming, We Always Swing had the brilliant idea of commissioning NEAJM Bob Brookmeyer to write a new piece for the Grammy-winning Vanguard Jazz Orchestra. The concert and premiere of the new work, a suite entitled simply "Suite For Three" (written to spotlight three stellar VJO soloists: saxophonists Dick Oatts and Rich Perry, and trumpeter Scott Wenholdt played to a robust house at the University of Missouri Theatre. But all the brilliance of their performance aside, let's for a moment ponder just how difficult it is in the 21st century to bring an entire big band from New York all the way out to Columbia, Missouri for a one-nighter; sure makes you realize just how special this effort was! The concert was also special for some marvelous solo turns from one of the finest trumpeters in the music, Terell Stafford. Drummer John Riley kept the pots cooking in the grand tradition of Mel Lewis, and the band boasts one of the great baritone players of our time Gary Smulyan.
The preceding day as part of their NEAJM project the organization presented two interview sessions; the first featured NEAJM and renowned jazz historian-journalist Dan Morgenstern in a one-on-one reminiscing in tempo session with Bob Brookmeyer at the Univerisity of Missouri School of Music. That was followed by Brookmeyer and Morgenstern being joined onstage by two of the Vanguard Jazz Orchestra's co-leaders, trombonists Douglas Purviance and John Mosca to further reflect on the storied 44+ year history of the orchestra which has morphed in that time from the Thad Jones-Mel Lewis Orchestra to the Mel Lewis Orchestra (upon Thad's departure to Denmark) to what is now the Vanguard Jazz Orchestra (VJO), fresh off their Grammy win for the 2008 Planet Arts release "Monday Nights". Brookmeyer, a charter member of the band and frequent contributor to its book, told funny stories about how the band started in rehearsals upstairs from the musician's hang-out Jim & Andy's, and about further adventures. What became the Thad Jones-Mel Lewis Jazz Orchstra officially launched on Monday, February 2, 1966. Purviance and Mosca, both of whom came onboard in the 70s, spoke about how special it has been to play in the band and how Monday nights at the Vanguard have evolved over the years — including the three evolutions of the band to the point where today leadership is shared by five members, including themselves.
I asked them a question about how the band first locked down the Monday night at the Vanguard gig and learned that when it all started at the time there was a musician's union ban on Monday night gigs, which were officially designated as musician's night off. They were able to circumvent that edict and since that time their storied gig has spawned all sorts of regular and semi-regular Monday night band gigs at clubs around Manhattan, none of which has enjoyed the longevity of the VJO, the grandaddy of them all. I was reminded of an encounter a couple of weeks ago with two large ensembles on a Monday night in Manhattan.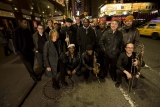 Mingus Big Band
Of all the jazz widows of great masters my hat has long been off to Sue Mingus for the tireless way she has gone about maintaining and upholding the legacy of Charles Mingus and his music. The Mingus Big Band is currently enjoying a Monday night residency at the Jazz Standard, a club which among other things enjoys hands-down the best menu and cooking of any jazz club in Manhattan. Among her many efforts Sue Mingus has been quite clever about doing more than just ensuring gigs for the Mingus Big Band, Orchestra, and Dynasty; she has always stayed one step ahead of the game by seeking fresh approaches to their presentations. For example this year they're celebrating the 50th anniversary of three important Mingus records: "Blues and Roots", "Ah Um", and "Dynasty". So the band is performing music pretty much exclusively from those three sessions — though they did veer off into some slightly more obscure Mingus from his "Baron Mingus" days for a vocal selection — and the results are bracingly fresh as always.
Nominal co-leadership of the band appears to be shared by bassist Boris Kozlov, who performs on Charles' famed lion's head bass, and tenor saxophonist Wayne Escoffery, who also share the various intros. Among other marvelous moments on this particular evening were excursions into such Mingus lore as "My Jelly Roll Soul" and "GG Train", tunes that have not been often performed otherwise. Among the stalwarts in the big band on that particular Monday were saxophonists Vincent Herring, Abraham Burton, Jason Marshall, and Donny McCaslin; trumpeters Randy Brecker, Kenny Rampton, and former VJO trumpeter Earl Gardner (still one of the best lead trumpeters on the planet), trombonists Frank Lacy (who contributed one of his customary humorous vocal turns) and Andy Horton, Donald Edwards on drums, and the bracingly fresh Orrin Evans on piano, who injected some wicked clave into one of his turns. When a band boasts such sturdy soloists it can be difficult for each to get a proper turn, but indeed each did as the set was very skillfully arranged.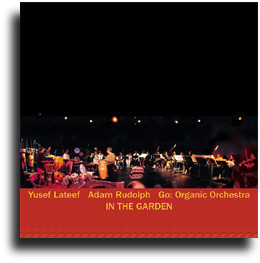 Properly refreshed I headed over to Roulette for a large ensemble performance of a different flavor, Percussionist-composer Adam Rudolph's Go Organic Orchestra. Rudolph, known by some for his long-standing duo with the great reedman Yusef Lateef, is a man who has long straddled the fence between jazz, improvising music, and various global music expressions. On this night his Go Organic Orchestra was a string-heavy ensemble that included such notables as cornetist Graham Haynes, reed specialist J.D. Parran, and guitarists Leni Stern and Kenny Wessel — through a program of his original music heavily steeped in the Butch Morris school of gestural conduction. Appropos the fresh flavor of Rudolph's conduction, when I arrived the first people I spotted just off the entrance to the performance space were Butch Morris and Henry Threadgill! Just another wintry Monday night in Manhattan!