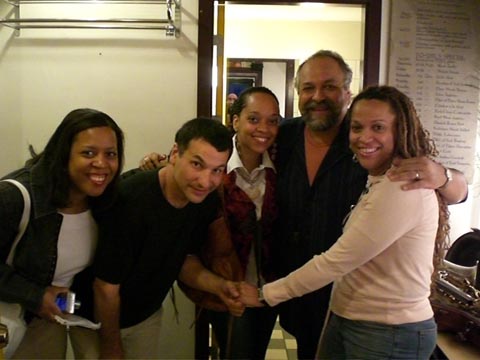 Members of Imani Winds backstage. That's Toyin Spellman-Diaz in between John Patitucci and Joe Lovano. Flautist Valerie Coleman next to Patitucci, bassoonist Monica Ellis next to Lovano. (Not shown: Mariam Adam, clarinet; Jeff Scott, French horn.)
One of the most exciting young ensembles in chamber music is the group Imani Winds. Part of their charm is the broad nature of their pallet, which has included liberal interactions with jazz composers, musicians and ensembles. Among others they have collaborated with Paquito D'Rivera, Wayne Shorter, Steve Coleman, and Jason Moran in concert and on record. Last year they performed a triumphant concert interacting with the Wayne Shorter Quartet at Carnegie Hall.
The development of Imani Winds has been a particular pleasure to behold having known their oboe and English horn specialist Toyin Spellman-Diaz since she was — in her words — "a little girl." She is the daughter of two exceptional people on the Washington, DC arts scene, producer Karen Spellman and jazz historian-author ("Four Lives in the Bebop Business"), poet and former National Endowment for the Arts program director A.B. Spellman, who was very important in the development of a program near and dear to Open Sky, the NEA Jazz Masters (and in whose name the annual NEAJM jazz advocate award is bestowed). On the heels of their performance with the Wayne Shorter Quartet and in light of their recent and quite exceptional Christmas holiday recording for the Koch label which featured Moran and bassist James Genus among others, I caught up with Toyin recently to ask her about the development of this unusual chamber ensemble Imani Winds.
Willard Jenkins: Tell us about the history of Imani Winds.
Toyin Spellman-Diaz: Imani Winds started in 1997 when we were all idealistic grad students living in New York. Our flute player had the idea of putting together a wind quintet made up of musicians of color who would play the standard wind quintet chamber music repertoire, but would also champion works by composers of color. She also wanted to have a group that would play for children, especially children with little or no access to our instruments or even classical music in general, and to serve as role models for young people (especially young people of color) as people who had an idea and followed through with it.
We started out with a tiny concert season of about 4 or 5 concerts per season which we put on ourselves. After a couple of years we did competitions and these competitions led to management. From there we hired ourselves a publicist, got a recording contract with Koch International Classics with whom we made 5 CDs (one Grammy-nominated) and have managed to go on liking what we do and liking each other for 11 years.
WJ: What is the guiding music philosophy of Imani Winds?
TSD: Anything goes, but all points lead back to classical music. The whole point of getting together was, in a nutshell, to expand the way classical music is perceived. That means that the ensemble will try its best to defy convention in every aspect of our performances and recordings. As mentioned before we play music by people you might not expect to write classical music, i.e. musicians of color, but we also commission works by jazz artists, Middle Eastern and Jewish artists, and collaborate with musicians from different backgrounds as well.
We also don't always perform traditionally, either. We get up and play from inside the audience, especially for children, we'll play and move across the stage, and even when we are sitting and playing we try to bring a unique, communicative energy. All of that is designed to try to make the audience feel like they are a part of the performance too.
WJ: Given your family history — your dad is a jazz historian and poet, your mom has produced jazz festivals and there was obviously music all around your house — and the fact that you attended Oberlin College, which has an exceptional jazz studies program directed by Wendell Logan, were you one of the leading voices in the group that have helped broaden the Imani Winds repertoire and performing career to include interactions with jazz musicians and composers?
TSD: Everyone in the group is a leader and brings their own ideas to the group, be they about music or about how the business of the group is run, and I have certainly contributed many ideas and helped form the identity of the ensemble. That being said, I wish I could claim the role as a leader in bringing the jazz influence into Imani Winds, but I am not a composer or an arranger so I couldn't literally bring jazz into the group. The member/composers of the group are Valerie the flutist and Jeff the french horn player, and they brought some arrangements of jazz songs to the group that are just beautiful.
As far as the wonderful jazz musicians we have commissioned and collaborated with, besides Wayne Shorter, Paquito D'Rivera, Steve Coleman we are also working with Jason Moran, Stefon Harris and others; I think they got wind of us through the grapevine or through knowing us personally. As a matter of fact I went to school with Jason and Stefon, so there you go… I did have some influence on the jazzness of the group!
WJ: What have been some of the differences you've experienced in their individual approaches between working with such disparate jazz composers as Paquito D'Rivera, Wayne Shorter, and Steve Coleman?
TSD: Three very different people, and three different approaches to writing… For instance, Steve would give us diagrams with symbols and numbers and those would be the basis for when and what we played, while Paquito would use the computer program Sibelius, a program that a lot of classical composers use, to write out our parts. All of them treated us with the utmost respect and were very patient with us learning to fold into their particular style of jazz, as were their band members.
WJ: Of the jazz composers the Imani Winds has collaborated with, is it safe to say that the most extensive experience has been with Wayne Shorter — particularly considering the Carnegie Hall and Montreal Jazz Festival performances?
TSD: Wayne literally took us under his wing in a way that still leaves me in awe. He is a man that is all about moving forward with his music and right now he is going into a more classical style of writing. When we commissioned a wind quintet piece from him a few years ago he gave us parts and a couple of months later we played it for him, then we all went out to dinner at a Mexican restaurant around the corner from Lincoln Center.
We were all kind of shy around him at first, but then he just opened up and started telling us all of these stories about Miles and Coltrane and just about everyone. But he also wanted to talk about movies and comic books and joke around. I think he really took a liking to us that day, the way we were "onstage", and the way we were "offstage", and he wanted to use us as, I wouldn't say muses, but maybe vehicles, for his expansion, and expand our way of performing too. So he took us on the road with him and his quartet and I think we've done about 15 concerts together now. Each one was different, each one was challenging to everyone onstage, and each one was fulfilling in a way that is hard to describe.
WJ: Since the Wayne Shorter Quartet is comprised of not one but four bandleader-composers, do you foresee any future collaborative efforts with the other members of that quartet — Danilo Perez, Brian Blade, and John Patitucci?
TSD: We are definitely going to commission Danilo in the next couple of years and we would LOVE to have something from Brian and John too.
WJ: What's next for Imani Winds?
TSD: Well, we are going to premier a piece by Haitian/African American composer Daniel Bernard Roumain on March 5th at Carnegie Hall. We will continue our extensive touring schedule and visit places like Olympia, WA and Pittsburgh, PA, Washington, DC and Monroe, LA. We will premier our new work by Stefon Harris in the fall and start working on our collaboration with Palestine-born composer Simon Shaheen. Not a bad life if you ask me!